Natural gift
Updated: 2014-03-09 07:50
By Li Fusheng(China Daily)
| | | | | | | | | |
| --- | --- | --- | --- | --- | --- | --- | --- | --- |
|   | | Print | | Mail | | Large Medium  Small | 分享按钮 | 0 |
A prodigy at 19, Yu Jigao's artistic quest continues into his eighties
Traditional Chinese painter Yu Jigao says that everyday nature is the fountainhead of his work.
Instead of rare plants or animals, he often portrays species commonly seen in daily life, making them simple but emotionally close to viewers.
Critics say his paintings are full of life and allow to people feel the exuberance of nature, something that stems from his childhood experience.
Born to a farmer's family in northern Jiangsu province, Yu has a great interest in birds and flowers since childhood.
The bond with nature grew even stronger as he helped his parents do farm work and tended cows in the fields.
The farmboy started his creative pursuits when he was admitted to the Nanjing Normal University as an art student in 1951.
The 19-year old was even lucky enough to have master painters Fu Baoshi and Chen Zhifo as his teachers.
He chose fine brush bird-and-flower painting as his major because it features highly detailed brushwork and bold colors appropriate for nature lovers.
His talent and diligence won praise from his teachers and alsothe opportunity to help establish the province's traditional Chinese painting institute two years after his graduation in 1955.
Yu said one of his most memorable events was when his teachers Fu and Chen promoted their protg at a party attended by many heavyweight artists in 1959.
They asked Yu to create a painting in collaboration with them. It helped the young Yu rise to fame.
Despite his reputation as a prodigy, Yu still worked on improving his brushwork as a bird-and-flower painter and exploring other schools of traditional Chinese painting.
Compared with figure and landscape painting, bird-and-flower painting is a latecomer. Its development peaked in the Song Dynasty (960-1279) and has since been in decline.
Although the school has made some progress in modern China, few bird-and-flower painters have developed distinctive and acclaimed styles.
Yu is an exception. During decades of tireless work he developed his own style.
Instead of the aloofness and solitude seen in ancient works, his paintings have a lively spirit, rich colors and a vibrant atmosphere in addition to his skillful brushwork.
Some critics say his works are so good that viewers seem to be able to hear birds chirping and smell the fragrance of flowers.
Many compare his paintings to poems and music, saying that they can feel Yu's praise of nature and love for life in his works.
Thanks to the admirable features, many of his works are kept at such stately places as the Diaoyutai Guesthouse and the Great Hall of the People.
Despite the achievement, Yu, already in his 80s, is working hard in his continuing quest of his artistic dream.
He said art requires practical and solid work, adding that it is especially important in a world that craves fast achievement.
Biography
Yu Jigao is a traditional Chinese painter known for his fine brush bird-and-flower works.
Born in Jiangsu province in 1932, he graduated from the Department of Fine Arts at Nanjing Normal University in 1955 and helped establish the Jiangsu Traditional Chinese Painting Institute two years later.
Yu held exhibitions of his paintings in Beijing in 1986, Guangzhou in 1988 and at the UN headquarters in New York in 1997.
The UN presented him with an award for his achievements in traditional Chinese painting and cross-cultural exchanges.
Some of his works are kept at the State Council, the Tian'anmen rostrum, the Diaoyutai Guesthouse, the Great Hall of the People and the office of the Chinese People's Political Consultative Conference.
Among others, he is a director of the China Artists Association, a member of the administrative committee of the Research Institute of Traditional Chinese Painting and vice-president of the Jiangsu Artists Association.
China Daily
lifusheng@chinadaily.com.cn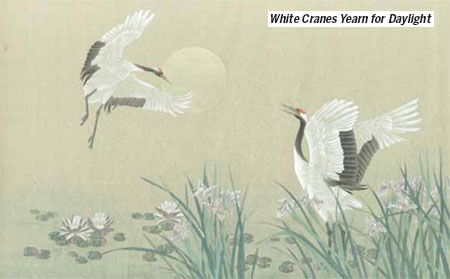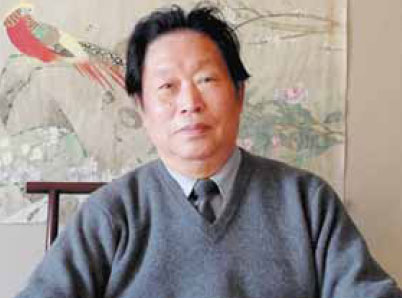 Bird-and-flower painter Yu Jigao Photos Provided to China Daily
(China Daily 03/09/2014 page6)