Ancient traditions still alive in artist's work
Updated: 2014-03-09 07:50
By Zhuan Ti(China Daily)
| | | | | | | | | |
| --- | --- | --- | --- | --- | --- | --- | --- | --- |
|   | | Print | | Mail | | Large Medium  Small | 分享按钮 | 0 |
In an era dominated by modern art and abstractionism, artist Jia Guangjian, 50, grounds his work in ancient Chinese philosophy and seeks new ways to make traditional painting techniques relevant in today's society.
Born in Yongqing county, Hebei province, Jia has had a passion for painting since he was a child. He received his master's degree in traditional Chinese painting from the Tianjin Academy of Fine Arts in 1994.
Jia said he is particularly fond of gongbi, a realistic painting style characterized by fine brushwork and delicate details.
Traditionally, gongbi painting presents realistic likenesses of its subjects. But Jia also attempts to depict the dynamic movement and nuances of the objects through his brush strokes.
"Chinese ancient painters believe that likeness and expressiveness are all important," he said.
"I am also pursuing a state of 'clarity and peace' in my drawing, which is critical in Chinese ancient philosophy," he said.
Most of his works have a wide and splendid background, which makes audiences feel relaxed and at peace when looking at them them.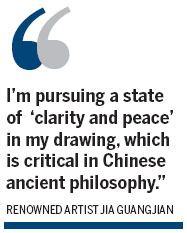 "I can tell Jia tries to create a light atmosphere in his drawing. It makes me feel joyful and I could actually have spiritual communication with him when looking at those painting," said one attendee to a recent exhibition of Jia's work.
Jia uses themes to capture certain moods as well.
The lotus, symbolizing elegance, peace and purity in Chinese culture, is one of the main themes of Jia's paintings.
Jia is a student of the traditional painting techniques as well. He uses a technique called gaogu yousi miao when he depicts the lines.
The lines drawn using this technique are "full of strength and sharpness", embodying the typical qualities of Chinese painting, Da Chongguang (1623-1692), a renowned painter of the Qing Dynasty (1644-1911) once wrote.
Innovation is based on traditions and learning traditional technique requires a lot of practice and a sincere heart, Jia said.
Traditional styles have seen a revival in popularity in recent years owing to their timeless beauty.
But defining them and presenting them in front of audiences is not easy, Jia said.
What Jia tries to do is to combine the tradition with modern elements and create a distinct personal style.
Jia's hard work has won him a lot of honors for the past 20 years.
He received a dozen awards from national exhibitions and contests, which include National Artwork Exhibition and China Modern Artwork Exhibition.
In addition, Jia's paintings have been exhibited in the China Art Festival and some of them have been added to the collections of the Chinese government.
Biography
Jia Guangjian was born in January 1964. He graduated from Tianjin Academy of Fine Arts in 1994. He has served as a professor in China National Academy of Painting, Tianjin Academy of Fine Arts, China Central Academy of Fine Arts, and People's Liberation Army Academy of Art. He also serves as a teacher in his own studio, the Jia Guangjian Bird and Flower Painting Studio. Jia is a member of the China Artists Association and a member of the council of the Chinese Painting Institute, China Hue Art Society, Beijing Hue Art Society, as well as Tianjin Artists Association. He is listed as one of the "China's Top 100 Young Artists" by China Federation of Literary and Art Circles.
China Daily
zhuanti@chinadaily.com.cn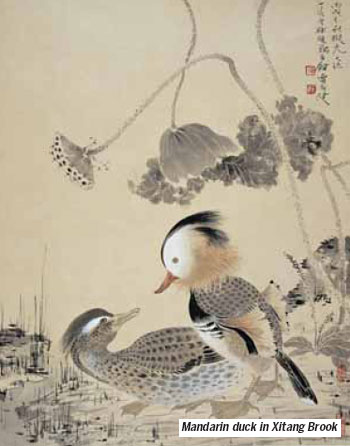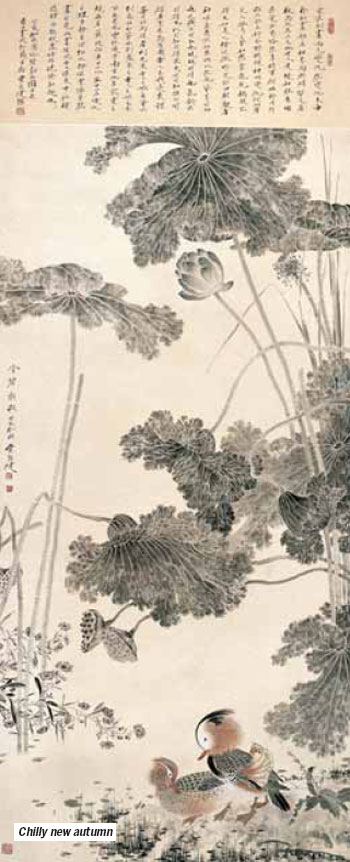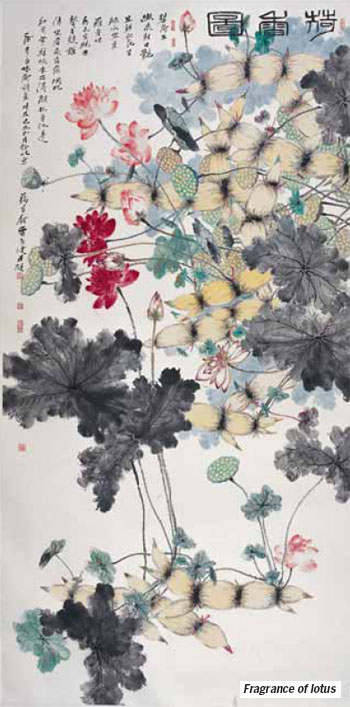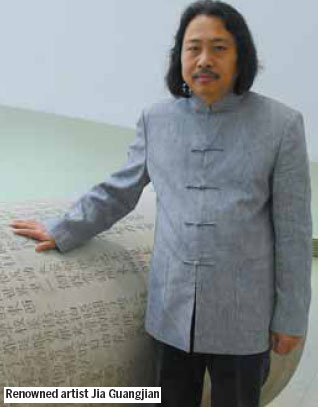 (China Daily 03/09/2014 page3)