World Scene
Updated: 2014-03-02 07:48
(China Daily)
| | | | | | | | | |
| --- | --- | --- | --- | --- | --- | --- | --- | --- |
|   | | Print | | Mail | | Large Medium  Small | 分享按钮 | 0 |
Pizza Hut manager urinated in sink
A Pizza Hut store in the United States was ordered to shut down after surveillance footage showed the franchise's district manager urinating in a sink used to wash kitchen utensils and supplies. The video was recorded several weeks ago at a Pizza Hut in Kermit, West Virginia. Pizza Hut has confirmed the man has since been fired. A sign now hangs on the store's front door saying it's been shut down because of "conditions within the establishment constituting a substantial hazard to the public health". "It's something you hope to never have to deal with, but we take it seriously," said Brett Vance, the city's sanitarian. He traveled to the store immediately after seeing the video to shut it down.
Dog walkers find buried treasure
The most the average dog owner stumbles upon while taking Fido for a walk is usually another dog's doo-doo, but a northern California couple taking their dog for a constitutional on their property last week came across $10 million in rare, mint-condition gold coins buried in the shadow of an old tree. Nearly all of the 1427 coins, dating from 1847 to 1894, are in uncirculated, mint condition, said David Hall, co-founder of the Professional Coin Grading Service of Santa Ana, which authenticated them. Although the face value of the gold pieces only adds up to about $27,000, some of them are so rare that coin experts say they could fetch nearly $1 million apiece. The lucky pair are choosing to remain anonymous. They reportedly plan to put most of the coins up for sale through Amazon while holding on to a few keepsakes.
Secret papers dumped in river
Embattled Ukrainian president Viktor Yanukovych left behind a substantial paper trail in his rush to escape Kiev. It was reported last week that protesters arriving at his opulent estate, the Mezhyhirya, about 20 kilometers from Kiev, found hundreds of pages of accounting files, receipts and dossiers on Yanukovych's political opponents floating in a river. The incriminating records were apparently dumped there before Yanukovych fled. Protesters retrieved the documents from the water and set them out to dry in what was described as an aircraft hangar. There, they were eagerly perused by journalists looking for evidence that would bolster the longstanding allegations of political and financial corruption by Yanukovych and his family. The most intriguing piece of paper may be a receipt for a cash transfer of $12 million dated September 2010, about seven months after Yanukovych took office.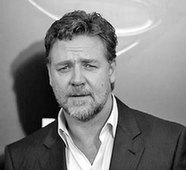 Crowe tweets Pope: Watch my film
New Zealand actor Russell Crowe is the latest Hollywood hot shot to attempt to convince the Pope, the head of the Catholic faith, to watch a Tinsel Town movie. The Gladiator star last week turned to Twitter to ask Pope Francis to check out his new biblical epic, Noah, in which Crowe stars as the ark builder. Russ tweeted "it would be my deepest pleasure to bring the @DarrenAronofsky film to you to screen Sorry that I have caused havoc in your social media world. Seriously though, Noah the movie will fascinate you." A few days later, Crowe tweeted a few more messages urging the pontiff to hold a screening of the film in Vatican City. The likelihood the Vatican will agree to the request is akin to a snowball's chance in hell.
Actor charged with assault
Australian actor Sam Worthington has been ordered to stay away from a photographer whom he is accused of punching in the face last month. The 37-year-old Avatar star faced Manhattan Criminal Court last Wednesday charged with two counts of assault in the third degree, attempted assault and harassment for punching photographer Sheng Li while defending his girlfriend Lara Bingle outside Cubbyhole Bar in West Village in New York on Feb 23. He was also issued with a restraining order. During Worthington's brief court appearance, Judge Bruna DiBiase ordered the Avatar star to stay away from photographer Sheng Li for six months. Li has been charged with assault, reckless endangerment and harassment over the incident, in which he is accused of trailing Bingle for four hours on the street before kicking her in the shins.
Boy's mouth padlocked, then killed
A Nigerian father has been accused of padlocking his 4-year-old son's mouth to stop him screaming while he killed him. The 30-year-old man allegedly accused the child of being an "Ogbanje" or "child of evil", blaming the infant for his ill-fortune before deciding to kill him. The accused allegedly first beat up his son, before he burned him all over with a hot iron and locked him in a plastic drum. He then allegedly put the padlock on his mouth before he was beaten to death. The murder occurred in the Meiran area of Lagos, the most populous city of Nigeria. When the boy's mother came home and found her son, she immediately called police. The man has been charged with murder.
Agencies
(China Daily 03/02/2014 page4)