Batches of bachelors
Updated: 2014-02-09 08:37
By Tiffany Tan(China Daily)
| | | | | | | | | |
| --- | --- | --- | --- | --- | --- | --- | --- | --- |
|   | | Print | | Mail | | Large Medium  Small | 分享按钮 | 0 |
While the 'leftover women' phenomenon has been perhaps overstated, the rarely discussed reality of the 'missing women' means there are actually far more 'leftover men' - many of whom would be considered catches. Tiffany Tan reports.
Lu Yan traveled back to Jilin province this Spring Festival as he always has - alone.
The 35-year-old wishes he could finally bring home a wife and kids, like all his closest friends do. But he remains single and searching.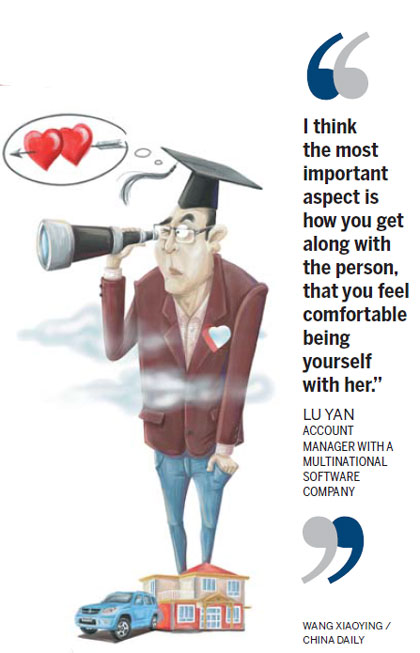 The account manager with a multinational software company owns a car and has an apartment in his hometown. And he receives a salary that's "among the highest in my field".
He's also studying toward a master's degree in business administration.
Lu is considered a catch in a country where a house, a car and cash reserves are hallmarks of a desirable groom.
He lives in Beijing, where there are hundreds of thousands of equally single women.
So, why's he still single?
Lu says he doesn't want to marry merely to follow social norms, even if society deems him an aging bachelor. He's waiting for the right lifelong partner.
"I think the most important aspect is how you get along with the person, that you feel comfortable being yourself with her," says Lu, a self-described introvert.
"How does she treat her family, friends, even animals? Can she put up with your habits? And can you do the same with hers?"
In today's China, it's not only impoverished men in the countryside who face difficulties finding wives. Urban men with good educations, secure jobs and property are also becoming part of a group called shengnan, or leftover men - men 30 and older who remain unmarried.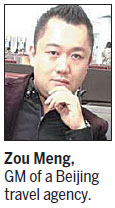 A 2013 national survey of leftover men by matchmaking site Jiayuan.com found 36 percent of respondents worked as middle or senior managers and 37 percent possessed a master's degree or higher.
About 29 percent had monthly incomes of at least 15,000 yuan ($2,480), and 31 percent owned homes.
Legions of Chinese men will never find Chinese wives because there simply aren't enough candidates.
As a result of China's family planning policy, which restricts many couples to one child, along with the traditional Chinese preference for sons, the latest official figures say 117.7 boys are born for every 100 girls in the country.
The imbalance peaked at 121.2 to 100 in 2004. The natural birth ratio is 105 boys per 100 girls.
China has a surplus of 22 million to 34 million males, says Yuan Xin, a professor at Nankai University's Institute of Population and Development.
He considers leftover men a bigger social problem than leftover women - a popular term for accomplished females who are at least 27 years old and still not married.
"The matter of leftover women is brought about by a person's standards in choosing a spouse," Yuan says.
"But the problem of leftover men cannot be solved. These people will inevitably spend their whole lives single They want to find a partner, but tens of millions of women were never born."
Social scientists say most lifelong bachelors will be found in rural areas that women have deserted for jobs in the cities and where men often don't have many assets with which to woo potential wives.
Why then is there a rise in leftover men even among those who are marketable?
These men, experts say, are reacting against society's values, which emphasize what they have rather than who they are.
When couples talk about getting married nowadays, they mean preparing a house, a car and other "hardware". But they don't prepare the relationship itself, says Chen Xiuru, Chinese Society of Education marriage and family researcher.
Bachelor Zou Meng can't agree more. The 31-year-old general manager of a Beijing travel agency, who owns an apartment, a BMW and a Lexus, has become disheartened with arranged dates. He says most women he meets are in their late 20s and want to get married right away.
But he doesn't believe a wedding should be rushed.
"I think love needs to pass the test of time," he says. "It involves mutual understanding and making adjustments."
Successful men like Zou have also become more cautious about tying the knot, having seen how divorces - synonymous with divisions of property - are increasing.
The national divorce rate rose by some 40 percent between 2008 and 2012, according to the Ministry of Civil Affairs. In 2012 - the year for which latest figures are available - 3 million couples dissolved their unions.
And with modernization Chinese men no longer need wives to fulfil certain emotional and physical needs, researchers say.

They can flirt, have one-night stands, juggle different girlfriends, live with a woman before marriage or just have close female friends. Behavior that would have generated scandal in a previous age is, today, everyday.
Most of all, since they have the freedom to choose their mates, some men would rather become "leftover" than compromise on their visions of the ideal woman.
"Meeting that person is destiny," Lu, the tech company account manager, says.
For now, he has signed up with Coucou8, a matchmaking company that organizes activities to widen its members' friend circles. But if destiny doesn't present him with the right woman in this life, Lu says he doesn't mind staying single.
Contact the writer at tiffany@chinadaily.com.cn
Xing Yi and Guo Xin contributed to this story.
(China Daily 02/09/2014 page1)