Shangri-la old town burns
Updated: 2014-01-12 08:36
By Yang Yao(China Daily)
| | | | | | | | | |
| --- | --- | --- | --- | --- | --- | --- | --- | --- |
|   | | Print | | Mail | | Large Medium  Small | 分享按钮 | 0 |
Blaze causes at least 100 million yuan in damage, destroys hundreds of ancient houses
An early morning fire on Saturday gutted a 1,300-year old Tibetan town in Shangri-la, capital of the Diqing Tibet autonomous prefecture in northwestern Yunnan province. It destroyed 242 houses and affected 335 families, but no deaths or injuries have been reported.
The disaster happened in Dukezong, an ancient town known for its well-preserved Tibetan dwellings and perhaps the world's largest Tibetan prayer wheel.
Police said they received the first report of the fire at 1:27 am. They said it had started in a little shop near the center of the old town and rapidly spread.
Firefighters were dispatched to the scene at once, in several batches, and local teams were joined by those from Lijiang and Dali, who arrived during the night to support the battle against the blaze.
It took more than 12 hours to control the conflagration.
According to the Diqing government, firefighters had their work cut out for them, not only because the wooden structures in the town were extremely flammable but also because water had frozen in the pipes due to the cold, hindering rescue.
Reports say fire engines also found it difficult to go through the narrow streets.
Firefighters created a barrier to stop the blaze from spreading by tearing down 43 houses and the roofs of about 50 others.
"At noon, I could still see the sky tinted red by the flames," said Dakpa Kelden, a hostel owner.
Like hundreds of inhabitants in the old town, Kelden lost his hostel and restaurant to the fire.
The projected economic loss is staggering, with officials estimating it to be at least 100 million yuan ($16.5 million).
Many cultural and historical relics were also lost, including precious Tibetan paintings and murals, or thanka, according to the Diqing government.
"The 1,300-year history of the town has been burned to ashes," said Dakpa Kelden.
"All the valuable things we had saved for a thousand years are gone. Now we have nothing, except the prayer wheel."
Dukezong has one of the world's largest Tibetan prayer wheels, which was saved mainly because it is made of metal.
According to Kelden, a tourism advocate, Dukezong town is the largest and best-preserved Tibetan community among China's Tibetan counties. It was also a key stop on the Ancient Tea-Horse Caravan Route and a focal point for Han-Tibetan exchanges.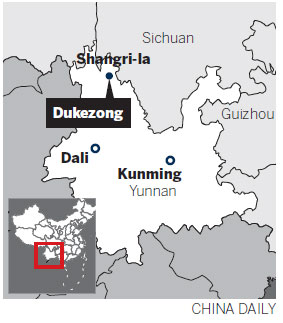 It is also known as the "footstep of Shangri-La". According to Tibetan Buddhist scriptures, there is a lost city called Shambhala in the Snow Mountains, shaped like an eight-petal lotus.
The 1.6-square-kilometer Dukezong old town is laid out in a similar design. All 1,084 of its houses radiate from Turtle Hill in the center. It is arranged to conform with Tibetan geomantic theories.
"Most of the structures in town are painted white as a sign of respect to the forefathers," Kelden said.
"On a clear night, the town reflects a silver sheen. That's why Dukezong in Tibetan means white-stone or moonlight city."
Beijinger Zhu Yanan visited Dukezong in November last year and noted it was less commercialized than the old towns in Lijiang or Dali.
"But no one can see it now," she said.
"It is such a loss that it has disappeared overnight."
The Diqing government had listed Dukezong as a key protection site and enacted preservation regulations, including fire prevention.
There is still no official word on the cause of the fire, which officials say is under investigation.
Temporary shelters have been set up for those who lost their homes, and more than 2,600 people are being hosted in three hotels outside the old town.
Hu Yongqi contributed to this story.
yangyao@chinadaily.com.cn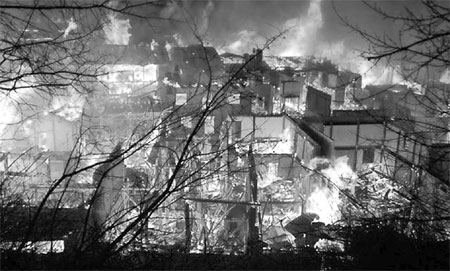 The fire breaks out in the early morning on Saturday and it takes firefighters more than 12 hours to control the blaze. Xinhua
(China Daily 01/12/2014 page2)