A most bearable job, by gum
Updated: 2013-12-29 08:23
By Ou Shuyi(China Daily)
| | | | | | | | | |
| --- | --- | --- | --- | --- | --- | --- | --- | --- |
|   | | Print | | Mail | | Large Medium  Small | 分享按钮 | 0 |
The cute inhabitants at Brisbane's Lone Pine Koala Sanctuary have an enviable 'work week' with only three tasks on their to-do list: nap, eat leaves and cuddle, Ou Shuyi finds in Brisbane.
The best job in the world? Forget the island caretaker on Australia's Great Barrier Reef. Here's a more appealing offer: sleeping 20 hours and working a maximum of 30 minutes a day, having every third day off, free lodging and food, and generous retirement benefits. Any requirements? Applicants must be cute, fluffy and, above all, a koala.
The 130 adorable creatures living in the Lone Pine Koala Sanctuary in Brisbane are the lucky ones to have this job. Their routine work involves nothing more than a 30-minute cuddling time with visitors.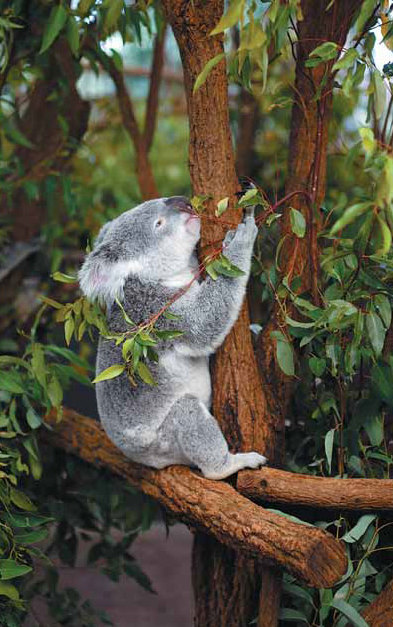 Koalas are the biggest draw in the Lone Pine sanctuary. Photos by Ou Shuyi / China Daily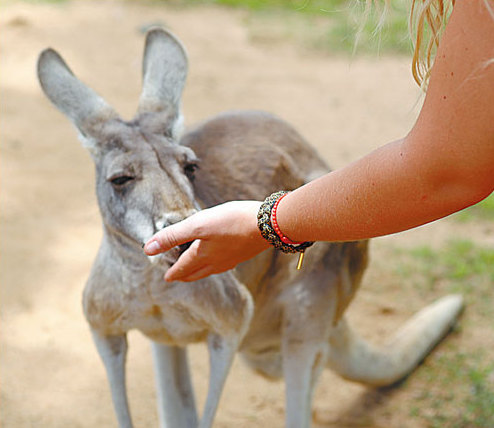 Kangaroo feeding in Lone Pine sanctuary.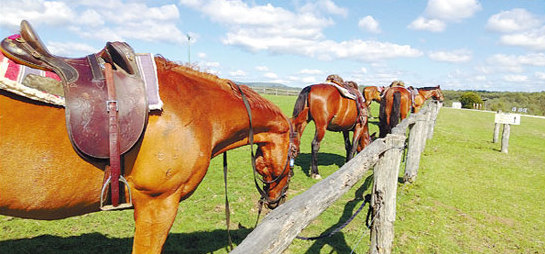 Horseback riding is one of the best ways to explore the vast Spicers Hidden Vale.
"If the koalas feel restless in that 30 minutes, they can go straight home," says Sandy So, senior marketing officer with the sanctuary.
For the rest of the day, they stay on the tree, either munching on fresh leaves or napping - sometimes they sleep more than 20 hours a day.
"Their sedentary lifestyle is closely related to their diet - eucalyptus is their only food source. The leaves contain a high percentage of water but has limited nutritional and caloric content, which are not a very good energy provider," So explains.
"The word 'koala' is an aborigine word, meaning 'does not drink'," So explains. Koalas rarely descend from the trees in search of water - or anything else, and only drought forces them to leave their home in the hunt of a drink.
Founded in 1927 by the Clarkson family, Lone Pine is officially recognized as the world's oldest and largest koala sanctuary by the Guinness World Records and rated by AOL as one of the world's top 10 zoos.
The sanctuary started off with only two koalas on 4.7 hectares of land. Now it is home to 130 koalas and set on 20 hectares of beautiful natural forest overlooking the Brisbane River.
Koala cuddling is banned in many states in Australia, and Queensland is one of the few states where you can snuggle up to koalas.
The Lone Pine is popular among both Australians and international visitors alike, says So, who's from Hong Kong and has worked with the sanctuary for about three years.

The sanctuary has a long list of celebrity guests, including Chinese kung fu star Jackie Chan.
The koalas in the sanctuary are used to human interaction as they experience it from a very early age, so visitors need not worry about being attacked by these chubby little things, So says.
Usually at the age of 12, the koalas will retire and live in the retirement center until the end of their days. Sarah, the oldest koala ever in captivity, died in the sanctuary in 2001 at age 23.
In addition to iconic koalas, visitors can also encounter Australian wildlife in activities, such as kangaroo feeding, platypus presentations and bird of prey shows.
Two of the biggest draws are the barking owl and the barn owl - one recognizable for its bark-like call and the other for its heart-shaped face.
Visitors can watch these owls gracefully soar into the sky and then dive down to catch a baby mouse held by the keeper.
The sanctuary also offers a glimpse of Aussie outback farm life in sheepdog shows and sheep-shearing shows.
"We've seen an increasing number of Chinese mainland visitors, particularly in self-guided tours," So says.
Chinese visitors are showing more interest and enthusiasm in getting close to nature and animals, she adds.
China has become one of Australia's biggest tourism markets over the past few years. In 2013, 672,000 Chinese visited Australia, an increase of 17.9 percent from 2012.
The growth is more obvious in Queensland, which has seen 313,000 Chinese visitors in 2013, an increase of 25.9 percent from 2012, according to Violet Tan, marketing coordinator in China with Tourism and Events Queensland.
The potential market lies in not only the growing number of visitors but also the change in the way of traveling.
Luke Edwards, leisure tourism executive for the Brisbane Marketing Economic Development Board, says Chinese tourists are "shifting from 'quick tourism' to 'slow travel'," when he accompanied a group of Chinese journalists in a media familiarization trip to Brisbane sponsored by China Southern Airlines.
Instead of hopping around several sites in one day, visitors like to stay in one place for one or two days to indulge in local landscapes, cuisines and culture, Edwards explains.
Also when they plan a trip, they are looking for a destination with a balance of adventure and relaxation, he adds.
That explains why Spicers Hidden Vale, a luxurious rural retreat in Grandchester, Queensland, has seen more Chinese guests in recent years.
Many Chinese guests come with their friends or relatives living in Australia and stay for the weekend, according to Kylie Stever, group sales manager of Spicers.
Nestled on a 4,860-hectare farm set among rolling hills and lush bush land, this early 19th-century property offers a true country - and indeed Australian - experience, which is only a one-hour drive from Brisbane.
The property is centered around the old homestead, which holds a lot of history. Each of the 31 restored guest suites and cottages has its own distinct character, from the quaint comfort and the communal lounges to the old-world Heritage Suites and indulgent Luxury Suites.
Every room has breathtaking views of Australia's outback, with cows grazing on the grassland and wallabies bouncing around the bush. The air is clean and sobering, and tranquility fills every corner of the resort - though your afternoon nap may be interrupted by the cows' mooing.
A winner of the Deluxe Accommodation category of the 2012 Queensland Tourism Awards, the resort caters for a wide variety of experiences - from family groups looking to go horseback-riding or mountain-biking together, to romantic candle-lit dinners, to conferences and weddings, Stever says.
Visitors are also able to get up close and personal with wild kangaroos, deer and koalas.
The vegetation on the Hidden Vale property had been mapped as high- and medium-value bush land for koalas, but unfortunately much of the original forest of red gum - koala trees - has been cleared for agricultural land over the past 150 years.
Spicers has worked with the state government on a conservation project to reintroduce this species in the area, with more than 15,000 gum trees already planted.
Very likely, when visitors hike around the koala forest, they may see a bundle of gray fur sitting high in a tree.
Contact the writer at oushuyi@chinadaily.com.cn.
(China Daily 12/29/2013 page10)