Sangria, tapas and ... sangria
Updated: 2013-12-29 08:22
By Pauline D. Loh(China Daily)
| | | | | | | | | |
| --- | --- | --- | --- | --- | --- | --- | --- | --- |
|   | | Print | | Mail | | Large Medium  Small | 分享按钮 | 0 |
Lunch is not exactly the time of day to get soused, but faced with the temptation of 65 types of sangria, Pauline D. Loh has a narrow escape.
While our giggling group did not necessarily walk the straight and narrow after a long, long lunch at Tapagria, we were definitely weaving a little down Hong Kong's busiest thoroughfare.
Four of us enjoyed all the tapas on the lunch menu with a little creative ordering and some help from an amiable waitstaff.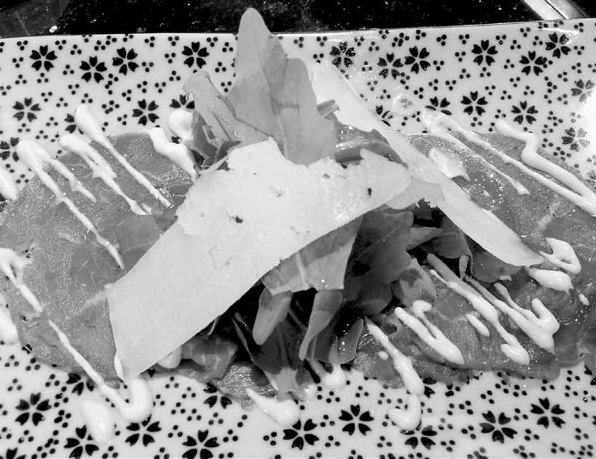 Beef carpaccio with thinly shaved manchego cheese is among the main dishes. Photos by Pauline D. Loh / China Daily
Then we ordered two jugs of sangria, which caused us some grief because it was so hard to decide which from the meandering list on the menu. There are, after all, 65 different sangrias to choose from.
We finally settled on a light, white wine sangria gaily called the Caribbean, and then after that disappeared we chose another jug of darker, deeper flavors that was named Wild Berry.
Tapagria is definitely a festive place to celebrate, especially with the Christmas tree guarding the entrance. But even without the tinsel and bells, we would have had a grand time celebrating the birthday of one of our young colleagues.
Lunch is best ordered from the set menu, which has a grand choice of nine tapas, including vegetarian and staple options. Already, a huge pan of seafood paella was sending out signals as we passed and we doubled our orders for that particular dish.
Tapas are little plates, more a lifestyle than a cuisine style. Transplanted to Hong Kong, it totally suits the Chinese love of sharing food, especially for those who cannot decide on that one dish to eat.
The soup of the day was a tomato seafood soup that is clearly homemade from fresh ingredients. It was a tad tart but that only served to whet the appetite for the procession that followed.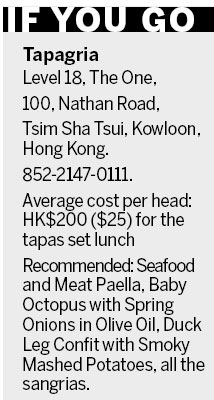 A beautiful salmon tartare with mango had us licking our forks as we collectively dipped into the pile. It was a pleasure to look at, served on floral ceramic platters that immediately brought us mentally to the Mediterranean.
A beef carpaccio with thinly shaved manchego cheese followed, but I had my eye firmly on the baby octopus sauteed in olive oil. It was juicy and tender, and every mouthful was a burst of sunshine that matched the warm rays filtering through the windows.
Then what we'd waited for arrived: two pans of seafood and meat paella, steaming hot with crusty bits that were redolent of meat and seafood juices.
Paella was accompanied by a duck-leg confit leaning on a little pile of smoky mashed potatoes. Fork-tender rich red duck was covered by a crisp skin, and the duck disappeared almost as fast as the paella.
Even as I was chewing on my last bite of duck, I had one eye on the cast-iron pan of clams in seafood sauce. This is my memory of the Mediterranean.
The clams were just cooked and we slurped up the juices.
Did I forget to mention the Iberico pork fillet marinated in a secret sauce? The meat was very lean, but somehow, the secret marinade had made it so delicious that it went down without a fight.
In spite of the little plates, the set lunch of three choices of tapas is more than enough to fill the average tummy. You get to choose a dessert as well, and we would strongly recommend the sorbet. We had peach, although we hear that the coconut is extremely popular.
Contact the writer at paulined@chinadaily.com.cn.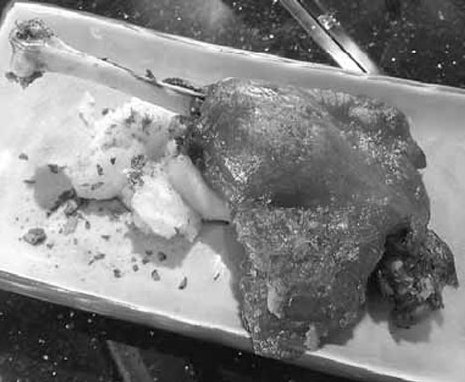 Duck-leg confit is served with smoky mashed potatoes.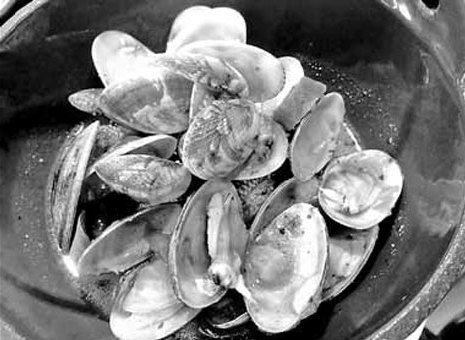 Clams in seafood sauce trigger memories of the Mediterranean.
(China Daily 12/29/2013 page8)