Success has finally clicked
Updated: 2013-12-29 08:21
By Wang Xin(China Daily)
| | | | | | | | | |
| --- | --- | --- | --- | --- | --- | --- | --- | --- |
|   | | Print | | Mail | | Large Medium  Small | 分享按钮 | 0 |
Li Jinsong and his wife are reaping the rewards of persevering with their vision of an Internet portal for teaching Chinese, Wang Xin reports.
After pouring millions of yuan into his business, Li Jinsong said his company, which had been running at a loss for the past six years, can now see the light at the end of the tunnel.
What drove his continuous investment, despite the bleak market in those years, was his belief in and consistent pursuit of popularizing Chinese language education to foreigners.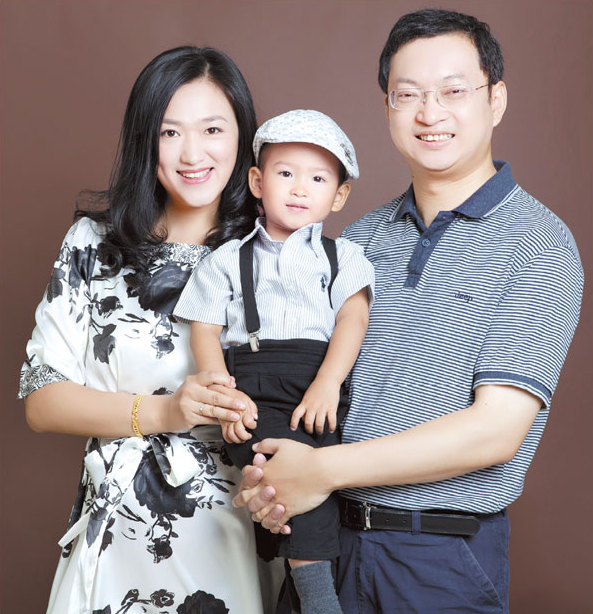 Li Jinsong, president of Tang Chinese Education, and Liu Fei, the company's chairman and also his wife, together with their son. Photos provided to China Daily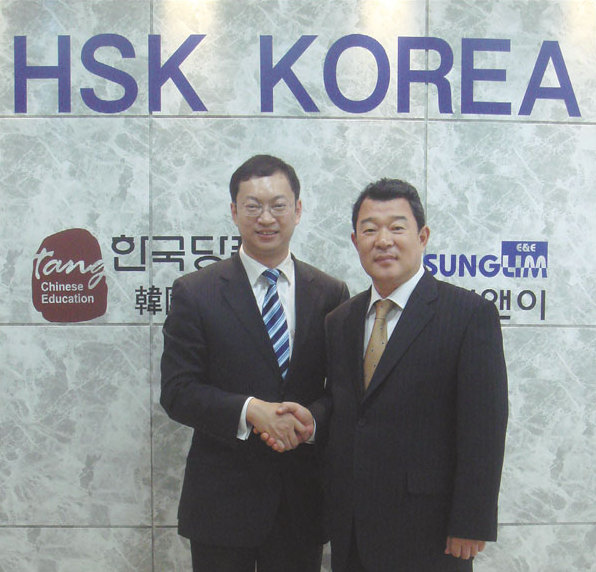 Li with an executive of Tang Chinese Education's subsidiary in South Korea. The Chinese company values localization and has established a presence in several countries.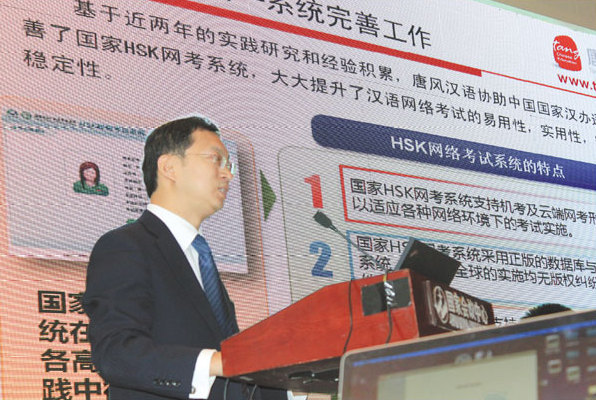 Li briefs the audience upon the online HSK system his company developed. HSK is China's only standardized Chinese proficiency test for non-native speakers.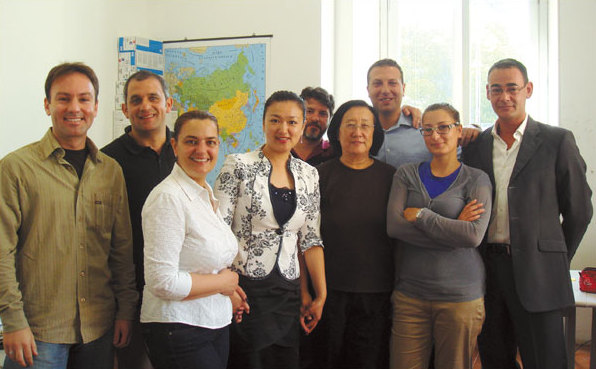 Liu and her colleague with a group of Italian police officers who benefited from Tang Chinese Education's training.

Li was an executive at various IT companies prior to taking office as vice-president of Beijing International Chinese College in 2006. In the same year, he founded Tang Chinese Education and Technology Ltd to promote IT-based language education worldwide.
Different from conventional training centers targeted directly at students, Tang Chinese Education chose to cooperate with various educational institutions and build an online platform to share teaching resources.
"Like Taobao, (China's largest online retail portal), Tang Chinese Education has also created an online community, where educational service providers share their best experience in teaching Chinese," Li said.
"We offer a great wealth of courseware and exercise for Chinese language learners," he said.
Scores of Chinese and overseas universities have contributed to a courseware reservoir of more than 17,000 items and nearly 20,000 questions designed for the HSK examination, the standard Chinese language proficiency test for non-native speakers.
The platform is open to staff and students of institutes after they sign a partnership agreement with Tang Chinese Education.
Teachers may use the online courseware in class or tell students to do their homework on the educational portal, Li said.
Liu Fei, chairman of the company and Li's wife, said, "some teachers are really talented yet they only have a limited audience in a conventional classroom. The platform moves them onto a bigger stage and helps more people benefit from their expertise".
Nowadays teachers, especially the younger generation, are more creative and tend to use multimedia in their lessons, Liu said.
However, those who are short of capital or lack IT skills may feel frustrated that they are unable to use multimedia effectively.
Tang Chinese Education offers templates and tools to help solve this issue. All that teachers need to do is fill in the content, she said.
"It is as if we are building a vehicle and putting all related resources on it, including those we have developed proprietarily and contributions by our partners," she said.
"We are moving in the right direction," her husband added.
'Beneficiary supplement'
Unlike centuries-old English education as a foreign language, the internationalization of the Chinese language started less than 10 years ago, and there is a lack of quality teachers and standardization in lessons, he said.
Capitalizing on their IT prowess, Li and his team have developed an online HSK system over three years of research, which debuted in South Korea in 2010 and has been accepted as a national standard since 2012.
As a result, the company was named the only technological assistance service provider for the Chinese version of TOEFL. That status has helped turn around the company's fortunes.
Based on the HSK system, the company has also launched a series of tests and exercises to facilitate evaluation of progress in learning.
Furthermore, the evaluation system can offer statistics and analysis services, aiding teachers and students to locate their weakest areas and improve efficiency.
"We have forged close cooperative ties with the Ministry of Education, its affiliation Hanban, which is in charge of the HSK exam, the Overseas Chinese Affairs Office of the State Council, Confucius Institutes worldwide and various education institutes to whom we provide services," Li said.
Billing the partners as a "national team" that have invested heavily in promoting the Chinese language and culture, the president defined his own operations as "a beneficial supplement" to the market.
The circle appears lively from outside, yet it's not been easy for the company to find space and survive in the market, as government-run agencies compete to promote Chinese education at a favorable rate or in some case, even free of charge, Li said.
Based on a rational commercial judgment, he would have not jumped into this field, he said.
Tang Chinese Education has faced many crises in the past years - sometimes he was unable to pay wages and the rent on time, he recalled.
"But I never thought of giving up."
Neither the government nor venture capital has funded the company. "Generally, venture capital require a return in five to seven years, but for an education business like ours it usually takes longer to be successful. We don't want to twist the company's growth to meet the financial goals set by institutional investors," he said.
Li said that he feels grateful that his family is on his side. His father who had a private art collection sold paintings by the renowned artist Qi Baishi to raise money for his company.
"Fortunately, the art market is on the rise," Li said cheekily. "He had to sell two pieces last year, but this year, one Qi Baishi was enough to support my business."
IT-based education is a global trend, he said, adding that online companies are more adaptable to market needs.
"We continue updating software and improving user experience," he said. "We are not alone - our partners in China and abroad are with us."
Li attributed his persistence to his belief in the cause. "I felt the call of promoting Chinese, so I just followed the voice in my heart."
Going global
Despite the difficulties it has faced, Tang Chinese Education has established subsidiaries overseas, because Li believes that proximity to the market is key to success.
To date, the company has a presence in South Korea, Spain, the UK, Malaysia and New Zealand.
The entrepreneur positions his company as "a comprehensive service solution provider of global Chinese education", dedicated to offering tailor-made services to different targeted markets.
"The Chinese language does not only belong to the Chinese people - it should be international," Li said. His pursuit attracted birds of the same feather. A number of individual investors who share his values have joined in his company.
"With such a commitment, our company can go further, and the clear and sound commercial operation enables our commitment more efficient."
His wife Liu said, "We feel proud when bringing our business abroad. It's not about private vanity, but a pride in our culture."
There is a widely held perception that Chinese is hard to learn. But Li said, "It's easier to learn than English."
In the eyes of Westerns, each Chinese character looks as if a picture, he said, noting that an image is much easier to recognize than a sound or a group of letters.
And behind one single character stand one or several stories from the sea of rich Chinese culture, he said.
So learning the Chinese language is entertaining and enlightening, he said. "I'm sure it will help people increase their wisdom and have a better understanding of China."
Currently, some 50 million foreigners are paying to learn Chinese around the world, and the number of learners is still rising at an annual growth of more than 10 percent, Li said.
"The growing demand is in accordance with China's rising economic power and increasing political influence in the international community, as language is always related to a country's comprehensive competitiveness," he noted.
After the popularization of the Spanish language resulting from Spain's prosperity in the 18th century, the strength of the United Kingdom and the United States enabled English to achieve global dominance in the following centuries.
"It is the same with the Chinese language," he said.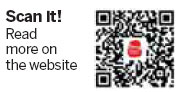 The British government has announced it plans to include Chinese into the 2014 autumn curriculum as a compulsory subject for primary school third-graders.
At the same time, Malaysia's ministry of education has recognized academic diplomas granted by 146 universities on the Chinese mainland since last year, a move expected to prompt more Malaysians to learn in China.
The US took action even earlier. It introduced a plan in 2010 to send 100,000 students to China over the next four years, a sharp rise compared with some 5,000 US students a year before.
Still the growth pales next to the annual 70,000 students from South Korea who come to China to study.
"They all represent the increasing value countries place on cultural and language exchanges," Li said.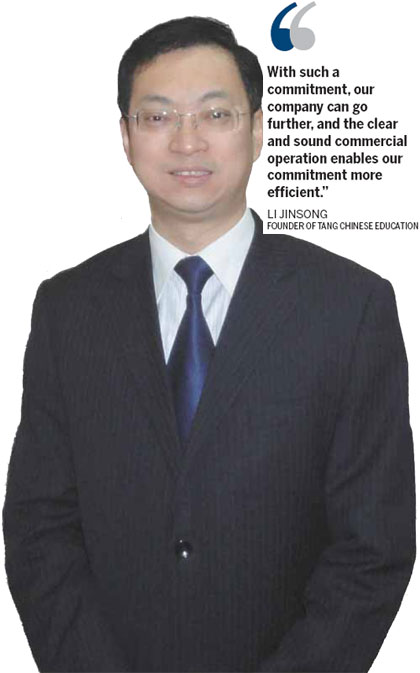 (China Daily 12/29/2013 page7)