Testament to change
Updated: 2013-12-29 08:19
By Zhang Yue(China Daily)
| | | | | | | | | |
| --- | --- | --- | --- | --- | --- | --- | --- | --- |
|   | | Print | | Mail | | Large Medium  Small | 分享按钮 | 0 |
Retired Australian Alex Olah's published diaries document the challenges and achievements of teaching English in China. Zhang Yue reports.
Alex Olah's wife's first reaction when he suggested considering teaching English in China was: "Are you crazy?" That was years before the 67-year-old Australian who'd retired from the Australian Trade Commission recently published a book on the topic.
It was soon after that the couple took a three-week tour of China in 2008 to decide whether teaching in the country would be a good idea.
After working as an English instructor for four years at the China University of Petroleum in Dongying, Shandong province, his selection of diaries about his interactions during his first two years teaching students in CUP was published in September by the university press.
This is Olah's first book, and its publication coincides with the university's 60th birthday.
"I feel lucky looking back to 2008 as we made teaching English in China our second career," says Olah, who'd previously worked for the Australian Trade Commission for 30 years.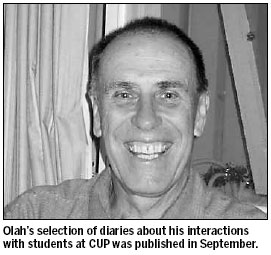 "It has been a wonderful time in our life to be with students in China."
It was a casual conversation back in 2008 in the gym in Olah's apartment back in Canberra, Australia, that inspired him.
"I came across a good friend of mine in the gym and he told me he was doing the course Teaching English to Speakers of Other Languages with his wife and was intending to teach English in China."
That was a very fresh idea for Olah. He was inspired.
The friend also told Olah that there was a strong demand for English teachers in China.
At that time, Olah had retired from the trade commission and was still doing some casual consulting work around Canberra.
Unlike overseas expats who are curious about China but have never visited, the Olahs had spent three years in China from 1983 to 1986, during which time Alex worked in the Australian Embassy in Beijing.
Life in Beijing was pretty hard in those days compared with today, he recalls, and "cabbage was the only vegetable through winter".
Olah never visited China during the 22 years in between but found a different country upon his return.
"We were amazed at the changes that took place in China in the past two decades," he recalls. "It was as if we were in a completely different country."
After the couple finished the TESOL course in 2009, it was the China University of Petroleum that provided them with the best offer.
"It was a bit disappointing as it is a small city that we'd seldom heard about," he says. "We were even a bit reluctant to go in the very beginning."
It was the campus as well as the students that cheered them up on their arrival in the city in August 2009. The costal city is three times as large as Canberra. The campus, holding about 26,000 students and staff, seemed like "a city within a city" to them.
"The kids looked very similar to Western kids, wearing T-shirts and jeans, and they cycled to class," Olah says, recalling his first impressions.
"They've been very nice to us from the very beginning."
It was through later and longer interactions in class that he gradually noticed cultural differences, some he even described as a "culture shock".
"There was a class discussion after the National Holiday of 2009 where I shared my travel experience in Yantai," Olah recalls. "Students were keen about my travel story, and I was surprised to learn that only one of them went traveling during the holiday. Most chose to go home."
Another surprising finding, during a class about China's automobile industry, was that none of the 31 students majoring in International Business and Trade in that class had a driver's license.
"In Australia or America, almost 100 percent of a sophomore class would have their driver's license. Actually many of them would have their own car or motorcycle," he wrote in his diary later that day.
He recorded such interactions in his diary over four years. The diary is also what he can quote from when he writes e-mails to his mother, Traudi Olah, to whom he has dedicated his newly published work. She has a great interest in China, he says.
"I wrote letters to my mom by e-mail. My sister would help print out the letters for her and sometimes read them to her. And she usually asked some further interesting questions in response," he says.
What largely encourages him is that students are also changing along the way.
"I asked the students the same question again about their driver's license last month," he says, "Now, 20 percent of students have a driver's license, which is extraordinary."
Over the past four years, Olah has used news topics from the media to encourage class discussions.
"They seldom had the habit of reading any news in English at that time," he recalls.
"It is such a delight to see that many of them are getting information in English through the media and Internet now."
Olah had never considered publishing the diaries until earlier this year when he met Shan Honghong, president of CUP. Shan learned about Olah's diaries and thought that their publication would be a good gift to have for the university's 60th birthday.
Now, the book has been published in both English and Chinese.
"I hope more of my students will like the book as they can now read it in Chinese," Olah says.
Contact the writer at zhangyue@chinadaily.com.cn.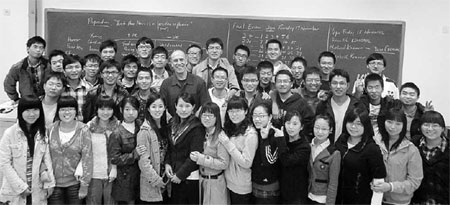 After a casual conversation in 2008, Alex Olah decided to teach at China University of Petroleum after retirement. Photos Provided to China Daily
(China Daily 12/29/2013 page5)