Singer passes on, but her legacy lives on
Updated: 2013-12-29 08:18
By Xu Jingxi(China Daily)
| | | | | | | | | |
| --- | --- | --- | --- | --- | --- | --- | --- | --- |
|   | | Print | | Mail | | Large Medium  Small | 分享按钮 | 0 |
The challenge is on to find a new flag bearer for Cantonese opera following the sad and sudden departure of the inimitable Hong Xiannu. Xu Jingxi reports in Guangzhou.
Braving cold rain, more than 3,000 people paid their respects to Hong Xiannu (1925-2013), a renowned Cantonese opera actress, at a farewell ceremony held in Guangzhou, provincial capital of Guangdong province, on Dec 17.
Hong Xiannu, born as Kuang Jianlian, passed away at 8:35 pm on Dec 8 from acute myocardial infarction at the age of 89. Party chief Xi Jinping, Premier Li Keqiang and the other five members of the Standing Committee of the Political Bureau of the Communist Party of China Central Committee sent wreaths.
Zhu Xiaodan, governor of Guangdong province; Leung Chun-ying, chief executive of the Hong Kong Special Administrative Region; Wan Qingliang, Party chief of Guangzhou; and mayor Chen Jianhua attended the funeral. Also present were Hong Kong actor Andy Lau, and famous Cantonese opera actresses Liza Wang and Tse Suet-sum.
At the ceremony, the mayor spoke highly of Hong's "lifelong efforts" of promoting Cantonese opera at home and abroad and passing on the art to younger generations.
Dressed in a traditional Chinese red gown with gold embroidery of images of a dragon and phoenix, Hong lay in peace in a glass coffin. Praise of Lychee, one of Hong's classics, was played in the funeral hall, arousing memories of her silvery voice and onstage elegance.
Wearing the same gown, she sang the same song at the gala evening of a grand gathering of Cantonese-speaking Chinese around the globe in Guangzhou on Nov 13, less than a month before her heart attack.
On one hand, it shows Hong's love for Cantonese opera and her devotion to the art's development. On the other, it reflects the worrying situation that no one measures up to Hong as Cantonese opera's flag bearer.
To commend her contributions to Chinese culture and art, the city government of Guangzhou funded the Hong Xiannu Arts Center in 1998 to celebrate the 60th anniversary of her career.
Dedication to her art
Hong used to work as the center's director and saw to everything personally to develop the center into not only a museum of her achievements but also a school for young professionals, a forum for Cantonese opera troupes all over the world to meet up and exchange ideas on the art's blueprint.
Lian Xingcun, the center's deputy director, says that Hong regarded the center as more important than home.
"She came to the center every day. Her work was her whole life," Lian says.
Lian recalls that every time a Cantonese opera troupe visited Guangzhou and put on a show, Hong would ask the staff to buy a ticket for her with her own money. She would repeatedly tell the staff not to ask for tickets for free from the troupes.
"Hong Xiannu would get onto the stage and perform for fans or show her support for Cantonese opera troupes as long as her health allowed," Lian says.
The gerontic woman was always hale and hearty onstage with her eyes shining behind a pair of tawny glasses under her white hair. However, she needed someone to hold on to when alighting the stage.
"Her biggest hobby in her spare time was Cantonese opera. She often came to the center to sing to live accompaniment by musicians," Lian says.
On weekends, she gave Cantonese opera lessons free of charge to kids, hoping to carry on the national treasure from generation to generation.
The master spared no effort to train young talents in Cantonese opera, according to Yu Yong, president of Guangdong Cantonese Opera Theater.
"Almost all the leading young and middle-aged Cantonese opera actors and actresses in China today are Hong Xiannu's students," Yu says.
Ou Kaiming, general manager of the Guangzhou Cantonese Opera Group and a state first-class artist, is one of Hong's most outstanding students.
He had been working in a local Cantonese opera troupe in the Guangxi Zhuang autonomous region before he was transferred in 1991 to Guangzhou Red Bean Cantonese Opera Troupe, which was founded by Hong in 1990.
An enduring inspiration
Hong discovered Ou's potential as a Cantonese opera star after watching Guangxi TV Station's broadcast of the mid-autumn festival gala. She went to Guangxi in person for Ou's job transfer.
"I was surprised that Hong Xiannu, such a notable, respected character, would come for me as a young, unknown actor at that time. I'm grateful that Hong Xiannu took me to a bigger stage," says Ou, who later became the country's top Cantonese actor for both musical and kung fu plays and the director of Guangzhou Red Bean Cantonese Opera Troupe.
"I will inherit my teacher's spirit of always endeavoring to do better and holding art and the stage in awe and veneration," Ou says.
Hong required Ou to read through the Turbulent Stream trilogy by Chinese writer Ba Jin (1904-2005) as she did when they were producing an opera based on the first book of the trilogy, The Family.
"I've learned from Hong Xiannu that acting is much more than memorizing the script. It requires in-depth knowledge about the author, the characters and the story's social background," Ou says.
She also set a good example for Cantonese opera artists to keep updated on the latest social changes by reading eight to 10 newspapers every day, he adds.
In Ou's eyes, Hong was both a strict teacher and a loving mother. When Ou was busy staging shows at home and abroad, Hong took care of his son, treating him as her own grandson. The good friends - despite the great difference in age - dined together the day before Hong's sudden departure.
Hong joined Ma Sze-tsang's Cantonese opera troupe traveling across Guangdong province and Guangxi during the War of Resistance against Japanese Aggression (1937-45), to boost the army's and people's morale and raise money for the resistance.
She started her career on the big screen in 1947 in Hong Kong and starred in more than 90 movies in the following eight years.
It was surprising when the Cantonese opera and movie star gave up her fame in Hong Kong and decided to return to the mainland in 1955 upon then premier Zhou Enlai's invitation.
Hong offered great support to the development of Cantonese opera in Hong Kong, although she left. For example, she attended the reopening ceremony of Hong Kong's Sunbeam Theater and sang Praise of Lychee last May at the age of 88.
The Cantonese opera industry, the media and the public have all been discussing the future development of the art after the banner bearer's death. However, Yu hopes that the discussion on rejuvenating the industry will continue.
"Hong Xiannu passed away with concerns about the shortage of new plays closely related to contemporary society and young talents, especially scriptwriters. Solving these problems requires our long-term efforts," says Yu from the Guangdong Cantonese Opera Theater.
"Hong Xiannu had been working hard to bring forth new ideas to the traditional art to make it appealing to young audiences."
Banners that read "Her life belongs to art" and "Her art belongs to people" hung from the two sides of Hong's coffin at the funeral.
"This is the most apt description of my mother's life," Ma Dingchang, Hong's son, says.
"Now she can rest. I believe she is consoled to have received condolences from the Party, the country and the people."
Contact the writer at xujingxi@chinadaily.com.cn.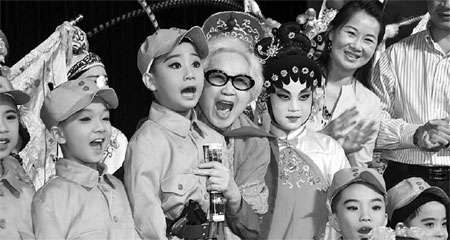 Hong Xiannu, born as Kuang Jianlian, passed away on Dec 8 from acute myocardial infarction at the age of 89. Photos Provided to China Daily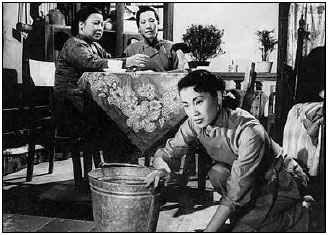 Hong started her career on the big screen in 1947 in Hong Kong and starred in more than 90 movies.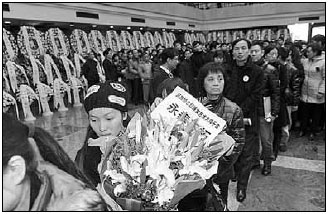 More than 3,000 people attend the farewell ceremony. Mo Weinong / for China Daily
(China Daily 12/29/2013 page4)