Food as foot soldiers' fuel
Updated: 2013-12-29 08:08
By Margaret Keefe in Shanghai(China Daily)
| | | | | | | | | |
| --- | --- | --- | --- | --- | --- | --- | --- | --- |
|   | | Print | | Mail | | Large Medium  Small | 分享按钮 | 0 |
Runners need to balance their intake of carbohydrates, protein and fat. Without enough carbs, protein can't do its job, while excessive protein gets stored as fat. It's also important to get the calorific intake right. Runners who jog 30-60 minutes a day have different needs from those preparing for a marathon.
Runners should eat complex - aka non-white - carbs. This can be a challenge in China, where most carb sources, such as rice, noodles and mantou (steamed buns), are white.
But exceptions exist.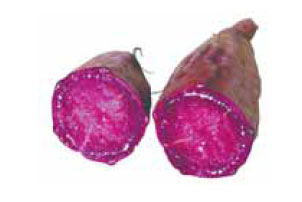 Sweet potatoes are an excellent source of not only carbs but also vitamins and minerals. Purple potatoes are high in stress-alleviating antioxidants, which should be a part of every runner's diet. And roasted chestnuts make for a terrific autumn street food because they're high in carbs but low in fat and salt.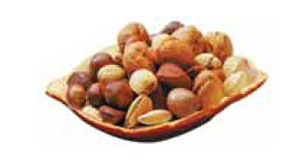 The variety of local fruits is another great source of carbohydrates, especially in such locales as Shanghai.
Fresh and dried fruits supply runners with easy-to-absorb carbs, making them a great choice before a race. Green mandarins are full of vitamin C, another antioxidant that's especially good for lungs on smoggy days. Xinjiang melons are packed with fiber and potassium, a mineral that supports cardiac health. Just a few pomelo slices can provide a dose of low-glycemic-load carbs and about 200 percent of daily vitamin C.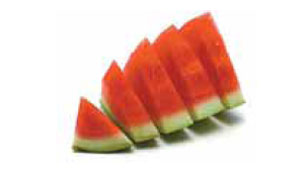 Watermelon contains an amino acid that relaxes muscles and improves circulation. A watermelon slice or a glass of juice before workouts reduces subsequent soreness.
Greens are also crucial. Chinese cuisine abounds in green vegetables. It's better to boil them to avoid fat.
Tofu is rich in protein and calcium. Running strengthens bones, so extra calcium helps that process. Tea eggs are also great for runners in a hurry because of their low-fat protein content. Soymilk is also bolstering, especially for those who avoid dairy, due to its balance of protein and carbs.
After these, fish and chicken are great low-fat choices as long as they aren't cooked in a lot of oil or smothered in a sweet sauce.
It isn't hard to add fat to any diet. But for runners - and the rest of us - the best choices are vegetable oils and foods rich in healthy fats.
In China, that includes nuts, seeds, coconuts and sesame paste. Olive oil and avocados are also boosters.
Eating well propels most racers past not only the race's finish line, wherever they place, but also toward other wellness goals.
American nutritionist Margaret Keefe offers a dietary "cheat sheet" for marathon runners and hobbyist joggers - and for race days. She explains which local ingredients, fruits and dishes best nurture the body and mind, and which counter pollution's health effects. The longtime Shanghai resident runs the popular Eat Well Shanghai blog.
For China Daily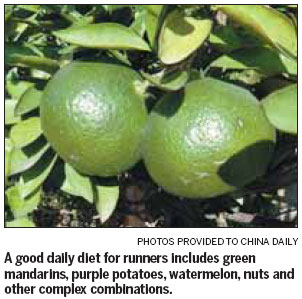 (China Daily 12/29/2013 page3)