Xi joins diners for dumplings
Updated: 2013-12-29 08:07
By Sun Xiaochen(China Daily)
| | | | | | | | | |
| --- | --- | --- | --- | --- | --- | --- | --- | --- |
|   | | Print | | Mail | | Large Medium  Small | 分享按钮 | 0 |
Chinese leader's drop-in surprises restaurant's patrons and staff
The public hailed President Xi Jinping after a man-of-the-people appearance at a steamed dumplings restaurant in Beijing on Saturday.
It was a normal, busy day when Guo Xueqin, a cashier of the Qing Feng Steamed Dumpling Shop's Xicheng district branch, welcomed a group of customers lined up in front of the counter to order.
Suddenly, a middle-aged visitor in a dark coat entered the restaurant with a few followers and joined the line.
Guo recognized Xi at first glance but tried to stay calm when the president approached her to order.
"It's unbelievable that the president would drop by an ordinary restaurant without a huge number of retinues and security guards. He seemed humble but dignified and didn't stop people from taking photos of him," said the 19-year-old, who has worked at the eatery for two years.
Xi ordered six traditional steamed dumplings filled with pork and green onion, a Beijing snack and some vegetables. The total was 21 yuan ($3.50). He paid cash and then chatted and shook hands with patrons, Guo said.
Restaurant manager He Yuanli hailed Xi's affability.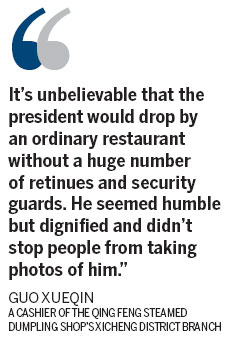 "He seemed like every ordinary customer. He was polite and gracious to everyone, and came up to say hello to people," He said.
It took about 20 minutes for Xi to finish his food while taking photo requests, and he urged the restaurant to pay attention to food safety, He said.
Zhu Yuling, general manager of the chain restaurant's holding company, said he was impressed by Xi's down-to-earth style and concern about everyday issues.
"Some incidents in recent years have produced broad concern about food safety, and the president's visit was a big boost to the entire catering industry. His appearance eased the public's anxiety over food sanitation," Zhu said.
Xi's visit triggered sensational public interest as the news and photos spread online.
The first micro blog post unveiling the news, sent by a user named "Sihaiweichuanbo", had been forwarded more than 9,000 times by Saturday evening.
Local residents who heard about the visit came to the restaurant to order the same food and take photos at the table Xi used.
The table was later removed as a keepsake, a Hexun.com report said.
Wu Shengli, a 62-year-old retiree, took his wife and grandson to the shop in the evening, although he'd already had brunch there that morning.
"Knowing that the president was in the same restaurant we usually visit made us feel connected with him," Wu said.
"There's no better definition of the new-generation Party leaders' approachable style and kind manner."
Wang Xingkai, a kiosk vendor outside the restaurant, agreed, citing Xi's simple motorcade.
Youth.cn quoted Wang as saying: "There wasn't traffic control before or after his visit, so we didn't know it was the president until we saw him. Actions speak louder than words as a response to the central government's call for reducing public spending and extravagance."
Earlier on Saturday, Xi visited a heating-supply company and a nursing home, extending New Year's greetings to frontline staff members and seniors all over the country.
He chatted and took photos with the elderly residents of the Sijiqing Nursing Home.
Xi said China's elderly care industry remains relatively underdeveloped and asked institutions to improve management and service quality to ensure people can happily spend their old age in comfort.
Hou Liqiang contributed to this story.
sunxiaochen@chinadaily.com.cn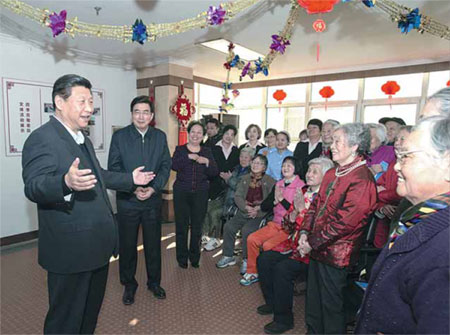 President Xi Jinping visits the Sijiqing Nursing Home in Haidian district. He spoke with choir members in the music room. Li Xueren / Xinhua
(China Daily 12/29/2013 page1)