A banner year for Confucius Institute paves way for growth
Updated: 2013-12-08 08:08
By Cheng Yingqi(China Daily)
| | | | | | | | | |
| --- | --- | --- | --- | --- | --- | --- | --- | --- |
|   | | Print | | Mail | | Large Medium  Small | 分享按钮 | 0 |
The Confucius Institute, a public institution committed to Chinese-language and cultural instruction, has expanded to 440 Confucius Institutes and 646 Confucius Classes in 120 countries and regions this year.
The total number of registered students in the institutes and classes reached 850,000 in 2013, a 30 percent year-on-year increase, Confucius Institute Headquarters director-general Xu Lin said at the opening of the 8th Confucius Institute Conference on Saturday in Beijing. She released the institute's latest work report at the event.
The report also found Confucius Institutes - the headquarters of which is also known as the Hanban - worldwide staged more than 20,000 cultural activities, including more than 5,000 lectures, this year.
Chinese Vice-Premier Liu Yandong said in a speech at the conference that the institutes had contributed to meeting international demand for Chinese-language studies and improving mutual understanding and friendship.
Liu expressed hopes Confucius Institutes will continue to enlarge their pedagogical scale and improve the quality of teachers, materials and methods.
In October 2012, the Hanban published the Development Plan of Confucius Institute 2012-2020, which set forth its global vision. All Confucius Institutes accordingly published individual plans.
"This year, we elaborated upon a roadmap and timetable for implementing the development plan," Xu said.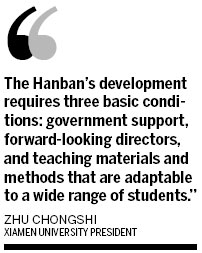 The headquarters identified 21 top tasks; organized regional meetings for Asia, Europe, the United States, Latin America and Oceania; and improved teaching quality.
One of the major tasks is training teachers and directors. About 14,400 received training in 2013, and the Hanban chose 300 teachers and volunteers to become full-time teachers, who will rotate among different institutes in different countries.
The Hanban also plans to build a Confucius Institute Directors' College in two years to improve training for directors and teachers.
It hopes to cooperate with Xiamen University to build the Director's college, Xu said.
It plans to train about 3,200 Chinese and foreign Confucius Institute directors and teachers annually.
Xiamen University president Zhu Chongshi said enhancing directors' management and vision is the main priority.
"There's an urgent need for qualified directors for more than 400 institutes worldwide," Zhu said.
"The Hanban's development requires three basic conditions: government support, forward-looking directors, and teaching materials and methods that are adaptable to a wide range of students."
Zhu explained the new college will be different from existing training courses in various Chinese universities.
First, it will gather the most prestigious experts from around the world to lecture on various topics according to a more systematic curriculum.
Second, it will be a platform for standardizing director selection criteria.
Third, the college is open not only to directors but also to future candidates. So it will discover and cultivate reserve talent.
In addition, the Hanban runs other programs to better train local Chinese-language teachers and Sinologists for the long-term development of overseas Confucius Institutes and Classes.
chengyingqi@chinadaily.com.cn
(China Daily 12/08/2013 page2)