Shoppers in a strange land
Updated: 2013-12-01 07:20
By Wang Xin(China Daily)
| | | | | | | | | |
| --- | --- | --- | --- | --- | --- | --- | --- | --- |
|   | | Print | | Mail | | Large Medium  Small | 分享按钮 | 0 |
Startup helps expats navigate perils of buying online, Wang Xin reports.
When Sheila Zhang, who has lived in the United States for 20 years, returned to Beijing in 2011 she found shopping online to be problematic.
The Chinese American has yet to learn how to make an order via local popular payment software, so now she still relies on friends to help her with payment. "But as you know, you cannot always depend on others," Zhang said.

A variety of festival decorations and gifts are available on Kookus.com, a shopping portal designed for expats in China. Photos provided to China Daily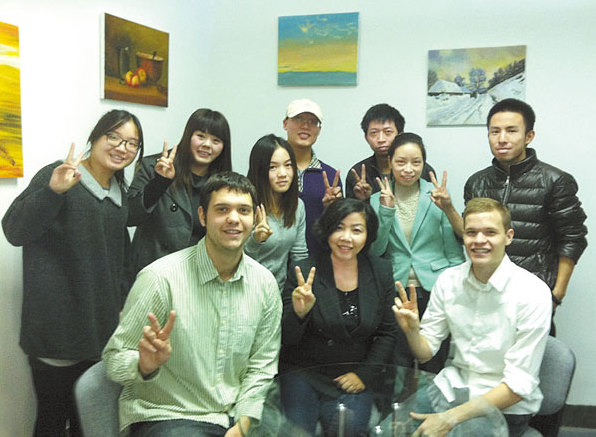 Sheila Zhang (first row, middle) poses with Kookus.com staff.
Also, for an expatriate, it is not that easy to apply for a credit card, she added.
This is why Zhang came up with the idea of starting an English shopping portal herself, hoping to "offer convenience to expats in China". At the website, buyers can pay via Paypal or in cash on delivery.
The previous jobs of the University of Arizona postgraduate, who majored in systems engineering and quality management seemed to offer little relevant experience to her startup - she worked as an engineer at a multinational and as a researcher on environmental management at a US national lab, but nevertheless she is full of enthusiasm for her new career.
"Since most of the small commodities in the world are made in China, I'm certain I can find quality suppliers and offer considerate services," she said.
Before her portal Kookus.com went online, Zhang spent one week locating her suppliers at the massive Yiwu international wholesale market, where commodity quality varies enormously and great effort is required to make a selection, she said.
Shortly After advertising at an online foreigner community in Beijing, Kookus.com was unveiled in mid-October, with some 1,000 holiday decorations, toys and costumes for the Halloween around the corner.
"Our Web page design may not be pretty, yet it is simple and straightforward, enabling more convenient search," Zhang said.
"On some of major portals, I feel shocked at the dazzlingly huge number of commodities on sale," she said. "Facing the sea of goods available for choice, it'd become even harder to get to what you really need, which may just lie inconspicuously in a corner."
Zhang said that she has no illusions about Kookus.com becoming a huge shopping mall that can compete with giants like Taobao or 360Buy. Her goal is to build an accessible online convenience store that offers an online shopping experience, exactly the same as that in the Western countries.
Especially designed for foreigners living in China, Kookus.com offers English-speaking services and a 30-day return policy.
The commodities Zhang picked were based on her experience as a consumer in the US, which gave her insight into the preferences of foreign buyers.
"The most difficult part of running an online business is not the website construction, but how to make it known to, accepted and liked by the target customer group," she said.
She still remembers how excited she was when Kookus.com received the first order in the late afternoon four days after it began official operation.
"I called that evening to inform everyone that cares about Kookus.com of the order," she recalled with a smile.
Then, from one order every other day up to more than 10 on a day, Zhang's online store embraced its first busy season. "That's a good start," she said.
Inflows of orders increased pressure on delivery services. As the express company was too busy to satisfy the demand, Zhang and her staff all joined the shipping force to honor their promise for an on-time delivery.
When Zhang once drove through half of the city for delivery, Brittany Hopkins, the buyer who teaches at a local high school, told the portal founder that it was her first successful online purchase in China.
"Her smile got me feeling that all the hard work is paid off," Zhang recalled.
Within two weeks, more than 40 orders flocked in, contributing to supplier's stockout. "We had to terminate the Halloween sales, while orders continued to come in," she said.
Now Zhang and her team are going all out to prepare for the Christmas season, with 2,000 decorations and gifts available on Kookus.com.
Either West or East, festivals are a great consolation. Especially to expatriates, celebrating traditional festivals remind them of the together time with their loved ones. "Just like the Chinese have rice dumplings on Dragon Boat Festival and mooncake for the Mid-Autumn Day, foreign holidays have their own flavor," Zhang said.
That's why festival decorations are a highlight of Kookus.com.
"I hope that in this approach, Kookus.com will become more recognized among foreigners and can establish a brand in the community," she said.
Yet her ambition is to go beyond that. She says the site should act as a "considerate housekeeper" of customers.
If consumers cannot find what they want on the site, they can tell the service staff their needs and Kookus.com workers will try to help them find it, Zhang said, adding that they've already had such a successful case.
"Our customer base may not be that big, but they'll find our services considerate as if in neighborhood," she said. Kookus.com also offers services of booking trains, flights and hotels.
"My wish is that some day, whenever expats need help in daily life, going to Kookus.com will come to their mind immediately," she envisioned.
Like many other startups, the website is thirsty for capital.
"If I could secure an investment from Angel Fund, many of my plans will come true sooner, such as recruiting more people, expanding commodity list and promoting Kookus.com in the country's business hubs including Shanghai, Guangzhou and Shenzhen," she said.
"With the injection of more capital, we can rent a small warehouse to stock up dry food or wine." Currently, due to financial pressure, Kookus .com has no inventory itself.
Just like what she designs for Kookus.com, Zhang billed herself as "simple, optimistic compassionate and humorous". "I'm sure I can get along with investors," she said.
Besides Kookus.com, another pillar in Zhang's life is her family.
Her son is now majoring in chemistry at University of California, Berkeley and daughter has entered an international high school in Beijing. "They are both quite independent," Zhang said.
Her husband works as a dean of an engineering school at a top Chinese university. He has too hectic a schedule to hardly spare weekends, she said.
Zhang is the center of such a loose-structure family where each member is busy in their respective circle. "They all come to me," she said.
At the same time, her multi-roles in the family also include love of her parents. The desire to take care of her parents in part prompted her decision to return to China. After she was away from them for 20 years, she returned only to find that less time left with her to accompany them.
Her father, a retired secondary school teacher, was diagnosed as Parkinson last year and his health deteriorated rapidly.
"In the early tearful days I just found it hard to accept it," she recalled. "While I was driving, I couldn't help bursting into tears sometimes, and I had to park at the street for recovery."
After collecting up courage, she had her father living with her family and tended him herself. Later, out of professional medical service consideration and safety concerns, she sent him to a nursing home.
Zhang has since visited him often, giving him a massage, wheeling him out on fine days, sharing with him her ups and downs, or occasionally singing him old songs, while in most of time, he remained silent due to the deterioration in language.
But during this year's Halloween season, she once paid a brief visit and explained to him she'd soon leave for an urgent delivery.
In response, his lips were trembling yet failed to utter words due to the illness.
"But when I turned to the door, his words clearly came behind my back - 'Safe drive. Take it easy'," she re-counted. "Then my eyes were filled with tears."
"I believe that the parting reminder he struggled to speak out is a refection of his deep love," she said.
Unlike the Western communication way in dealing with children, Zhang said her communication with parents remains conservative. "We're close in heart yet rarely express our concern and amenity openly."
The closest sign may be walking them, arms held, she said.
In some sense, Zhang is operating Kookus.com as she runs her family, where she feels she is needed.
"Running a company is not a fleeting venture, but to offer convenience to others and to prove that I'm needed by the society, both our customers and employees," she said.
"It's not a job, not in the sense that you need work more than work needs you," she said. "I enjoy the process - I started, I will try my best and I'll persist in pursuit of my dream."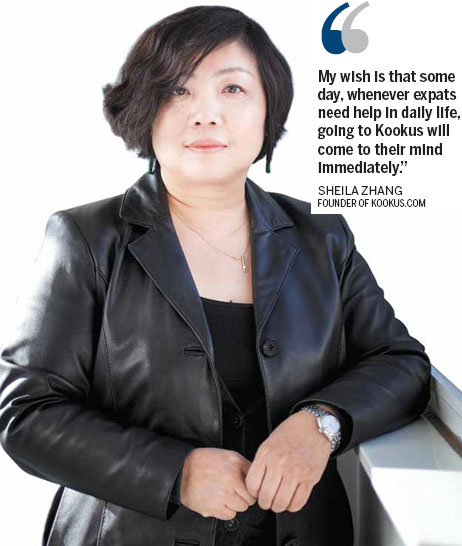 (China Daily 12/01/2013 page16)