Tickling the funny bone
Updated: 2013-12-01 07:20
By Chen Nan(China Daily)
| | | | | | | | | |
| --- | --- | --- | --- | --- | --- | --- | --- | --- |
|   | | Print | | Mail | | Large Medium  Small | 分享按钮 | 0 |
Growing audiences prove Beijing Comedy Festival has the last laugh. Chen Nan reports.
Comedy is hard but not for this funnyman. Ever since Chen Peisi became a household comedy star after performing in a sketch comedy for CCTV's Spring Festival Gala in 1983, he has been known for making audiences laugh.
His latest approach to conjuring laughs is the use of dialects, which will be fully displayed in the upcoming Beijing Comedy Festival.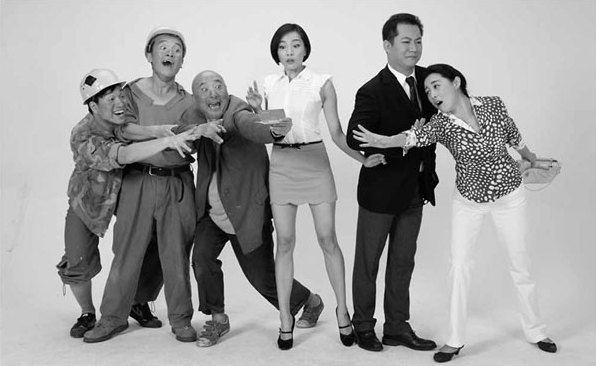 Chen Peisi (third from left) invites veteran actress Liu Bei (far right) to perform in his classic comedy The Balcony. Photos provided to China Daily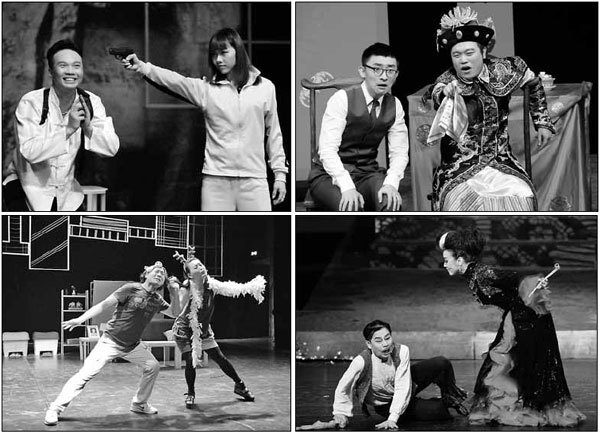 Eight comic dramas have been chosen for the 2013 Beijing Comedy Festival. Pictured are stage scenes of Thieves on Journey, The Empress Dowager Cixi, PS I Love You and The Visit.
"I spent lots of time traveling around to watch comic dramas during the past few years and I have learned that dialects are old-fashioned but still a source of comic relief," the 59-year-old says.
"When you talk to a person with a dialect, you know where he comes from and you can tell his personality from his accent and facial expression, which is authentic, and the humor is authentic, too."
The veteran comic has chosen eight comic dramas for the 2013 Beijing Comedy Festival, which he founded three years ago, such as Love Is Not Blind, adapted from the popular film with the same name by Shanghai-based director He Nian, and Thieves on Journey by Tianjin People's Art Theater.
Chen also points out that China has thousands of dialects, which are treasures for comic dramas in theaters.
"I have observed the feedback from audiences in different cities around the country when the dramas were performed. The local audiences could share the humor, which has been designed by the scriptwriter or director. The audiences, who don't live with the dialect, could also find some hilarious moments not intended by the dramas' creators," he says.
Wu Qiong, one of the best-known Huangmei Opera actresses in the country, will play in the drama The Visit, which is adapted from Swiss writer Friedrich Durrenmatt's story of the same name. The adaptation will be a mix of traditional opera and modern music and dance.
Wu, who made her name playing the fairy princess in Marriage of the Fairy Princess, says that it's her first time performing in a comedy, which is fun but not easy.
According to Wu, Huangmei Opera can be traced back some 1,400 years to the early Tang Dynasty (AD 618-907) in Huangmei county, Hubei province and this comic drama is modern.
"I will sing Huangmei Opera as well as rock and pop songs in the show. It's so interesting," the 51-year-old actress says. The Visit has been touring around China since early this year, and has received warm feedback.
She also points out that thanks to Chen's suggestion, she figured out a way to keep Huangmei Opera alive.
"Traditional plays, like many old art forms in China, are losing audiences. We have to keep it contemporary and creative to attract young audiences. Maybe comedy is a way," she says.
Veteran actress Liu Bei will make her debut in a comic drama by starring in Chen's classic comedy The Balcony.
Liu says that Chen spent a long time persuading her to take the role of a vulgar woman from the village who fights with her husband's mistress.
"I decided to give it a try because he told me that I have the potential to be hilarious, which I haven't discovered. I like challenging roles, so I couldn't resist the temptation," the 46-year-old says. Chen will also star in The Balcony during the Beijing Comedy Festival.
Since starting the Beijing Comedy Festival three years ago, Chen says that he is glad to see that audiences are increasing. He admits that in the first year, he had a cooperative company who left before the festival started.
"I guess they couldn't continue the cooperation because it was a money-burning business," Chen jokes.
His first comic drama Tuo'er in 2001 was a box-office success, which gave him lots of confidence. Later he started his comedy school, training young actors, some of whom will perform the new version of Tuo'er during the 2013 Beijing Comedy Festival.
"I used to believe that comedy is an art, which is high, but with years of practicing humor, I realized that comedy is an art that serves the audience. The rule is to make people laugh and feel relaxed," he says.
Contact the writer at chennan@chinadaily.com.cn.
(China Daily 12/01/2013 page15)