Edited collection explores Asian art
Updated: 2013-12-01 07:20
By Rebecca Lo in Hong Kong(China Daily)
| | | | | | | | | |
| --- | --- | --- | --- | --- | --- | --- | --- | --- |
|   | | Print | | Mail | | Large Medium  Small | 分享按钮 | 0 |
South and southeast Asia are hotbeds of inspiration for many contemporary artists. Many countries in the region have undergone dramatic transformations within only a few generations, from colonial outposts to autonomous nations struggling to keep traditions and cultures alive and relevant.
It is the sometimes uneasy marriage of politics with faith, religion and ethnicity that makes the region fascinating to its indigenous creators. The theme eventually found its way into the exhibition entitled No Country, presented at Asia Society Hong Kong Center as the first touring show of the Guggenheim UBS MAP Global Art Initiative.
Initially mounted at Manhattan's Solomon R. Guggenheim Museum this February to May, the show continues in Singapore next year after wrapping up in Hong Kong.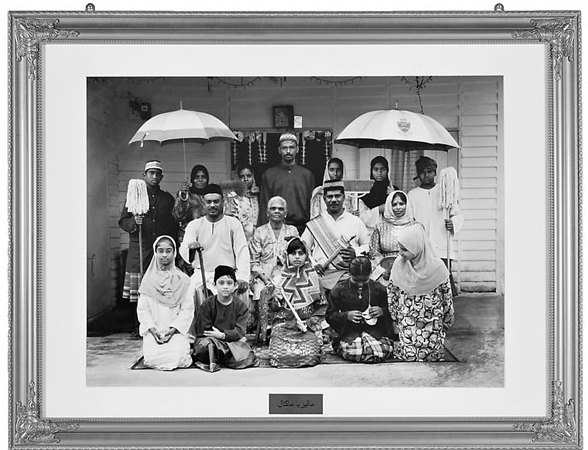 Malaysian artist Vincent Leong's Keeping Up with the Abdullahs shows family portraits. Provided to China Daily
No Country takes its name from the opening line of William Butler Yeats' poem Sailing to Byzantium, which was subsequently used by Cormac McCarthy for his novel No Country for Old Men. By emphasizing the blurring of political and cultural boundaries between nations, the pieces that make up the exhibition question typical Asian norms. The exhibition was curated by Singaporean June Yap while Dominique Chan provided assistance for the Asia Society show in Hong Kong.
"Our mission is to teach Asians about Asia while promoting a greater understanding of Asia to the rest of the world," says Alice Mong, executive director of Asia Society Hong Kong Center.
"This is our fifth exhibition since we opened our new building and the first time Guggenheim has exhibited in Hong Kong. It is also the first time the Asia Society Hong Kong is presenting works from around the region, though we have a tradition of introducing contemporary artists to Hong Kong."
"The initiative is an ambitious undertaking," says Richard Armstrong, director with the Solomon R. Guggenheim Museum and Foundation. "It demonstrates the rhetoric that we're a global museum." About 250,000 people visited the Guggenheim to see the exhibition earlier this year.
According to Armstrong, the event will feature three regions in total. Aside from south and southeast Asia, it will also mount works from Latin America and the Middle East with North Africa. It aims to be an exchange between peers.
"We're a greedy museum: We believe in acquisitions. While we're adding to our permanent collection, at the crux we are an educational enterprise. We believe in the full exchange of educators in Hong Kong and the region, and it was important that educators were incorporated into the discourse from early on," Armstrong says.
"It is called MAP since we set out to chart artistic traditions from places previously under-represented," says Yoon Chi-won, CEO with UBS Asia Pacific, the exhibition's title sponsor. "With 35,000 pieces, UBS' art collection is one of the most important in the world. We are committed to supporting artists globally and regularly loan out art to museums for the enjoyment of a wider public. We believe that a thriving art scene reflects a thriving society."
Held in the atmospheric Asia Society Gallery, a granite structure built in 1868, the multimedia exhibition includes works by 13 artists for a total of 18 pieces.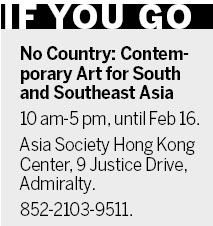 Bangladesh artist Tayeba Begum Lipi explores the political and gender-specific violence through her stainless steel installation Love Bed. She gives the marital symbol of warmth and rest a twist with her stainless steel mattress of razor blades.
Malaysian artist Vincent Leong's Keeping Up with the Abdullahs (1 and 2) shows two family portraits that depict families from ethnic groups in his home country. Though dressed in traditional Islamic attire, the portraits' compositions recall early 19th century Malay sultans.
Vietnamese artist Truong Tan's What Do We Want is a crucified nude male styled in the form of Vietnamese female easel paintings, and alludes to how Vietnamese citizens are still bound by the country's conservatism.
"South and southeast Asia is the cradle of so many cultures," says June Yap. "The region is marked by colonization and intervention. Artists go beyond the borders that define the region today by emphasizing its spiritual and moral aspects, and how they shaped communities. Their art is a re-evaluation of the past while considering opportunities for the present and how to transcend contemporary boundaries."
sundayed@chinadaily.com.cn
(China Daily 12/01/2013 page15)