New York City Italian in HK multimedia-container
Updated: 2013-12-01 07:20
By Rebecca Lo(China Daily)
| | | | | | | | | |
| --- | --- | --- | --- | --- | --- | --- | --- | --- |
|   | | Print | | Mail | | Large Medium  Small | 分享按钮 | 0 |
One of my male friends likes to compare pizza with sex. You can sometimes get a really yummy pizza, but even a so-so pizza is worth finishing despite being cold and droopy the next morning. I don't think I agree with this hypothesis - being a girl and all - but I do admit that Motorino hit a home run on my first date there.
I love the location of Motorino: it's on the ground floor of a five-story walk-up smack dab in the heart of Soho. People heading home along the adjacent mid-level escalators can't miss it - which is the idea, as dining-in or taking-out pizza is somewhat de rigueur for busy mid-level executives with no time to cook.
The shop front can be completely opened to form a bar for those looking to eat and run. Inside, the long and skinny space boasts a rare terrace that takes up a corner of the restaurant's rear.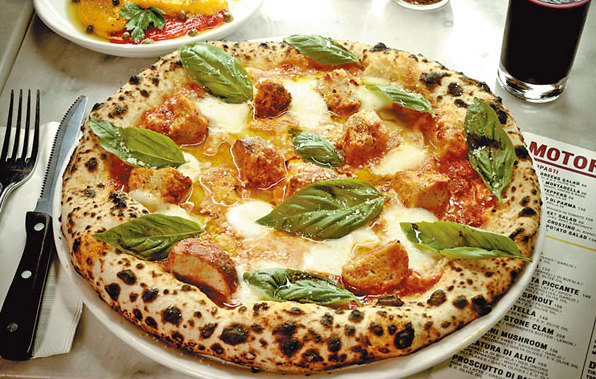 Meatball pizza features big chunks of savory meatballs, mozzarella and fresh basil leaves fused together in a rich tomato sauce. Rebecca Lo / China Daily
The restaurant is styled after Motorino in Manhattan, and its gray-tiled floors, green-striped walls and light metal cafe chairs strike just the right vibe for a friendly local cafe.
A quick glance at the menu immediately draws the eyes to the pizza wine. Curious, I ordered one. It was served in a small glass without a stem, just like in those mafia movies where Ray Liotta sits at a red-checked clothed table eating pasta.
It was a Grangnano 2011 with 30 percent Piedirosso, 30 percent Sciascinoso and 40 percent Aglianico, and the sunny Campania varietals shone through in the full-bodied wine. It was aptly named, as its leaning toward sweetness complemented the robust flavors of the pizzas.
We ordered a few starters before the main attraction, and all of them were winners. I particularly enjoyed the octopus and potato salad, with its slightly charred edges and tart red onions. The dish was drenched in a high-quality olive oil and finished with a generous wedge of lemon for additional bite.
Equally delicious were the beetroot salad topped with half a soft-boiled egg, and chicken wings marinated in a variety of fresh herbs; both dishes sated our initial hunger pangs but left us wanting more.
More came soon enough with two house specialties: meatball pizza and white Brussels sprouts pizza. The doughy crust was flash-baked in an extremely hot pizza oven imported from Naples, and tasted just like the pies I remembered from a trip there. Big chunks of savory meatballs, mozzarella and fresh basil leaves were fused together in a rich tomato sauce.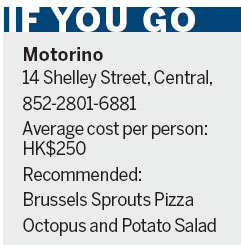 By contrast, the Brussels sprouts pizza was not saucy at all. Similar to the white pizzas we had all over Campania, it contained no soft cheese. Instead, on a white base known as fior di latte, shredded Brussels sprouts, smoked pancetta, garlic and pecorino were scattered and then quickly baked at a high temperature to retain their freshness.
Being a fan of Brussels sprouts, this was my favorite dish. I loved the slight bitterness of the hearty vegetable and how it worked with the smoky saltiness of the bacon. Since we still had to work through a dessert of tiramisu, I took home the remnants of the pie in a doggy bag.
Even cold and droopy the next morning, I had to admit that it was still pretty delicious.
sundayed@chinadaily.com.cn
(China Daily 12/01/2013 page14)