The other side of Xinjiang
Updated: 2013-12-01 07:20
By Pauline D. Loh(China Daily)
| | | | | | | | | |
| --- | --- | --- | --- | --- | --- | --- | --- | --- |
|   | | Print | | Mail | | Large Medium  Small | 分享按钮 | 0 |
There is more than just lamb skewers, roast mutton and naan breads. You can actually get fish and even excellent beef. Pauline D. Loh examines the lesser-known delicacies from Northwest China.
A recent surfeit from visits to the Inner Mongolia autonomous region, Turkey and Ningxia Hui autonomous region had left me a little reluctant to try any more lamb, but a new Xinjiang restaurant in Beijing beckoned, and by all accounts, it promised to be different. "You can eat beef," the spouse quipped. "Who would eat beef at a Xinjiang restaurant?" I shot back.
First, I ate my words, and then we feasted on a tender, succulent cow trotter that was braised to spicy perfection. There was none of the usual "ox glue" aftertaste that characterizes many lesser hooves.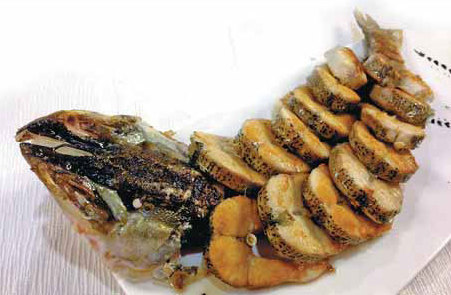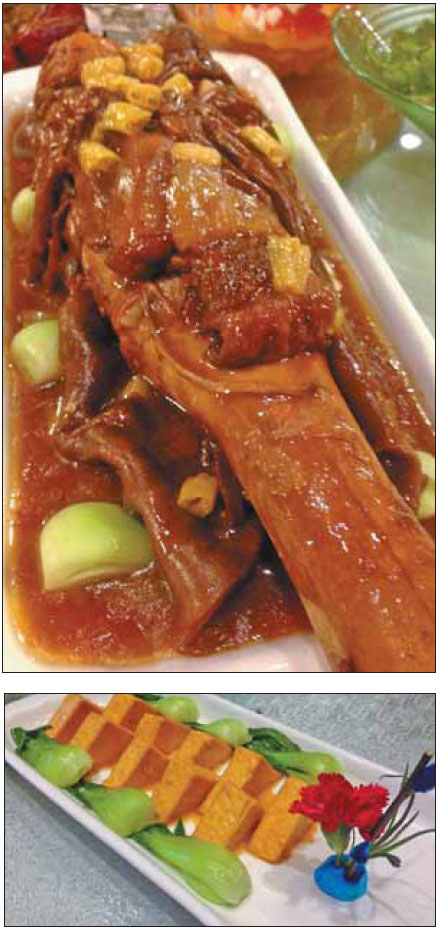 Unexpected offerings like freshwater fish, cow trotter and bean curd give diners a new perspective on Xinjiang cuisine. Photos by Pauline D. Loh / China Daily
The "bovine palm", according to the menu, is a signature dish of Ruxian Guli, which translates to "Brilliant Blossom", a newly opened, opulently decorated Xinjiang eatery located in Beijing's city center, off the Second Ring Road.
Access is easy, and parking is even easier, with a large courtyard space by the side reserved for guests. The third-floor restaurant has a dedicated lift that goes straight up to the reception. In the evenings, a song and dance troupe from Xinjiang delivers entertainment in the spacious main hall, but you can choose quiet and privacy in its many private rooms.
But, back to the food.
Another unusual offering at Ruxian Guli is fish caught in the highland lakes fed by snowmelt and glacial run-offs. The fish we had did not have a Chinese name, let alone an English one, but it was definitely delicious. In the local dialect, it is called qiao'er tai.
David Zhang, the restaurant director, says the fish grows extremely slowly and it takes about three years for it to reach table size. To let diners enjoy its natural sweetness, the fish is simply grilled with no seasoning other than salt.
To eat fish at a Xinjiang restaurant is a rare luxury, and you do have to pay for the privilege, since it costs about 68 yuan per 500 grams.
While Ruxian Guli tries to show off the lesser-known specialties, it still delivers on traditional offerings, such as the whole roast lamb shoulder, freshly baked Xinjiang breads, cumin-scented savory buns filled with lamb and onions and the classic lamb kebabs.
Large chunks of lamb pierced on metal skewers are lightly seasoned here, as the chef believes in showing off the quality of the meat rather than masking it with a thick coating of cumin and chilli flakes.
It is a thoughtful strategy, and the kebabs quickly disappeared from our table.
So often, when we think Xinjiang cuisine, it is nothing more than heavily lamb on sticks, huge chunks of meat and rounds of naan slightly charred at the edges - flavors from the streets you may remember from a past visit. Ruxian Guli may just change your mind. There is a delicacy to the food here that will make it a good introduction to the exotic Northwest, especially if your guests have just landed in China.
The house salad, a mixture of greens and the sweet cherry tomatoes that are now popularly grown there, is simply doused in a vinegar and honey dressing and was a refreshing accompaniment to the meats.
Surprisingly, there was also a bean curd dish, with wedges of lightly deep-fried golden tofu served with a savory sauce. I also liked the fruit pilaf, a fragrant platter of rice garnished with dried apricots, raisins, almonds and walnuts.
On Zhang's recommendation, we opened a bottle of pomegranate wine. It was as good as the food and an ideal match for the flavors on the table. Pomegranates are abundant in Xinjiang, but the variety grown there is very thin-skinned and does not travel well. They have certainly found good use for the fruit.
The wine is sweet but not cloying, and scented with the desert roses grown in Xinjiang. It was an excellent aperitif that lasted throughout the meal, cleansing the palate after every dish.
Ruxian Guli has a little display area near the reception that shows off Xinjiang products, such as the gigantic Hetian Chinese jujubes that are larger than walnuts.
Rose raisins, sultanas, walnuts and almonds are also sold, and in season, the restaurant brings in such fruits as candy-heart apples and tiny pale, sweet apricots.
Contact the writer at paulined@chinadaily.com.cn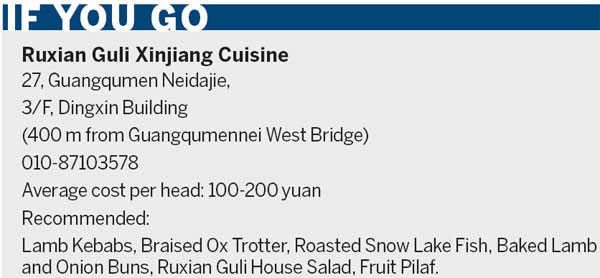 (China Daily 12/01/2013 page14)