Happily leather after
Updated: 2013-12-01 07:19
By Kitty Go(China Daily)
| | | | | | | | | |
| --- | --- | --- | --- | --- | --- | --- | --- | --- |
|   | | Print | | Mail | | Large Medium  Small | 分享按钮 | 0 |
Unique ideas, not logos, is the catchcry of this luxury goods designer and her much-coveted quality creations, writes Kitty Go.
It is impossible to conceive but the two factors that heavily influenced Tissa Fontaneda's launch of her eponymous Spanish-based luxury goods company are far from the German-born designer's $500 to $1,350 handbags. First is the opening of Zara in Paris and second is life in Madrid. Her serendipitous journey is as much a chronicle of the changing global retail scene as the development of standout chic and the introduction of something so refined yet not widely available at retail.
But first, a little bit about the passionate designer and founder who comes with more than 20 years of experience working for European luxury goods houses, such as Loewe under Narciso Rodriguez, Connolly, Cartier, Thierry Mugler, Dunhill and LVMH.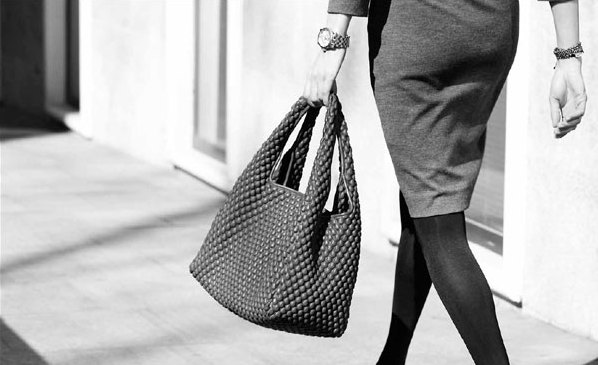 Above and below: Tissa Fontaneda's current collection comes in rich colors inspired by ashtrays she picked up in Morocco - red orange, saffron yellow, petrol blue, denim blue and purple. Provided to China Daily

While working at Swarovski as an assistant to Rosemarie Le Gallais and Herve Leger, she learned the value of true artisanal heritage.
"I had an amazing relationship with them and learned everything from them," Fontaneda reminisces at her office in Madrid's posh Senado area.
"Rosemarie told me at that time (early '90s) that women are changing. They are not like Liz Taylor anymore who used to travel with 10 suitcases. You can travel with a black dress and jeans but with different accessories, you can immediately change an outfit.
"At around that time, Zara opened in Paris and she said: 'You see! Women will be able to dress for nothing but accessories like a beautiful bag has to be lasting and of top quality. They will never be able to do a beautiful bag because leather, to start with, is already expensive.' That was my learning process."
In 2005, Fontaneda launched her eponymous collection. Her line is distributed through select boutiques in major cities and exclusive resort towns in the United States, Canada, France, Switzerland, Germany, Spain, the Middle East and Russia.
London's fashionable boutiques like Feathers in Knightsbridge and Wolf and Badger on Dover Street carry some pieces. In Asia, the line is at Jane's Gallery in Hong Kong and in Ginza, Tokyo, at Futabaya Shoe Co. Online sales are exclusively on Cavan.com.
Fontaneda, who stayed in Madrid because she married a Spaniard, admits: "Creating a luxury brand in Spain is more difficult than being in Paris or London. There are a lot of things going on here in fashion but not luxury.
"There are so many bags in the market but my clients can see that I am doing the ultimate luxury brand because the basis of my product is superb quality and materials. They are expensive but the people who buy our bags already own Hermes, Celine, Louis Vuitton, Balenciaga, etc. They are now looking for something new, that is not seen anywhere and is not copied. Our client is very discerning."
Fontaneda's passion for bringing a new dimension to leather comes not only from her career but also her upbringing as a descendant from a long line of Austrian tanners and craftsmen.
"I always wanted to do my own thing and I am happiest when I go to the factory with my designs and work with the craftsmen," she says. "I feel like I'm creating babies. I don't design with sketches. I touch the leather and make croquis or samples. I can live at the factory."
Her good taste, style and international design experience also contribute greatly to her mission to bring a standard of excellence that does not rest on logos for recognition but on unique ideas.
Marketing director Jill Carretero says: "Tissa is longing for old-school luxury and waiting in line at LV is not luxury. I worked in luxury years ago when bags were made with love and everyone was aware of the nuances of crafting each piece, and every client was special. All of her clients have special needs like colors or different closures like for Switzerland and Germany."
The shops that retail the brand have very special relationships with their clients based on trust in fashion recommendations by the sales staff.
The brand's reputation is spread by word of mouth and not very much is done through Internet sales. "We need salespeople at retail who know the product and can support and explain it," says Fontaneda.
Her collection includes python, crocodile, calfskin and nappa (lambskin) day and evening bags, clutches and mobile cases.
Her current collection comes in rich colors inspired by ashtrays she picked up in Morocco - red orange, saffron yellow, petrol blue, denim blue and purple.
But it is her "bubble" treatment of nappa, unseen in other brands at retail, that stands out. A distressed metallic calfskin, which she calls Aviator, is growing in popularity.
The idea for "nappa bubble" came from an art inspiration combined with the look of ski jackets on Austrian slopes.
"It just came to me, I can't explain it," wails Fontaneda, who spent two years perfecting the effect that can only be described as lambskin bubble wrap.
The only thing she will reveal is that its production involves a lengthy and complicated steaming process.
"There is only one guy who does it here in Madrid and he told me not to go there. The earlier ones were flatter and up to now, there was a lot of waste involved. I can only make a maximum of 5,000 bags a year," she explains.
The Aviator leather is made of the finest Spanish calfskin, which was developed by her manufacturer. It was part of her collection from the start and does not have the limitations of the nappa bubbles.
"This kind of leather is much less fragile and more 'sporty' than nappa and it gets really amazing once you wear the bag a lot," she says.
Aside from the unusual leathers, there is another distinguishing chic touch to some of her bags in the form of a circular element suspended from braided leather in her best-selling style, the Uptown Sack as well as closures for the Gondola Twist and Gondola in Love.
She uses two types of hard, dark wood for the quality and beauty of their grain: Kamagong from the Philippines and Pau Ferro from Brazil. The more ethical Swiss and German markets have requested she change this, so she developed a round metallic accent which took a year to perfect and has now been picked up by the US market.
For now, Fontaneda may be little known but the animated designer has more plans to refine her stylish collection, particularly her iconic nappa bubbles.
"I will probably try to expand the bubble by doing shoes and other small leather goods," she says. "I can't sleep thinking of the many things I can do with this material."
Contact the writer at sundayed@chinadaily.com.cn.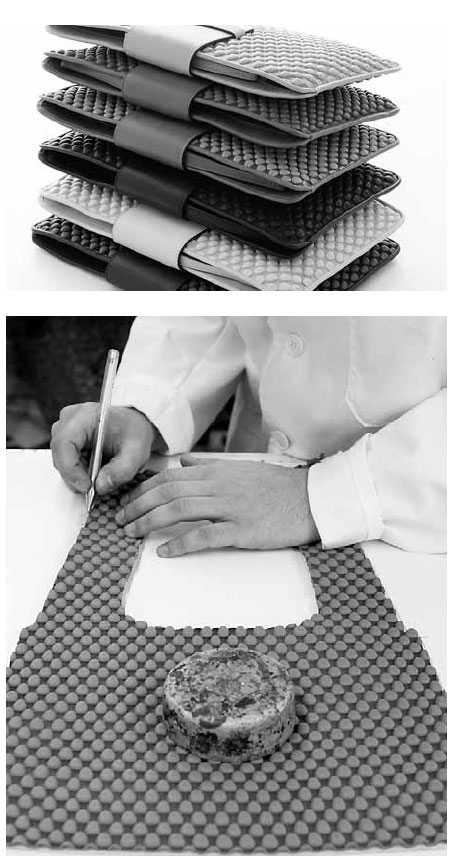 Tissa Fontaneda's collection includes day and evening bags, clutches and mobile cases. The idea for "nappa bubble" came from an art inspiration combined with the look of ski jackets on Austrian slopes.
(China Daily 12/01/2013 page13)