Finally, at 77, Bruce Dern is a leading man
Updated: 2013-12-01 07:19
By Logan Hill(The New York Times)
| | | | | | | | | |
| --- | --- | --- | --- | --- | --- | --- | --- | --- |
|   | | Print | | Mail | | Large Medium  Small | 分享按钮 | 0 |
Bruce Dern was so busy enjoying the moment that he was close to being late for the world premiere in Cannes of "Nebraska," the film he hopes will finally give him the validation he yearns for.
In the film, directed by Alexander Payne, Mr. Dern plays Woody, a hard-of-hearing retired grouch convinced he is a sweepstakes millionaire. He embarks on a road trip from Billings, Montana, to Lincoln, Nebraska, to claim his nonexistent winnings with his son, played by Will Forte.
Like Woody with the sweepstakes mailing, Mr. Dern sees "Nebraska," being released worldwide through February, as a golden ticket, the reason for an unlikely career peak at the age of 77.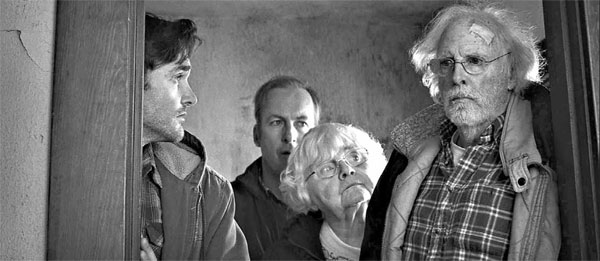 Bruce Dern says his role in the new film "Nebraska" is the best he has ever had. From left, Will Forte, Bob Odenkirk, June Squibb and Mr. Dern. Paramount Pictures
How he got here was the subject of the story he was still telling in Cannes, much to his publicist's dismay. Mr. Dern had been talking so much about shooting John Wayne in the back (in 1972's "The Cowboys"), crashing a blimp into the Super Bowl (in 1977's "Black Sunday"), earning a supporting-actor Oscar nomination opposite Jane Fonda (in 1978's "Coming Home") and working with greats like Alfred Hitchcock that he was only just getting to the good part. Literally, the good part: the one he worked 55 years to get, as the lead role always seemed to go to someone else.
"It's the best role I've ever had, and the most exciting to shoot day to day," said Mr. Dern, who pursued Mr. Payne for eight years after reading the Bob Nelson script. "Every day you go to work, there's a chance you just might do something nobody's ever done."
The worried publicist said, "Bruce, we have to go." Finally, Mr. Dern relented and got dressed.
Minutes later, Mr. Dern was walking the red carpet with his daughter, the actress Laura Dern, and within hours he would be hearing a standing ovation that according to his watch lasted for exactly 11 minutes (three more, he would boast, than the ovation his friend Jack Nicholson received when he starred in the Payne film "About Schmidt"). A few days later, Mr. Dern won the Cannes best actor award.
A few months on, in a hotel in Manhattan, Mr. Dern picked up where he left off. So far, he said, he had seen "Nebraska" 17 or 18 times on his promotional tour. "Paramount is concerned that I'll get tired on this trip," he added. "They said, 'You don't have to sit through every screening.' Well, I want to see my team play! Yeah,
I get tired, but who cares?"
Mr. Dern wasn't supposed to make movies. For him, working in the Method rigor of the Actors Studio with Lee Strasberg and Elia Kazan, then grinding through the B-movie mayhem of Roger Corman, was a form of rebellion. He grew up in an old-money family in Chicago, the grandson of George Henry Dern, a secretary of war under Franklin D. Roosevelt.
Mr. Dern's great-uncle was the poet Archibald MacLeish, whom he quotes liberally. His godparents were Adlai Stevenson and Eleanor Roosevelt. At the dinner table, he was required to wear white gloves.
"It all comes back to that dinner table," he said. "I was awed by what they were up to. They didn't respect me. At the dinner table, I had to raise my hand to speak. Everyone else talked all they wanted."
He pulled out his smartphone and displayed a black-and-white photograph of the enormous windswept Chicago manor that was his childhood home. "Now, couldn't you feel alone in that house?" Mr. Dern asked.
Hungry for recognition, Mr. Dern trained relentlessly to become a star runner, and he remains bitter that his parents came to only a few meets. Eventually, that childhood desire for an appreciative audience led him to New York and the Actors Studio, and then to Hollywood.
He hasn't shut up since.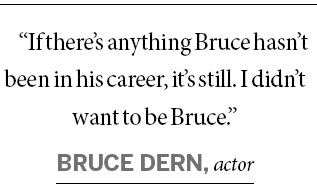 "The work is essential, but I love the camaraderie, the teamwork," he said.
Yet the "Nebraska" role demanded that Mr. Dern quiet down. He described Woody as a return to the pent-up, inarticulate impotence he felt as a child.
"That's a part of my personality that has not been seen before in a movie," he said. "If there's anything Bruce hasn't been in his career, it's still. I didn't want to be Bruce. I'd been Bruce, and it didn't work."
By the age of 70, while Mr. Nicholson and other friends remained A-list stars, he continued to play the grumpy grandfather or crazy old coot.
"You get scared, and you start to be afraid that your time is never coming," he said.
Now, though, Mr. Dern is in the thick of a very competitive best-actor Oscar race (early buzz centers on Robert Redford in "All Is Lost" and Chiwetel Ejiofor in "12 Years a Slave").
But Mr. Dern is less eager to win an Oscar than finally to be taken seriously as a leading man.
"I got lucky," Mr. Dern said. "I got a big role. Some great players never do."
The New York Times
(China Daily 12/01/2013 page12)