An unlikely pair honor the Everlys
Updated: 2013-12-01 07:19
By Jon Pareles(The New York Times)
| | | | | | | | | |
| --- | --- | --- | --- | --- | --- | --- | --- | --- |
|   | | Print | | Mail | | Large Medium  Small | 分享按钮 | 0 |
Darkness delivered sweetly: That's what drew together the improbable partnership of gentle-voiced Norah Jones and pop-punk arena rocker Billie Joe Armstrong, who leads Green Day. They decided to remake, of all things, an entire album from 1958: the Everly Brothers' "Songs Our Daddy Taught Us."
The Everlys' original is a contender for the most morbid album of the early rock 'n' roll era. Arriving less than a year after Don and Phil Everly's 1957 hits "Bye Bye Love"and "Wake Up Little Suzie,"their unamplified album of stark ballads and old country songs featured dead and dying parents, a dying child, cheating lovers and a few murders.
"We did some strange albums in our time,"Phil Everly, 74, said by telephone from California. "That one stands out because of the sparseness and the fact that the songs were our heritage."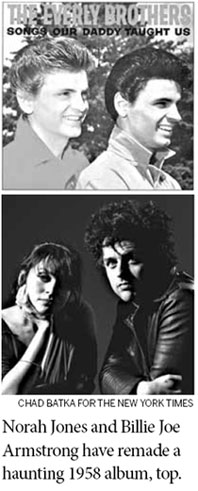 The tribute by Mr. Armstrong and Ms. Jones, "Foreverly,"treats the songs respectfully and lets the songs stay haunted.
Ms. Jones and Mr. Armstrong were in New York recently in advance of the album's release. They made an odd pair: the ultra-skinny Mr. Armstrong, 41, wearing his black hair in a punkabillyupdo of tangled curls, and Ms. Jones, 34, a dark-eyed, round-faced girl next door.
Still, Ms. Jones's most recent solo album, "Little Broken Hearts,"has a dulcet murder ballad of its own, "Miriam,"while Mr. Armstrong has prized melody and narrative in Green Day's songs. If these two multimillion-selling, Grammy-winning singers were going to intersect, an album of Everly Brothers songs is a plausible spot.
"Songs Our Daddy Taught Us"could hardly be more ghostly. Its arrangements use just the close-harmony voices of Don and Phil, backed by a guitar and a bass fiddle. "It's almost like a meditation,"Ms. Jones said. "Their voices are at times high and childlike in the most beautiful way, but these songs are so dark. There's an innocence to their recordings, definitely. But that innocence, juxtaposed with the cheating lovers and everything " it's just creepy when you hear it."
Mr. Armstrong said he discovered the Everlys' album a few years ago and got the idea of rerecording the songs with a woman. His wife, Adrienne, suggested Ms. Jones.
Mr. Armstrong, who lives in Oakland, California, traveled to New York to make the album with Ms. Jones, who lives in Brooklyn. They didn't tell their record companies. They worked for nine days, recording with the drummer Dan Riser and the bassist Tim Luntz.
"Foreverly"is the kind of side project that pop stars can do on a whim. It doesn't announce a new direction for Ms. Jones or Mr. Armstrong, except in one aspect, the spontaneity: "I don't think I'll ever make a record and tell anybody again,"Mr. Armstrong said. "It's just better that way."
Phil Everly said he was pleased with the remake: "They did a very good job, and they blend very well."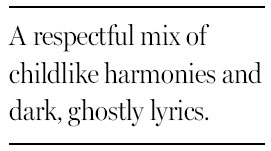 Mr. Everly also noted that "Foreverly"was as unexpected as "Songs Our Daddy Taught Us"had been.
"The formula today is to just keep doing what you've been doing,"he said. "I have to respect them for not doing that."
The New York Times
(China Daily 12/01/2013 page12)