Drones' uses raise new privacy issues
Updated: 2013-12-01 07:19
By Anne Eisenberg(The New York Times)
| | | | | | | | | |
| --- | --- | --- | --- | --- | --- | --- | --- | --- |
|   | | Print | | Mail | | Large Medium  Small | 分享按钮 | 0 |
Before long, drones will be part of the way companies do business every day.
These remotely piloted vehicles aren't the weaponized ones that have long been military tools. Instead, they will perform hundreds of civilian jobs, including traffic monitoring, aerial surveying and oil pipeline inspections.
Drones are being used commercially in some countries and, in 2015, new rules will integrate them safely into American skies.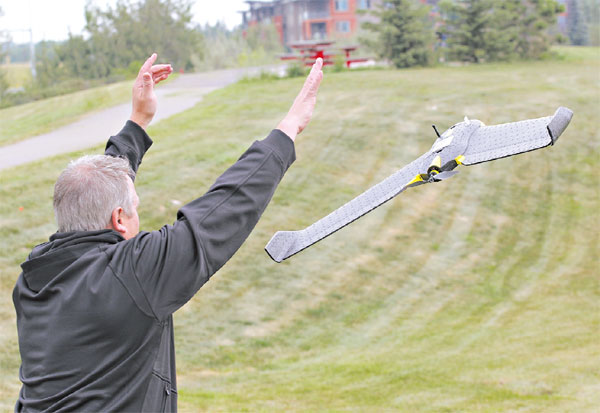 Critics of commercial drones worry about their potential uses for domestic surveillance. A Stantec mapping drone in Canada. Stantec
Perhaps surprisingly, given European sensitivities to electronic surveillance - not to mention serious safety concerns - European aviation officials so far seem less likely to impede development of the civilian drone industry than regulators in the United States. While the European Union is trying to map out rules, individual countries are taking their own approaches to drones, in many cases even encouraging their development.
That is a reason that nearly 1,000 unmanned vehicles are currently authorized to fly commercially in and around a dozen European countries. They are led by Britain, France and Germany, which have also provided financing for research and have made military facilities available to companies for flight testing. An estimated one-third of all new drone systems in development are being made in Europe, by more than 400 small and midsize companies. But some with privacy concerns are urging strict limits on their use.
With their sophisticated cameras and software, the drones will change the world of surveillance, said Jay Stanley, a senior policy analyst at the American Civil Liberties Union. In the past, the substantial cost of traditional, piloted aircraft has imposed a natural limit on the use of aerial surveillance. But drones, which are far cheaper, could profoundly change the character of public life, he warned.
The A.C.L.U. wants to prevent government agencies from using drones for "pervasive, suspicionless mass surveillance," he said. Even if such surveillance is forbidden in the future, "there's real potential for the government turning to the private sector to do what it is banned from doing itself," he said.
Parker Higgins, an activist at the Electronic Frontier Foundation, said, "We carry around devices that broadcast our identity to anyone who's interested in finding it."
He added, "Drones will be another way for companies to collect endless streams of data about individuals."
Legislatures in several American states are already drafting laws to limit the use of drones. Virginia has placed a two-year moratorium on drone use by law enforcement, except in emergencies, to give the legislature time to set up legal protections.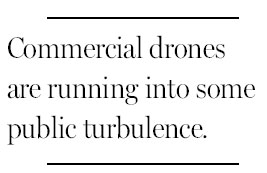 In Deer Trail, Colorado, citizens expect to vote this fall in December on an ordinance that would grant people licenses to shoot down drones. (The ordinance is largely symbolic, as the Federal Aviation Administration has asserted that taking potshots shooting at unmanned aircraft would be illegal.)
But commercial drone trials are already proceeding in Canada. In Edmonton, Alberta, Stantec, a consulting company that uses aerial photography in its design and mapping business, recently bought a drone made by senseFly and has been training with it this past winter and spring. Stantec is seeking certification and licensing for commercial use from the Canadian government.
Curt Chapman, a company vice president based in Reno, Nevada, says he expects that it will soon be approved for low-altitude photography on a project-by-project basis, rather than being granted a blanket license.
The drone's advantage, he said, is its immediacy. "We can take it out, fly it and capture conditions" such as flooding, he said. "It may take days or weeks to schedule the same flight on a manned vehicle."
Customers can buy an entire system, consisting of the aerial vehicle, software and a control station, for less than $100,000, with smaller systems going for $15,000 to $50,000, said Jeff Lovin, a senior vice president at Woolpert, a mapping firm in Dayton, Ohio.
In June, Trimble, a company in Sunnyvale, California, that sells mapping equipment, introduced a 2.5 kilogram drone called the UX5, said Rob Miller, who oversees the product line, which also includes another drone, the X100. The systems cost $30,000 to $50,000. They are being used commercially outside the United States.
Gavin Schrock, an associate editor of Professional Surveyor magazine, says his profession will be among the first to add drones to its tool kit. Aerial systems are perfect for surveying locations like open-pit mines, he said.
Such a system is safer than having a surveyor walk around the pit with traditional tools. "I hate doing that," Mr. Schrock said. "It's dangerous."
The New York Times
(China Daily 12/01/2013 page11)