Why boxers box as death hovers
Updated: 2013-12-01 07:18
(The New York Times)
| | | | | | | | | |
| --- | --- | --- | --- | --- | --- | --- | --- | --- |
|   | | Print | | Mail | | Large Medium  Small | 分享按钮 | 0 |
Three men sat inside a Manhattan diner. Their fighter, the Russian heavyweight Magomed Abdusalamov, remained in a medically induced coma across the street.
"One week ago, the doctors say he has 100 percent chance to die," his manager, Boris Grinberg, said 10 days after Mr. Abdusalamov entered the ring. Doctors have since brought him out of the coma once, but had to reverse course when his condition deteriorated.
Mr. Abdusalamov fought Mike Perez on November 2. He expected a tough bout, the kind of televised fight that could propel him to greater heights.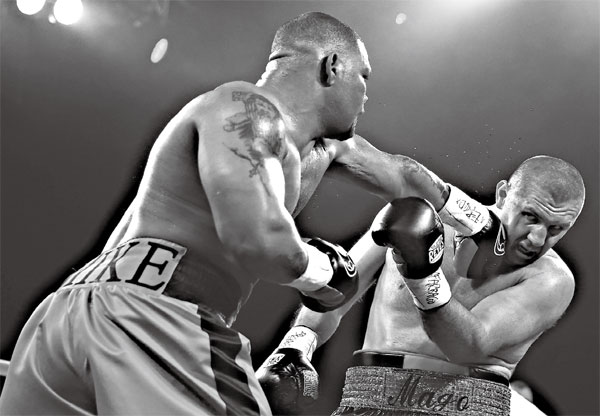 Magomed Abdusalamov taking a punch from Mike Perez. He was hospitalized afterward. Al Bello / Getty Images
The fight lasted 10 rounds, and Mr. Abdusalamov took the worst of the exchanges. Blood dripped from his nose and from cuts above his left eyelid. He fought most of the match with a broken hand.
His promoter, Sampson Lewkowicz, said in the diner that he considered trying to stop the fight in the eighth round. Security stopped him.
After the fight, Mr. Abdusalamov left the arena and vomited on the curb. A cab dropped him at the hospital. Doctors asked his brother to sign off on surgery. Mr. Abdusalamov, they said, had a half-hour to live.
A brain scan showed swelling and a blood clot. Doctors induced a coma and removed a portion of his skull. While in the coma, Mr. Abdusalamov had a stroke.
During the fight, I sat three meters from the boxers. I saw Mr. Abdusalamov's face, swollen and disfigured. What a warrior, I thought. What a fight.

In the weeks since, I have wrestled with questions over why we cover this sport, in which so many end up dead.
Bernard Hopkins, a boxer known as The Executioner, talked it over with me. Mr. Hopkins remembered visiting a fellow boxer, Leavander Johnson, as he lay in a coma after brain surgery. Mr. Hopkins stood on one side of the bed. Oscar De La Hoya, a man Mr. Hopkins once leveled with a body blow, stood on the other.
"Man," Mr. Hopkins said he told Mr. De La Hoya, "see what we put our bodies through."
Mr. Johnson died, yet neither manretired. Mr. Hopkins, 48, fought in October. He says boxing saved his life. "I don't expect you to understand," he said. "I mean, how many people go to work and say, literally say, 'I might die tonight.' But that's boxing."
Mr. Hopkins says boxing has grown even coarser in recent years, celebrating savage blood baths over technical skill. He described the mind-set as, "if you don't duck, you might get back on TV, you might get a bigger fight, and we'll enhance your purse."
Ray "Boom Boom" Mancini knows what it is like to kill a man in the ring. In 1982, in Las Vegas, he fought a South Korean named Duk-koo Kim on network television.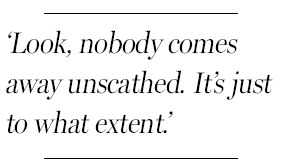 Mr. Kim died days later, and Mr. Mancini became depressed. He continued to box and made peace with what happened, but people frequently ask him how it felt to bludgeon a man to death. He never wanted that moment to define him.
"Look, nobody comes away unscathed," Mr. Mancini said. "It's just to what extent."
Boxers die - but not as often as they used to, thanks to more stringent regulations and medical supervision, and shorter careers and fewer rounds. More than 230 boxers died in the 1920s, and 103 died in the 2000s, according to a study in the Journal of Combative Sport. Six boxers died in 2010 and three in 2011, the study said.
Those involved point to other dangerous pursuits. But such arguments circle around an unassailable truth. Violence is not simply a part of boxing, it is the best part. I have covered sports all over, and I always say the most electrifying 30 seconds are right before a big prizefight.
At the diner, members of Mr. Abdusalamov's team shrugged off talk of cracking down on boxing. Mr. Grinberg said that he enjoyed watching New York's local newscasts. "Every day, somebody shoot, somebody kill," he said in his Russian accent. "What, we have to close New York maybe? It's life."
The New York Times
(China Daily 12/01/2013 page10)