Makeup, bikinis and swollen bellies
Updated: 2013-12-01 07:18
By Taffy Brodesser-Akner(The New York Times)
| | | | | | | | | |
| --- | --- | --- | --- | --- | --- | --- | --- | --- |
|   | | Print | | Mail | | Large Medium  Small | 分享按钮 | 0 |
LOS ANGELES - "Puuuush!"
Liza Elliott-Ramirez stood in the studio of her modeling agency, Expecting Models, taking pictures of pregnant women who were wearing bikinis and high heels.
"Push," in this case, meant for the model to stick out her belly, exaggerating the progression of the pregnancy so that Ms. Elliott-Ramirez could show potential clients how the model would look by the time a shoot happened in a few days or weeks.
Ms. Elliott-Ramirez, 51, called waiting models in one by one to shoot what she calls "digital updates" for her clients, which include Target, Old Navy and Fit Pregnancy magazine.
She told a particularly beautiful, tattooed model, "That baby is going to be sick!" This was intended as a compliment.
"Give me sexy!" she said to another. "No, sexy - not mean! O.K., not that sexy!"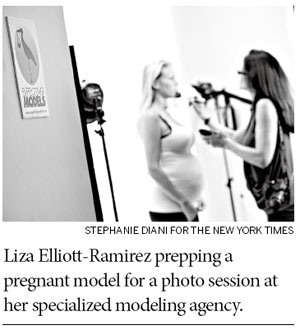 "I don't want to lose you," Ms. Elliott-Ramirez said, with a mock sob, to one expectant mother who had a booking the next day at a maternity clothing company and whose baby was due in six days. The woman said she planned to model with her baby in ads for formula and breast pumps as part of Expecting Models' Real Families division. But as soon as she is back in shape, she will return to her old agency, which she did not want to name because her contract there specified exclusivity.
Since 2000 Ms. Elliott-Ramirez's agency has dealt only with professional models during and immediately following their pregnancies. She came up with the idea after she could not get work as a model after she became pregnant. She had worked in front of the camera since age 14. At age 36 she worked until the second trimester of her pregnancy.
"I held my belly in until I couldn't," she said. Ms. Elliott-Ramirez, who was living in New York at the time, called agencies, asking if they had maternity modeling contracts. "Their response was: 'Call me when you get back into shape.' I was so discouraged."
She went on what she called a "rampage" to find out which companies needed pregnant models.
"I called customer service at Gap to find the booking, the photo editor," she said. "Good luck, right? I found her, and I finally got her on the phone, did my whole pitch, and she said, 'Well, how many models are you sending me?' I said, 'No, no, no. I am the model.' She said, 'Oh, we don't deal with models directly. You're going to have to have your agent contact us, but gosh, you're so inspiring.'"
As the major agencies did not have departments dedicated to pregnant models, Ms. Elliott-Ramirez saw an opportunity and opened an office.
"I literally signed 14 girls in two weeks," she said. Big-name agencies like Ford, Wilhelmina and Elite, "they're not going to get all the calls. That's not their specialty. That's like shopping at Home Depot, expecting to find great pasta."
In 2008, she expanded her business, moving it to Los Angeles and opening a second office in that city. Ms. Elliott-Ramirez said she had about 200 pregnant models and 400 clients total, including the babies, toddlers and fathers she sometimes enlists.
"The real family is important because you can't fake that chemistry on a set," she said. "You can't fake the nursing mom, and for Ergobaby," a popular baby carrier, "all of those ads are real mom and baby because that bonding, that closeness, the smell, when you're wearing a carrier. With a fake mom, you're just going to have a screaming baby."
Lotti Bluemner, 30, said a friend told her about Expecting Models and she signed on, partly to get some great pictures of herself during her pregnancy.
Ms. Bluemner has had some success. She was recently featured on the E! television channel's website.
"I was the Kate Middleton replica for how they dress pregnant women," she said, "which was a great, fun photo shoot."
The New York Times
(China Daily 12/01/2013 page10)