No simple answer to why Trott failed stress test
Updated: 2013-12-01 06:50
By Agence France-Presse in London(China Daily)
| | | | | | | | | |
| --- | --- | --- | --- | --- | --- | --- | --- | --- |
|   | | Print | | Mail | | Large Medium  Small | 分享按钮 | 0 |
During the overwhelmingly sympathetic reaction to England batsman Jonathan Trott's decision to quit the Ashes tour of Australia suffering from a "stress-related illness", a theme has emerged.
It was well put by Colin Povey, the chief executive of Warwickshire, Trott's county side, who said last week: "When you look at the international schedule it is pretty relentless and it takes its toll."
Now there are many sound reasons for reducing the volume of international cricket, although few that are likely to bring about that reduction soon.
Reduced opportunities for fixing, an increased value in the worth of international cricket as well as less likelihood of bad feeling from one series spilling over into another would all seem to be desirable.
But would fewer matches prevent another player suffering the kind of problems that have afflicted Trott?
The answer depends on the nature of Trott's condition. But if he is suffering from clinical depression, merely reducing the number of matches may not help that much.
As depression sufferer, Alastair Campbell, who served as press secretary to former British prime minister Tony Blair, once put it: "For depressives, depression just is, the same as for cancer sufferers, cancer just is, and if you catch a cold, you just do."
One question asked repeatedly since Trott's withdrawal is why did England select him for its most high profile and 'stressful' tour?
It was one England team director Andy Flower tried to answer by saying: "There was always a possibility (this might happen) but he has always managed it successfully.
"It is something that has fluctuated ... we believed he would handle it."
Given Trott had so often come through for England, it is easy to see why Flower was prepared to take the kind of calculated risk.
But the fact Trott left a tour after two cheap dismissals has clouded a complicated issue.
"It would be much easier to appreciate the seriousness of the deterioration of his mental health had he scored some runs and then gone home," wrote former England bowler Mike Selvey in the Guardian.
It is perhaps no coincidence that the three best known recent cases of England players withdrawing because of mental health issues - Marcus Trescothick, Michael Yardy and now Trott - have all come on overseas tours, where players are far away from loved ones and familiar support systems.
And in all three instances, the decision to quit a tour was triggered by the player concerned saying, 'I've had enough'.
For Trott to come back to international cricket, something that has proved beyond Yardy and Trescothick, is unlikely to be easy. Given the undeserved stigma still attached to mental health issues, had England left him out of the tour for "stress-related" reasons it might have been that much harder still.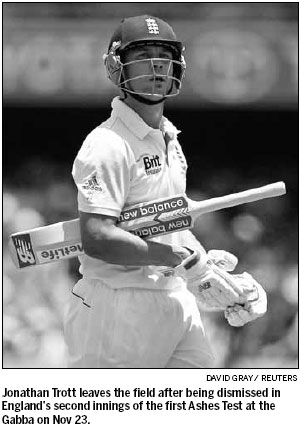 (China Daily 12/01/2013 page7)