Forum for gays just a click away
Updated: 2013-12-01 06:49
By Zhihua(China Daily)
| | | | | | | | | |
| --- | --- | --- | --- | --- | --- | --- | --- | --- |
|   | | Print | | Mail | | Large Medium  Small | 分享按钮 | 0 |
One man has surmounted great obstacles to weave a web of support for China's gay population. Zhihua reports.
'You are at the other end of a cellphone, and from now on, I will never feel lonely."
This is the advertisement for a gay chat and dating app in China called Blued. It's used to locate and communicate with others, and it is gaining popularity among gay Chinese - the app has 1.5 million users 10 months after its launch.
Its creator is 36-year-old Ma Baoli, who goes by the alias Geng Le.
He has been increasingly busy meeting campaign partners for World AIDS Day on Dec 1 because he is also the founder and CEO of Danlan, a virtual community for gays in China with 3 million registered users.
Ma's gay rights advocacy started when he created a small biographical blog named Light Blue Memory in 2000.
"I had never expected that one day, Danlan's website and service would have so many users," Ma says.
"The Internet has changed the lives of gays in China, providing a great platform for us to get to know our own kind and to stop feeling lonely. I'm very happy to be part of that dynamic force."
In 1996, Ma started working as a policeman in his hometown, Qinhuangdao, Hebei province. He knew he was different from others because he was attracted to men rather than women.
Ma started his blog because "I was extremely lonely, because I knew I would be seen as a freak if anyone knew my secret".
To his surprise, his blog received many hits and comments, and became one of the service provider's top blogs.
Many visitors said they shared the same feelings and encouraged him.
Some even e-mailed Ma their stories and photos, asking him to post them on the blog because they felt the blog was a safe haven for them to share their lives with people like them, reducing their solitude.
Ma came to realize there was little Chinese-language online information about gay life, let alone websites for gay Chinese.
"It occurred to me: Why not create a website where people like me can gather and get to know others?" Ma says.
"We are gay, but we are the same as other people in pursuit of steady relationships. Besides, I also want people to learn scientific knowledge about gay life to know gays aren't freaks or perverts but simply human beings with a different sexual orientation than the majority."
In 2006, his blog officially transformed into the Danlan - China's first gay website - and Ma got a team of four to help him.
The site became a sensation and almost crashed from the unexpectedly large number of visits.
But the obstacles a gay website faced then were enormous.
"Our website got closed one time after another because the authorities thought gay websites violated social ethics," Ma says.
The website had to move its server from Qinhuangdao to one city after another.
In 2009, the team decided to move it to Beijing because they believed the capital might be more tolerant.
Their decision proved to be right.
When they applied for the complicated government documents to get permission to run the website, a woman official told them it was great that they ran a website for gay people, as long as they were careful not to violate laws.
"I felt very encouraged," Ma says.
"The fact is, with the government and public's increasing understanding and tolerance of gay people, our lives are less in darkness, and we are able to receive kindness from society to some extent."
The website is growing fast and has branch sites.
It now provides not only worldwide news on gay rights but also dating and leisure content to millions of registered users and visitors.
Since 2007, it has been cooperating with government and other nongovernmental organizations to educate people about disease prevention and control, especially of HIV/AIDS.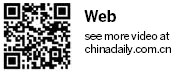 Ma's office also serves as a free HIV/AIDS-testing station, under a program run by Chinese health authorities.
In late 2012, the team launched the app Blued, which was a big success that quickly attracted investors.
On Nov 26, 2012, before World AIDS Day on Dec 1, then vice-premier Li Keqiang (now the premier) met with Ma and heads of other 11 grassroots organizations to commend their efforts to enable everyone to live with dignity.
However, Ma lost his job as a policeman that year because of the exposure of his identity in the media.
"I just hope all gay people in China can be happy and enjoy life with support from people around them," he says.
Contact the writer at liuzhihua@chinadaily.com.cn.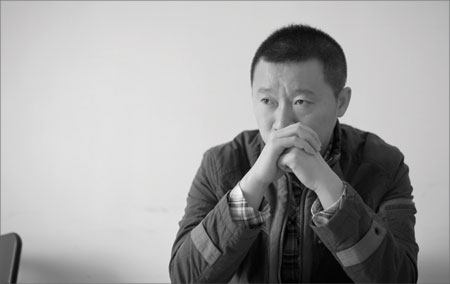 Ma Baoli (top) and his team have been educating people on disease prevention and control, especially on HIV and AIDS, via online and offline activities. Photos Provided to China Daily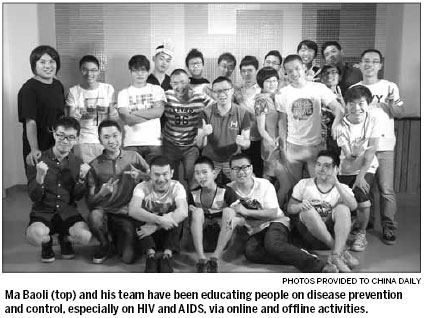 (China Daily 12/01/2013 page4)