Chinese rethink ink
Updated: 2013-12-01 06:47
By Gan Tian(China Daily)
| | | | | | | | | |
| --- | --- | --- | --- | --- | --- | --- | --- | --- |
|   | | Print | | Mail | | Large Medium  Small | 分享按钮 | 0 |
Tattoos' social insinuations are changing more rapidly, morphing from stigmatizing marks of deviance to acceptable expressions of individuality. Gan Tian looks at their transforming image.
He Wenqian is a portrait of how tattoos' image has continued changing in China. The tattoo artist says Chinese who got inked when he started his studio in 2002 not only were stereotyped as freaks and outlaws - they often were. Now, all walks of life, especially among the younger generation, are getting tattoos. He says more "elites" are getting inked. His customers today include businesspeople, pro athletes and bank clerks. "A few years ago, I wouldn't dare tell people what I did for a living," He recalls.
"Now, it's a great conversation starter."
Not only are the demographics getting tattoos diversifying but so are the images.
"People work with artists to create custom designs that share their personal stories," He says. "It's a whole different picture now."
Traditional subjects' allusions are changing, too. Dragons, pheonixes and Chinese ghosts remain the most popular. They used to be symbols of intimidation among street fighters. Now, they're simply auspicious icons.
"In the late 1990s and early 2000s, men who had these tattoos believed these patterns would make them look tougher and used different designs to indicate associations with social groups," China Association of Tattoo Artists chairman Wang Qingyuan explains.
"Now, they're just good luck emblems."
Women are more likely to get such likenesses as birds and flowers rendered in softer lines and brighter colors, Wang says.
English initials of names and quotes are increasingly prevalent. Some clients want to commemorate special moments, loved ones and parents by inking their initials on their bodies, He says.
Still, many among the younger generation hide their tattoos from their elders.
Chen Qimei, a mother and 34-year-old website editor, says she conceals her ink from her mother-in-law.
"I accidently exposed it to her once and told her it was only temporary," Chen says.
"But I'm more open-minded. I'd certainly let my child get a tattoo. Still, I'd warn her it's a lifelong decision that she should carefully consider."
Her first tattoo in 2005 wasn't about stylistic expression but rather to cover a scar on her left knee from a childhood accident.
"I really hated my scar," she says.
One day, she noticed several tattoo shops in Beijing's Longfusi area.
"The idea of covering the scar with a tattoo came to me," she recalls.
Her first tattoo experience wasn't as positive as her second and third.
"It hurt," she says.
"That artists didn't sterilize my skin or even wear gloves. For a long time, I worried I'd contracted HIV."
Later, after her fears of disease were allayed, she thought the rose on her kneecap could "bring more attention".
"Not so many people were familiar with tattoos as art in 2005," she recalls.
"People would stare at me when I walked on the street. They must have thought: 'Why does this quiet, good girl have a tattoo on her knee?'"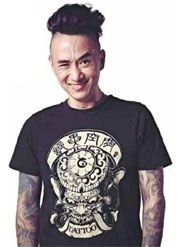 Few would think anything of it today.
He, the tattooist, says many people wander into his two-story studio in Beijing's trendy Sanlitun area after mistaking it for a teahouse or traditional art gallery because of its classy interior. The spacious area has a painting table in the center and artistic tattoo paintings and photos on the walls.
The 35-year-old ranks among the industry's pioneers. He now owns studios in Shanghai and Yunnan province's capital Kunming, and employs dozens of full-time artists.
Like most Chinese tattooists, He is self-taught. He developed an interest when inking doodles on willing friends at age 9.
"I was lucky enough to have buddies who let me experiment on their skin with sewing needles dipped in ink," he recalls.
"Then, in the early '90s, tattooed eyebrows became popular and I started using a machine."
That device wasn't a professional tattoo needle but rather a permanent makeup pen powered by an AC adapter.
"Things were slow when China's tattoo business became an industry at the end of the '90s," He recalls.
"Artists weren't experienced and had to teach themselves."
He opened his Beijing studio in 2002, after art school.
The industry now employs more than 1 million artists, and that number is expected to grow, the China Association of Tattoo Artists reports. The figure includes cosmetic artists, who tattoo eyeliner, lipstick and blush.
The Internet has contributed greatly to tattoos' social accepibility. Studios like He's are active on China's social networks, such as Sina Weibo, Douban and Renren.
But the government hasn't yet acknowledged, let alone regulated, the industry, He says.
"Tattooists must rely on their own knowledge of hygiene and safety," He explains.
But authorities will likely develop laws as the sector grows with tattoos' popularity.
"Some youth still hide their tattoos from their parents and teachers," He says.
"But young people's minds will continue to open in pace with the economy."
Contact the writer at gantian@chinadaily.com.cn.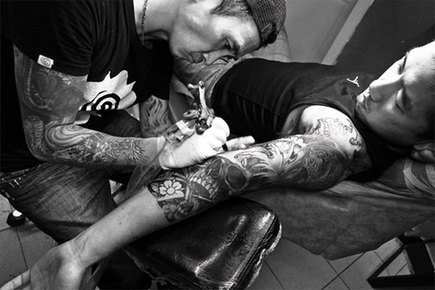 Tattooist He Wenqian ranks among the industry's pioneers in China. He runs a two-story studio in Beijing's trendy Sanlitun area and owns more in Shanghai and Yunnan's provincial capital Kunming. Photos Provided to China Daily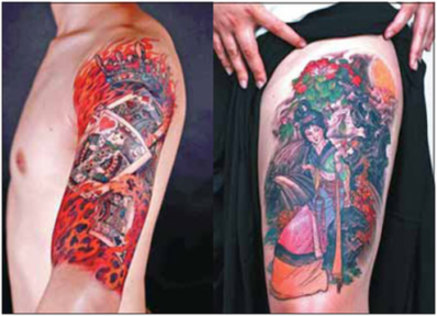 At He Wenqian's tattoo studio, customized designs are meant to express individuality, while guests choose traditional patterns as auspicious icons. Provided to China Daily
(China Daily 12/01/2013 page1)