Paying it back
Updated: 2013-11-24 07:46
By Han Tianyang(China Daily)
| | | | | | | | | |
| --- | --- | --- | --- | --- | --- | --- | --- | --- |
|   | | Print | | Mail | | Large Medium  Small | 分享按钮 | 0 |
From grocery worker to company head, Han Xuechen is a loyal son of Puyang city, Han Tianyang reports
From a country boy to the leader of a multi-faceted company, Han Xuechen believes that a sense of commitment to society is crucial to success.
The chairman of Hongfeng Industrial Group Co started his career in the 1980s at a communal grocery store in the countryside of Puyang city, Henan province.
He later became a contractor for local supply and marketing cooperatives and managed to fulfill the task, though he did all the work from procurement and sales to accounting on his own.
In 1991, Han established a company based on the former supply and marketing cooperatives and became managing director.
More than a decade later he founded Hongfeng Materials Trading Co, supplying steel, building materials, machinery and office equipment.
Later he set up an automotive repair shop in Puyang. He also built and operated several hotels near an oilfield in Sichuan province.
Today's Hongfeng Group was registered in 2010 with businesses in manufacturing, agriculture and services. It now has more than 1,600 employees.
Enthusiast in charity
In his career as a successful businessman, Han has long advocated paying back to society, and has been generous in charity and public welfare efforts.
He has donated money for renovating roads in his hometown and provided financial aid to students in poverty.
His company also organized several activities to help care for the elderly.
Han said he believes that a company cannot have sustainable development without shouldering social responsibilities.
When the devastating earthquake hit Sichuan on May 12, 2008, Han was on a flight to the province for a business trip.
When he arrived in Chengdu and continued toward his destination Dazhou, he was shocked to see the ruins along the way.
As soon as telecommunication services recovered, Han immediately contacted his son in Puyang and asked him to go to all lengths to send clothes, tents, bottled water and instant noodles to the disaster area.
The following morning a plane that carrying supplies worth 2 million yuan took off from an airport in Henan and headed to Sichuan.
"It was such a tragedy, I had to do something," Han said.
Later he also donated rice worth 500,000 yuan to residents in the earthquake-stricken region.
Han has deep feelings for his hometown. The emotion only got stronger after he grew up to be a capable business leader.
He was born in the countryside of Puyang in a village named Zhangcao, which was at one time a settlement of primitive tribes. With a long history of human activity, it kept many of the old cultural traditions.
Love of hometown
Among that heritage was the Zhangcao Temple Fair that started about 500 years ago in the Ming Dynasty (1368-1644).
An 80-year-old villager, Lin Zhishan, recalled his father told him that the last temple fair in Zhangcao was held in 1934 when his farther was the organizer.
At that time, the fair spread across more than 5,000 square meters and attracted many merchants from Tianjin, Shanxi and Shandong, Lin said.
"It was a very bustling fair with so many people and carriages," he said.
In May this year, the temple fair was revived after an interruption of about eight decades.
Now known as the Puyang Zhangcao Folk Culture Festival, it was jointly organized by the Zhang Qingfeng Foundation for Aged People and the Hongfeng Group.
Traditional cultural and folk art skills performed at the festival included paper cutting, calligraphy, various handicrafts and the local opera named Henan Zhuizi. Local dishes were also served.
"We want the festival to resume the tradition of the temple fair and enrich the cultural lives of local farmers," Han said.
"It provides a stage to showcase local cultural heritage and promote exchanges between my hometown and the outside world," he said.
"To preserve and develop local culture is a correct decision that will benefit our descendants," he added.
In September, Hongfeng Group invested in the construction of an acrobatic culture park in Puyang's Dongbei village. It includes a venue for acrobatic performances, a wetland park, a zoo and gardens.
The company said that the park could increase the reputation of Dongbei village as a renowned site for acrobatics while promoting tourism and creating employment for local farmers.
Modern agriculture
Another goal for Han and his company is bringing modern agriculture to Zhangcao.
The company plans to invest 300 million yuan to develop an ecological agriculture site at the village.
The first 20 million yuan was used to introduce several quality species of trees on a plantation that covers more than 100 hectares.
The company also plans to help boost animal husbandry in the village.
Its plan calls for introduction of good breeds of beef cattle, goats and sheep from both China and overseas that will be raised in the agriculture park.
The project could help Zhangcao transform from traditional to modern agriculture with higher added value.
The folk culture festival is also part of the agriculture park started by Hongfeng Group.
Han called it "walking on two legs", explaining that the cultural sector can enrich the spiritual life of local farmers while growth in modern agriculture can bring direct economic benefits.
Contact the writer through hantianyang@chinadaily.com.cn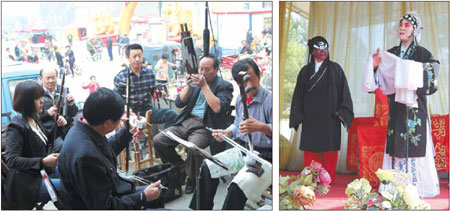 The Zhangcao Temple Fair, dormant for nearly eight decades, was revived this year through sponsorship from Hongfeng Group. Folk artists in the village and neighboring areas again have a stage to show their skills. Photos Provided to China Daily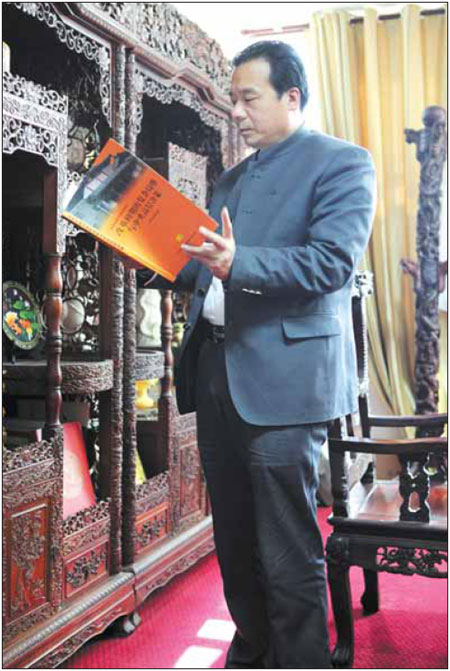 A businessman deeply influenced by traditional Chinese culture, Han Xuechen believes a willingness to learn is crucial to success.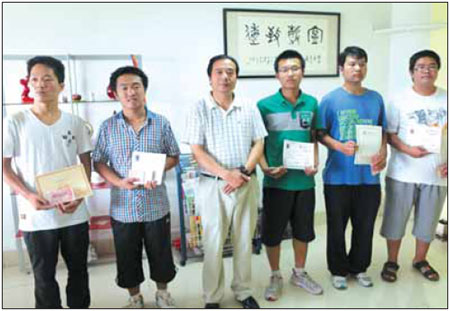 Han with students who received financial aid from his company after they were admitted to universities this summer.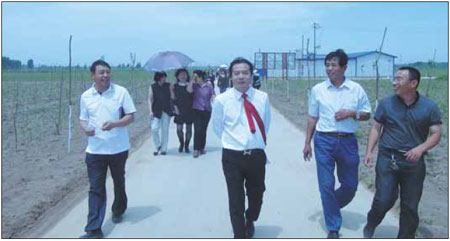 Han shows visitors the new ecological agriculture park developed by Hongfeng Group.
(China Daily 11/24/2013 page8)