Sand and Sanskrit
Updated: 2013-11-17 07:14
By Rebecca Lo (China Daily)
| | | | | | | | | |
| --- | --- | --- | --- | --- | --- | --- | --- | --- |
|   | | Print | | Mail | | Large Medium  Small | 分享按钮 | 0 |
The isles surrounding Sihanoukville are ideal R&R bookends to the temples of Siem Reap. Rebecca Lo goes island hopping before climbing Baphuon mountain temple.
People are always shocked when I admit that I have never been to Phuket. The reasons are simple: My idea of a holiday involves more than lying on a beach. There are plenty of beaches to enjoy in Hong Kong, and it doesn't involve getting on an airplane to do so. However, I am all for vacations that combine sand and surf with more cultural pursuits.
That is where Sihanoukville in southern Cambodia gets it right. It's less than an hour's flight from Angkor Wat, which is celebrating its 20th anniversary as one of UNESCO's top World Heritage Sites this year. The country is seeing exponential growth recently as a friendly, affordable destination, and the archipelago surrounding Sihanoukville is gearing up for development into the next Maldives getaway.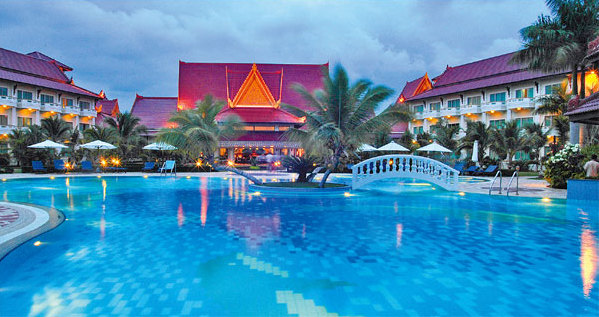 The island resorts feature such events as snorkeling and diving, or guests can simply laze around the sunset pool. Photos by Rebecca Lo / For China Daily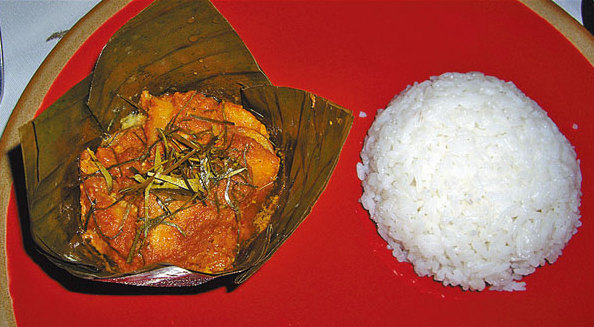 Amok fish and rice are among local meals at Vat Preah Einkosei.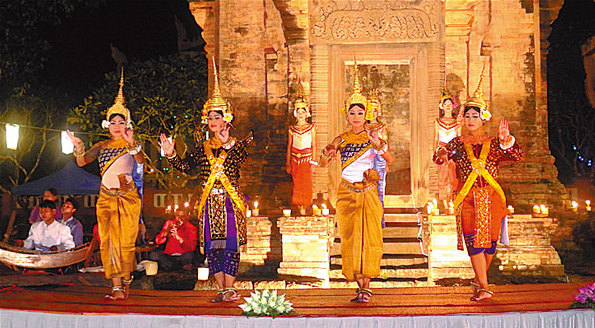 Khmer dance is performed at Vat Preah Einkosei.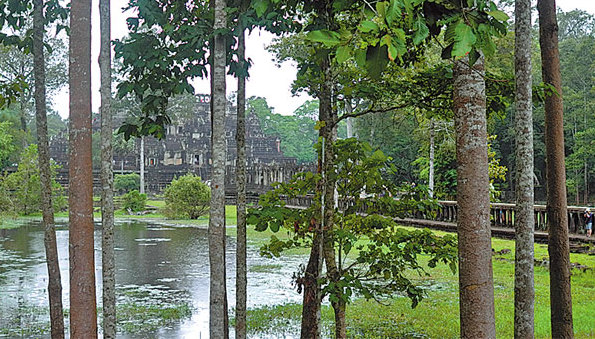 The Baphuon mountain temple reopened earlier this year and has become one of Siem Reap's most popular sites.
With Siem Reap's temples stealing the scene, many don't realize that Cambodia boasts miles of sandy shoreline and more than 70 islands ranging from a mere blip to bigger than Hong Kong island. While backpackers have known about the archipelago's unspoiled retreats for years, it was only with the opening of Song Saa near Koh Rong that people seeking luxury had a place to park their Louis Vuittons.
With Song Saa's 27-key all-pool villa resort doubling in value from concept to completion, French developer CityStar has a new and much bigger resort in the works on the western portion of Koh Russey. Operated by Alila, it is slated to be completed in 2015 and will include 48 rooms and a variety of pool villas. CBRE intends to launch the first batch of villas for sale late this month in Hong Kong.

I have a soft spot for the efforts of Rory and Melita Hunter, the Australian founders of Song Saa. When I visited the twin islands of Koh Oun and Koh Bong in 2010, their enthusiasm for preserving the destination and its indigenous folks was infectious.
It was fantastic to see their vision realized three years later. Song Saa rivals some of the best island resorts in the world, complete with a nearby helicopter landing pad, a speed boat that whisks guests to Sihanoukville 46 km away and villas with uninterrupted sunrise or sunset views.
Colorful planks from fishing boats were reused by Melita in villa furnishings while sandstone boulders unearthed during construction were transformed into feature walls.
Dinner at Vista Bar and Restaurant started with cocktails specially created for the resort, along with an assortment of canapes served on driftwood that cement the sense of place. After moving to the dining pavilion, we were treated to porcini risotto with aromatic white truffle, line-caught sea bass salad and pink milk-fed Australian prime veal medallions.
When Australian chef Joel Wilkinson stopped by our table, he mentioned that many of the menu items were sourced locally. "There are still a few things that we import, but the seafood and local produce are excellent," he said.
The next morning, associate program director Barnaby Olson took us on a tour of the fishing village on nearby Koh Rong. The Hunters started Song Saa Foundation as a complement to the resort, with the mandate to help 2,500 villagers live a more sustainable life.
We saw that many fishermen were now farming on the sandy soil so as not to be as reliant on the catch of the day for their family's sustenance.
Funds from donations helped to reopen a school staffed with teachers from Phnom Penh, with pens and notebooks brought in by guests as part of the international program Pack for a Purpose. Students who wish to explore topics as diverse as coral studies or malnutrition within Cambodian fishing villages can apply to stay in a Song Saa Foundation-sponsored hut to conduct research.
With all the do-good initiatives on Song Saa, it was fun to have the R&R counterparts, such as snorkeling, diving and lying around the sunset pool munching on a wood oven baked pizza.
Etienne Chenevier believes there is ample room for other luxury resorts like Song Saa. A partner with CityStar, he is developing 25 hectares between the Western Cape and 1.5 km of southern beach front on Koh Russey into an Alila resort designed by Singapore architect Chioh Hui Goh of Studiogoto. A much larger island than Song Saa, Koh Russey is also closer to Sihanoukville.
He took us on a stroll along the beach front after a seafood lunch consisting of fresh-caught crab, prawns and fish all enhanced by a robust black pepper sauce. During the walk, I was reminded of a similar explanation by Rory Hunter more than three years ago.
After our tour of Koh Russey, we were whisked to Siem Reap and checked into Raffles Grand Hotel d'Angkor.
The grand dame is one of the oldest and most respected colonial properties in southeast Asia, and it was bustling with activity during cocktail hour. The rooms were recently given a gentle renovation by Ho Chi Minh City-based design firm Noor - so gentle that I hardly noticed a difference between now and when I was there last in 2011.
We then assembled for a special temple dinner at Vat Preah Einkosei. I had heard about these traditional Cambodian meals set within the grounds of ancient ruins, but it was my first time experiencing one.
The highly ritualized meal started with drummers and musicians welcoming us. We were led by human monkeys to the temple grounds itself, where we saw graceful ladies dressed like ethereal Apsara nymphs guarding the structure.
Along with a multi-course meal that included amok fish and chicken with cashews - two local delicacies - we saw a variety of stylized dance performances depicting court rituals and cardamom picking.

The next day was spent visiting Siem Reap's famous temples, organized by Chemins d'Angkor and led by our guide Phourng Phalkun. Along with Angkor Wat and Bayon Temple, we visited Baphuon mountain temple.
After a quarter of the complex collapsed, Baphuon was closed for 15 years as it underwent reconstruction by French architects from Ecole Francaise d'Extreme-Orient. It reopened earlier this year and has become one of Siem Reap's most popular sites.
After attempting to spot the reclining Buddha hidden in one side of the temple, I climbed up the steep steps to the very top. A sea of green surrounded me, and the jungle's contrast against the 11th-century temple I was standing upon reaffirmed my admiration for the Khmer culture.
Contact the writer at sundayed@chinadaily.com.cn.
(China Daily 11/17/2013 page16)