Men's health grows fuzzier
Updated: 2013-11-17 07:14
By Donna Mah (China Daily)
| | | | | | | | | |
| --- | --- | --- | --- | --- | --- | --- | --- | --- |
|   | | Print | | Mail | | Large Medium  Small | 分享按钮 | 0 |
Guys are growing and grooming mustaches to raise awareness about testicular and prostate cancer in Movember. Donna Mah reports.
Men's upper lips got fuzzier this month. And that's not to keep their maws warmer in the colder weather. But the best growing season for the facial hair medium made famous by the ilk of Charlie Chaplin and Tom Selleck is Movember.
Men's health isn't a big discussion in Hong Kong. Testicular cancer, in particular, is a downer in any conversation, anywhere.
But in Hong Kong and much of the world, "Mo Bros", as they're called, grow mustaches to get people talking to raise awareness about testicular and prostate cancer.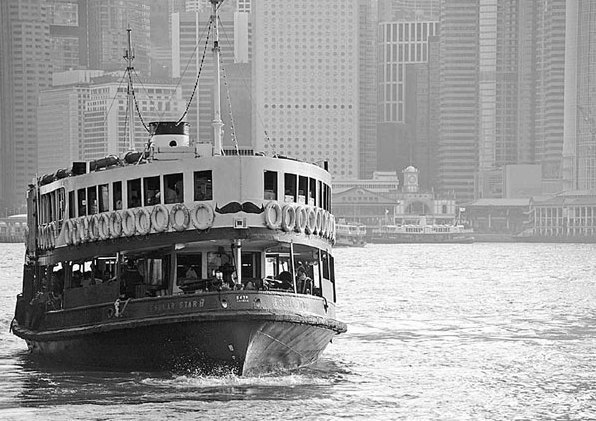 The month-long charity and awareness campaign Movember is staged on the Star Ferry. Photos provided to China Daily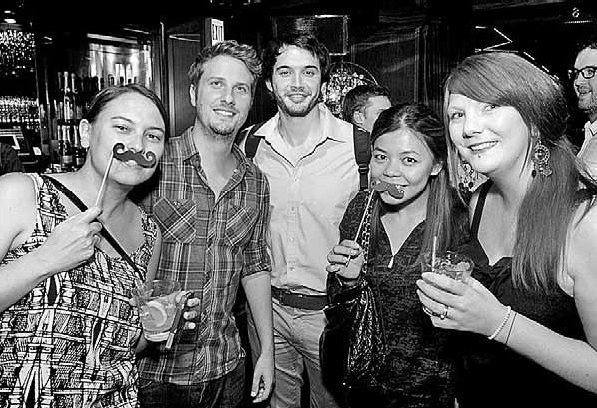 Movember is intended to raise prostate cancer awareness.
Last Movember, Hong Kong's Mo Bros and Mo Sistas not only raised awareness about, but also HK$4.5 million ($580,500) to fight, these diseases.
This is the second year the special administrative region is participating. And those joining the movement hope to raise even more.
It's Sam Gilbert's second Movember. He lost his grandfather to prostate cancer this year.
"(My grandfather) had a nine year battle with prostate cancer, and his steady decline in health and standard of life was very hard to watch," he recalls.
"Within 20 minutes of my arrival (in the United Kingdom), I watched my grandfather pass away in the arms of the woman he loved and had not spent a single day apart from for 60 years. Prostate cancer robbed my nana of 20 more years with the love of her life, my mother of her father, my sister and (me) of our grandfather, and my nephew of his great-grandfather.
"We can stop that happening to others and give them more years with their loved ones."
About 1,500 men are diagnosed with prostate cancer a year.
The number of prostate cancer cases has tripled in Hong Kong over the last 10 years.
Mo Sista Francesa Ayala encourages Mo Bros to not "be afraid to get weird (when growing your mustache). Weirdness starts conversations. And that helps build awareness."
Ayala and her friend Jasmine Robertson organized a Movember Beer Pong Tournament on Nov 16 at Libertine in SoHo.
Many Hong Kong Mos Bros started Movember with a clean shave at Gentlemen's Tonic barbershop in Central on the last day of October - Halloween. That was the start of a month of growing and grooming.
Celebrity chef Jason Black says that, for him, the challenge isn't growing a mustache. It's shaving facial hair off.
"I never shave and have a beardy kind of thing going on all the time," he says, emphasizing the word "never".
So, he's actually subtracting, rather than adding, facial hair for the movement.
Gilbert, on the other hand, says growing is his problem.
"After a feeble attempt last year, I would not dare to recommend any (grooming) strategies," he says.
"I have moderate to poor growth in the top lip department. However, that will not stop me from giving it a bloody good go. Curse my boyish good looks!"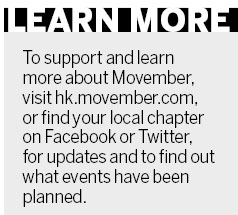 Ayala's Movember mustache management issue is that, well, she can't grow one. To her: "(Movember) is a time to celebrate manliness and the men in our lives."
Gilbert says: "Movember is a chance to educate people on the very real dangers of prostate and testicular cancer. Men are obsessed with being manly and will even brag about the fact that the last time they went to the doctor's was 10 years ago. Movember is a chance to change that approach.
"Through word of mouth and offensive facial hair, we can show that being truly manly is being enough of a man to realize you are not invincible. And, for the sake of your family and friends, you should swallow your pride and get frequent checkups."
For Black: "(Movember) means I can do something a little different for a change. Little is done to highlight men's health. And if I can have a little fun, raise a little money and create a little awareness, it is a good thing."
Contact the writer at sundayed@chinadaily.com.cn.
(China Daily 11/17/2013 page15)