Hepatitis C meets its match
Updated: 2013-11-17 07:13
By Andrew Pollack (The New York Times)
| | | | | | | | | |
| --- | --- | --- | --- | --- | --- | --- | --- | --- |
|   | | Print | | Mail | | Large Medium  Small | 分享按钮 | 0 |
Determined to get rid of the hepatitis C infection that was slowly destroying his liver, Arthur Rubens tried one experimental treatment after another. None worked, and most brought side effects, like fever, insomnia, depression, anemia and a rash that "felt like your skin was on fire."
But this year, Dr. Rubens, a professor at Florida Gulf Coast University in Fort Myers, entered a clinical trial testing a new pill against hepatitis C. After three months of treatment, the virus was cleared from his body.
"I had a birthday in September," Dr. Rubens, 63, said. "I told my wife I don't want anything. It would take away from the magnitude of this gift."
Medicine may be on the brink of turning the tide against hepatitis C, which kills more Americans annually than AIDS and is the leading cause of liver transplants. If the effort succeeds, it will be an unusual conquest of a viral epidemic without using a vaccine.
"There is no doubt we are on the verge of wiping out hepatitis C," said Dr. Mitchell L. Shiffman, the director of the Bon Secours Liver Institute of Virginia.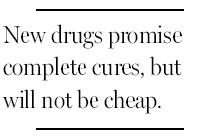 Over the next three years, new drugs are expected to come to market that will cure most patients with the virus, in some cases with a once-a-day pill taken for as little as eight weeks, and with only minimal side effects.
Current therapies cure about 70 percent of newly treated patients but require six to 12 months of injections that can bring horrible side effects.
But the new drugs are expected to cost from $60,000 to more than $100,000 for a course of treatment. Access could be a problem in developing countries. There are no international agencies or charities that buy hepatitis C medications, as there are for H.I.V. and malaria drugs.
An estimated 150 million people worldwide are infected with hepatitis C - three to five times the number who have H.I.V. Most people who are infected do not know it; it can take decades for the virus to damage the liver sufficiently to cause symptoms. Many people infected with hepatitis C never suffer serious problems.
Hepatitis C is spread mainly by the sharing of needles, though it can also be acquired during sex and blood transfusions. In the United States, testing of donated blood began in 1992. Dr. Rubens, the recently cured patient, believes he was infected when he worked as a paramedic long ago.
The main treatment has been interferon alfa, given in weekly injections for 24 weeks or 48 weeks, combined with daily tablets of ribavirin. The combination cures about half the patients, but the side effects - flulike symptoms, anemia and depression - can be debilitating.
The new drugs are designed to inhibit the enzymes the hepatitis C virus uses to replicate, the same approach used to control H.I.V. As with H.I.V., two or more hepatitis C drugs will be used together to prevent the virus from developing resistance.
If no virus is detectable in the blood 12 weeks after treatment ends, there is almost no chance the virus will return and the patient is considered cured. The damaged liver can then heal itself somewhat, doctors say.
Yet people who were infected may have an increased risk of liver cancer, especially if cirrhosis, a scarring of the liver, has set in.
The new drugs moving to market may have treatment durations of 12 weeks to 24 weeks, possibly shorter.
For Tom Espinosa of Oakland, California, the new treatments cannot arrive fast enough. Mr. Espinosa, 59, has advanced cirrhosis and some spots on his liver that might be cancer. He has tried all available treatments and nothing worked, making him envious of patients who were cured.
He plans to try the first new drug to hit the market.
But many of the new drug combinations have not been extensively tested yet. Side effects might still show up. And the drugs are not expected to work as well for patients with severe cirrhosis or those co-infected with H.I.V.
These new drugs, from companies including Gilead Sciences, AbbVie and Bristol-Myers Squibb, are likely to alter the protocol about who gets treated and when. Many doctors are urging their patients to forgo treatment until the new drugs are approved.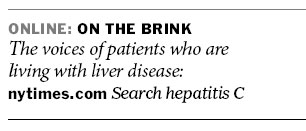 "There's no way I'm going to put them on an interferon regimen when we're a year away from having interferon-free regimens," said Dr. Scott Friedman, the chief of liver diseases at the Icahn School of Medicine at Mount Sinai in New York.
But with the new more tolerable treatments, some experts say, it makes sense to treat early-stage disease to prevent cirrhosis and the risk of liver cancer.
Pharmaceutical companies have been providing support for hepatitis C awareness campaigns and sponsoring studies on the benefits of screening and treatment.
The all-oral regimens may make it more feasible to treat the people who are most likely to spread the virus - intravenous drug users, the homeless and prison inmates, many of whom also have mental health problems.
"I can't treat an unstable patient safely with interferon," said Dr. Diana Sylvestre, who runs a clinic in Oakland, California. "But I can sure as hell give them a few pills."
The New York Times
(China Daily 11/17/2013 page12)