Natural talent
Updated: 2013-11-17 07:06
By Zhao Shijun (China Daily)
| | | | | | | | | |
| --- | --- | --- | --- | --- | --- | --- | --- | --- |
|   | | Print | | Mail | | Large Medium  Small | 分享按钮 | 0 |
Painter Lao Pu finds a deeper meaning in humble farm produce, Zhao Shijun reports
In traditional Chinese painting, artists usually have favorite subjects that express their personal feelings and tastes.
Those subjects could be people - Buddhist and Taoist figures, officials or ordinary people like farmers, woodsmen and fishermen - or landscapes, plants and animals, each with a significance relating to the painter's religious beliefs or understanding of life, nature and even aesthetics.
Only a small number of artists touch on the subject of humble vegetables and crops. Contemporary Beijing painter Lao Pu - a pen name meaning "old vegetable farmer" - is one of them.
His inclination stems from his childhood experiences.
Born in a farmer's family in 1955 in the suburbs of Beijing, his real name is Bai Jinghai.
When he was a child, he enjoyed helping his family by growing crops and vegetables or herding. He also liked to portray animals, vegetables and people on the village walls or even on the ground.
He might have become a devoted farmer if he hadn't met renowned Beijing painter Lin Kai when he was a teenager.
Lin went to his home village to sketch local life and Lao Pu's family offered him lodging.
Lin was impressed by the youngster's rough but passionate works and offered to teach him.
After that Lao Pu regularly visited his tutor by walking some 50 kilometers between his village and Beijing.
His painstaking efforts paid off when he was admitted to the China Central Academy of Fine Arts in Beijing in the late 1970s.
Lao Pu said never lost his love of rustic life. That is why he portrays the humble things produced by country folks - pumpkins, corn, radishes, bean pods, lotus roots and seeds, watermelons, sweet potatoes and pears.
"I want to devote my whole life to portraying the living things from farms because they always bring me a sweet memory of my childhood," Lao Pu said.
"We should be grateful for these humble things because they feed a whole country and a whole world," he added.
Lao Pu's works are also an expression of his unique understanding of humanity and nature.
He has a Buddhist attitude towards nature, thinking everything is equal - whether it is a human being, an animal, a plant or a stone.
"Natural things are great mentors of your soul. They serve as a mirror to help you observe yourself," he said.
Lao Pu said the humble vegetables and crops help him understand the rules of life.
"Whether they are strong or weak, they shoulder the same mission - to grow from the earth and then return to earth after they give life to a new generation. They represent the essence of nature," he explained.
"This is the rule of life, in a form of great simplicity," he added.
"Simplicity is what I pursue in my paintings," Lao Pu said.
The artist usually depicts one or two objects in his paintings with a simple and pure background.
The works are predominantly black and white, avoiding the "confusion of multiple colors", said the painter.
His art combines realistic and expressionist styles, presenting both the vivid image of objects and his own expression.
He uses the skills of Western painting in details like spatial layout.
"The spatial layout is so delicate that you cannot remove or add even a single brush stroke on his painting. If so the aesthetics will be totally destroyed," said Xu Dingyi, a Beijing painter and art critic.
Contact the writer through zhaoshijun@chinadaily.com.cn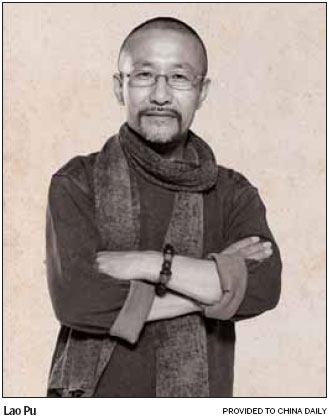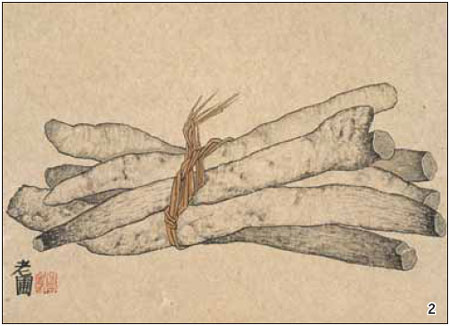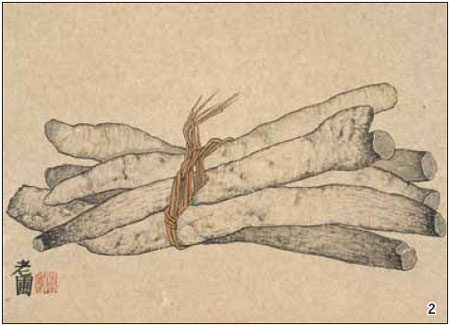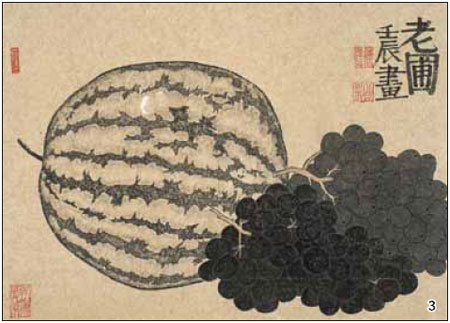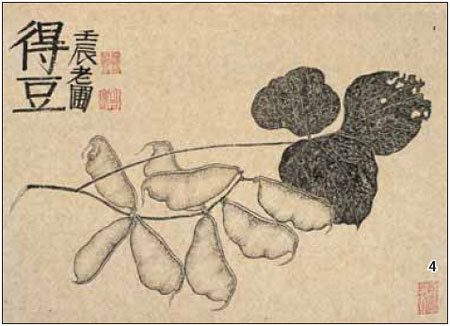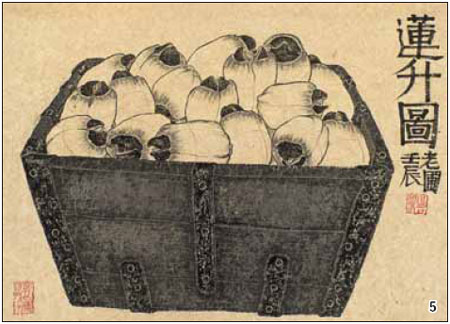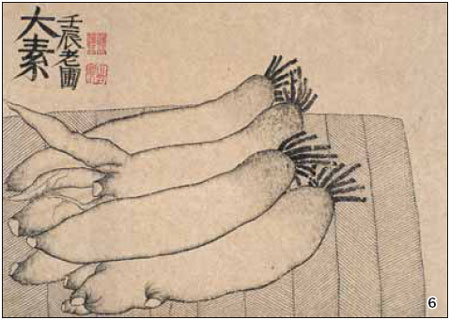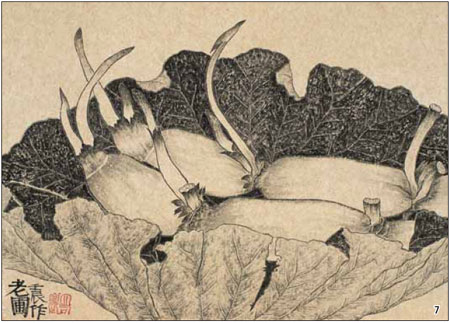 The artist draws inspiration from simple farm produce such as pumpkins (1), Chinese yam (2), watermelon and grapes (3), bean pods (4), lotus seeds (5), radishes (6) and lotus roots (7).
He also uses fruit as still life like the pears shown here.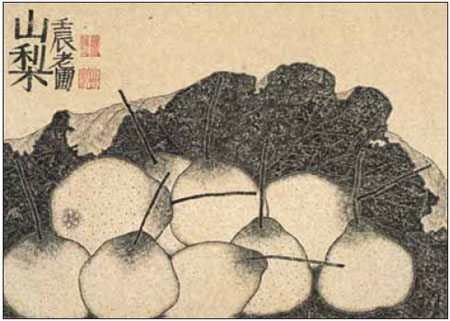 (China Daily 11/17/2013 page8)