Securing a woman's world
Updated: 2013-11-17 07:02
By Xu Lin (China Daily)
| | | | | | | | | |
| --- | --- | --- | --- | --- | --- | --- | --- | --- |
|   | | Print | | Mail | | Large Medium  Small | 分享按钮 | 0 |
Females account for a growing slice of the country's emergent bodyguard industry and must learn everything from how to endure a bottle over the cranium to tea ceremony etiquette. Xu Lin talks to these tough girls.
Lulu was asleep when the intruder broke in, tied her up, blindfolded her, threw her in a car trunk and drove away. When the 28-year-old awoke in a strange place, she had to free herself from her ropes and find her way home. She succeeded. Lulu had monitored the car's movements from the trunk, noticing when it turned and stopped. It wasn't an actual kidnapping but rather a drill for the bodyguard in training.
The experience sounds unpleasant at best. But Lulu says: "I like my job very much because I'm honored I can protect others. My personality is a bit tomboyish. And I like to defend others against injustice."
Lulu is among the few female bodyguards at Beijing Bojing Security Agency but one of many women entering the industry.
More than one-third of China's millionaires are females. And they increasingly want someone from their own sex to protect them.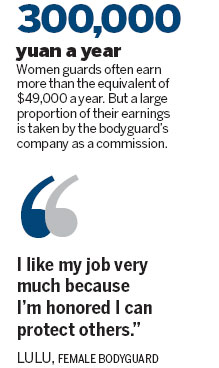 There are 1.05 million multimillionaires and 8,100 billionaires in China, according to the Hurun China Rich List 2013. The average wealth of the 211 female billionaires on the Hurun China's Women Rich List 2013 is 9.6 billion yuan ($1.57 billion).
These are the clients for whom the country's nearly 3,000 security agencies compete.
The industry was legalized in 2010.
Women often want women bodyguards because they can do such things as following them to the restroom. They create less suspicion, as they often appear to be secretaries or relatives, and don't coax rumors of romantic involvement.
"Some female bodyguards look like drivers or nannies whose professions appear to be looking after parents and children," Kingdom International Bodyguard Co's founder Pan Xianjin says.
"They have certain protection abilities, but women are not as physically powerful as males."
Beijing Bojing Security Agency's CEO Shi Xingfeng explains women are better at keeping lower profiles but not as fierce in combat.
More than 40 females applied for his company's training this year. Three passed the training, but one failed the exam.
Lulu, who joined Bojing in 2011, looks like the girl-next-door with a ponytail and dark shirt. Most of her clients are entrepreneurs or celebrities.
A 26-year-old bodyguard with Shanghai Shenyingtewei Security Consulting surnamed Yu (she withholds her given name for security reasons) says her company's standard for female bodyguards is a height of more than 1.68 meters, and good health, mentality and conduct. Many companies, like Lulu's, require them to remain single, as relationships might distract them from their work. Many are former soldiers or athletes, so they can withstand brutal physical training.
China's female security guard boot camps often require recruits to get bottles smashed over their heads, tackle knife-wielding assailants and be stomped facedown into water. They also learn evasive driving and hand-to-hand combat.
But Yu and Lulu say their jobs aren't as dramatic or dangerous as their training and movies would suggest.
"People believe bodyguards fight all day, but our job is to do our best to notice risks and avoid them," Lulu says.
The job is tedious and tiring. She must concentrate to scan for risks every second of every shift. That goes for seemingly safe places, such as entrepreneurs' companies, too.
She accompanies clients all day as a driver or assistant at their offices and banquets.
Lulu gets to rest only when her clients do. She spent a month accompanying a client to socialize with friends until 3 am every night but had to get up at 7 am to drive her child to school.
That said, there are dangerous moments in which China's women bodyguards must spring into action.
Yu recalls more than a dozen people trapped her client on a building's ninth floor. She and her client had to escape through the 10th-floor window and rappel down the building's exterior to safety.
Lulu explains: "Our job is to rescue clients and bring the other parties under control without harming anyone."
But other requirements mean her kit includes sanitary napkins, pills and nylons for her clients - just in case.
"My responsibility isn't only to protect her from physical threats but also from embarrassment," Lulu says.
She learns about clients' health, habits and lifestyles before assignments. Lulu also keeps their agendas and reminds them of appointments.
Yu says it's often wealthy husbands who hire bodyguards to watch their wives and children.
In return, women guards often earn more than 300,000 yuan ($49,000) a year - a large proportion of which the company takes as commission. Lulu's company claims half. Women bodyguards' salaries are usually higher than men's because there are fewer females in the industry.
And clients often ply them with pricey gifts - iPhones, designer perfumes and luxury handbags.
Shi explains: "We try not to arrange a woman bodyguard for a male client or a male guard for a female client. It's inconvenient. And they could become emotionally involved."
The first lesson guards get on the first day is: Don't get into a relationship with the client.
"That's dangerous," Shi says.
"If they argue, the bodyguard might be upset and not focus on the client's safety."
They're actually forbidden from having romantic relationships with anyone outside of work, too.
"Women have to be independent," says Lulu, Shi's employee.
"Some clients remain single into their 40s. They're outstanding and have many suitors. A woman can lead a happy life even if she doesn't marry young."
Most clients advise Lulu to master as many skills as possible.
One even taught her how to perform tea ceremonies.
"I really like tea ceremonies," Lulu says.
"They've changed me a lot. They've made me more feminine."
Yu and Lulu are from well-off families and say they didn't choose their careers to make money.
Yu says she went into the sector to work alongside successful people and learn things from them that ordinary white-collar individuals don't get the chance to, such as etiquette and industry secrets.
Pan, who has worked as a guard in such countries as Libya and Kuwait, says China's private security industry is chaotic. Some unprofessional agents harm the sector's reputation.
But starting last year, guards who pass qualified trainings can get the Special Security Professional Training Certificate issued by the Ministry of Human Resources and Social Security.

"Such a certificate paves the way for sector regulation," he says.
Given the surging wealth of Chinese women who feel they need private security, it seems likely a mounting slice of the certificates' holders will be female guards.
Contact the writer at xulin@chinadaily.com.cn
Tiffany Tan and Erik Nilsson contributed to this story.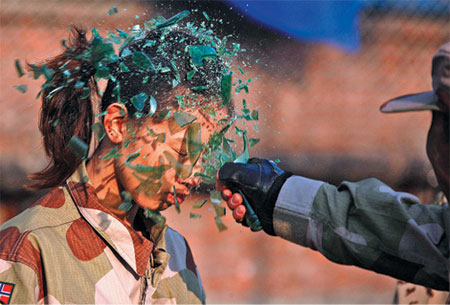 Above: An instructor from the Tianjiao Special Guard/Security Consultant Ltd Co smashes a bottle over a female recruit's head during a training session for China's first female bodyguards in Beijing. Photo by David Gray / Reuters
(China Daily 11/17/2013 page1)