Characters live to die another day
Updated: 2013-11-17 07:13
By Sarah Lyall (The New York Times)
| | | | | | | | | |
| --- | --- | --- | --- | --- | --- | --- | --- | --- |
|   | | Print | | Mail | | Large Medium  Small | 分享按钮 | 0 |
William Boyd's new James Bond book, "Solo," takes Britain's best-known spy to the war-ravaged jungles of West Africa and the streets of 1960s Washington, with interludes of sex, drinking, the suggestion of homoerotic torture and other familiar Bondian amusements. But in writing nearly 50 years after the death of Bond's creator, Ian Fleming, Mr. Boyd faced some contemporary dangers.
These included: How to appease Bond zealots suspicious of anyone tampering with their beloved character. How to satisfy Fleming's estate, which hired Mr. Boyd. And how to remain true to his standards while honoring the spirit of an author he never met.
Mr. Boyd is not the first to grapple with these kinds of questions. Fleming produced 14 Bond books, but at least 35 more have been published since his death by authors including Kingsley Amis and Jeffery Deaver. Also, a number of sequels, homages and retellings of tales from other long-dead authors are suddenly crowding the shelves.
This month, Sebastian Faulks, who wrote a James Bond novel that came out in 2008, is to publish "Jeeves and the Wedding Bells," a valentine to P. G. Wodehouse. Next year, the British mystery writer Sophie Hannah plans to resurrect Agatha Christie's Hercule Poirot. Alexander McCall Smith is writing a contemporary version of Jane Austen's "Emma."
Meanwhile, the Irish author John Banville (using the pen name Benjamin Black) has written a Raymond Chandler novel to be published in March. And the British writer Anthony Horowitz in 2011 published "The House of Silk," a Sherlock Holmes mystery.
What is going on?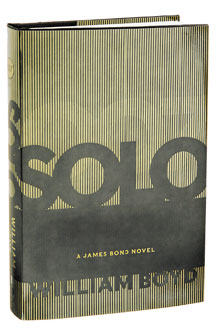 "I think it's a reader-driven thing," said Mr. Boyd. "If people like the characters and like the stories, they want more of the same."
Mr. Boyd, a critics' favorite whose books include "A Good Man in Africa" and "Any Human Heart," said he took on the project at the invitation of the Fleming estate in part because of the freedom he was given.
"I wanted to write a gritty, realistic spy novel about a human being, not anything fantastical or silly, with organizations trying to rule the world," he said. "I wanted him to be a living, breathing 45-year-old man going on a real mission and encountering real people."
Authors' estates that still hold copyright stand to make tidy profits from licensing the rights for sequels, and can lure new readers to old franchises. Yet some readers and critics question the worth of such enterprises.
"Our civilization echoes to the sound of the bottom of barrels being industriously scraped," David Mitchell wrote in The Observer of London. "No franchise must be left unexploited, no film unremade, no TV series unreimagined in our commercial desperation to avoid the undignified recourse of trying to think of a new idea."
Mr. Boyd has received mixed reviews, perhaps because the James Bond many readers have come to expect is not Fleming's at all, but the cinematic version.
Mr. Boyd gave Bond a World War II back story and imagined that because Bond had been orphaned at 11, he might look to M, his boss, for some kind of (one-sided) emotional relationship. (He also discovered Bond's enjoyment of cooking and included his own recipe for vinaigrette.)
One potential happy side effect for writers of books like these is that it can liberate them, allowing them to retain their own writerly essence while stepping outside themselves, however briefly.
But Corinne Turner, managing director of Ian Fleming Publications, said that authors of Mr. Boyd and Mr. Faulks's stature were unlikely to do it more than once. "They find it fun and enjoyable," she said, "but they've got their own books to write."
The New York Times
(China Daily 11/17/2013 page11)