Venezuelans reshape mannequins
Updated: 2013-11-17 07:12
By William Neuman (The New York Times)
| | | | | | | | | |
| --- | --- | --- | --- | --- | --- | --- | --- | --- |
|   | | Print | | Mail | | Large Medium  Small | 分享按钮 | 0 |
VALENCIA, Venezuela - Frustrated with the modest sales at his small mannequin factory, Eliezer Alvarez made a simple observation: Venezuelan women were increasingly using plastic surgery to transform their bodies, yet the mannequins in clothing stores did not reflect these new, often extreme proportions.
So he created the kind of woman he thought the public wanted - one with a bulging bosom and cantilevered buttocks, a wasp waist and long legs, a fiberglass fantasy, Venezuelan style.
The shape was augmented, and so were sales. Now his mannequins, and others like them, have become the standard in stores across Venezuela, serving as an exaggerated vision of the female form.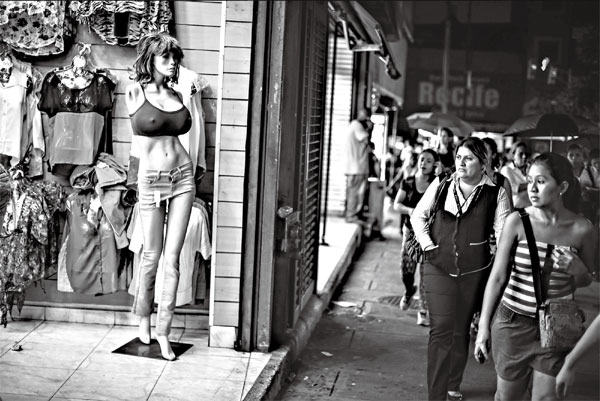 Store window mannequins reflect the increasing popularity of breast augmentation among Venezuelan women. Eliezer Alvarez's factory, below. Photographs by Meridith Kohut for The New York Times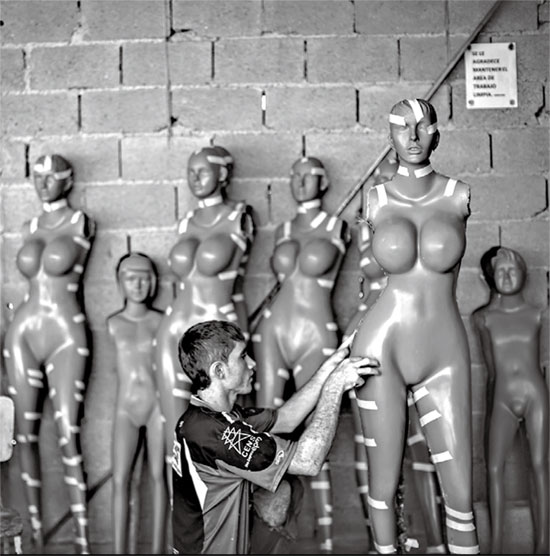 "You see a woman like this and you say, 'Wow, I want to look like her,' " said Reina Parada, as she sanded a mannequin torso in the workshop. She said she would like to get implant surgery. "It gives you better self-esteem."
Cosmetic procedures are so fashionable here that a woman with implants is often casually referred to as "an operated woman." Women freely talk about their surgeries.
This clashes with the government's socialist ideology. Venezuela's longtime leader, Hugo ChAvez, who died in March, railed against the procedures, saying it was "monstrous" that poor women were spending money on breast surgeries.
Surgically augmented beauty took on a particularly important role in the late 1970s and '80s when the country's beauty queens, already a national obsession, were crowned Miss Universe three times.
This month, Miss Venezuela Gabriela Isler was named Miss Universe, the country's seventh title.
Several women's groups protested against the Miss Venezuela beauty pageant in October, criticizing pressures on women to conform to the artificial aesthetic.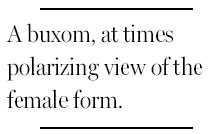 The little data available indicates that Venezuelan women do not get plastic surgery more than their counterparts in many other countries. But Lauren Gulbas, an anthropologist who has studied attitudes toward plastic surgery in Venezuela, said the surgeries take on an elevated status thanks to the importance of beauty here and a belief that cosmetic procedures will help project a successful image.
"There's this notion in Venezuela of 'buena presencia,' good presence," she said. "That communicates that you have certain aspects that say you are a hard worker, a good worker, an honest person. There's a virtue associated with looking a certain way."
Mary Angola, another mannequin maker in Valencia, said that older styles came from Europe or the United States, and hardly reflected the physiques of real women around her.
"They make them so skinny," she said.
A few kilometers from Mr. Alvarez's factory, workers build mannequins in a small rooftop workshop run by Daniela Mieles, 25, and her family.
While Ms. Corro's mannequins took a quantum leap in body shape several years ago, Ms. Mieles said that the busts and buttocks of her family's mannequins had grown gradually to keep up with the trends in plastic surgery.

Now they have reached a shape that her husband, Trino Colmenarez, 32, calls "estrambotico," a word that may be best translated as "extravagant."
Sales are good, and Ms. Mieles said that she had started saving money so that she could get breast implants herself. An operation can cost about $6,350, Ms. Mieles said, an amount equivalent to about three months of basic expenses for her household.
"Beauty is perfection, to try to perfect yourself more and more every day," Ms. Mieles said. "That's how people see it here."
Maria Eugenia Diaz, Paula Ramon and Jimmy Chalk contributed reporting from Caracas, Venezuela.
The New York Times
(China Daily 11/17/2013 page10)