In France, an American pushes kale's virtues
Updated: 2013-11-17 07:12
By Elaine Sciolino (The New York Times)
| | | | | | | | | |
| --- | --- | --- | --- | --- | --- | --- | --- | --- |
|   | | Print | | Mail | | Large Medium  Small | 分享按钮 | 0 |
PARIS - While legions of American chefs, diners and health gurus have turned kale into a menu staple and a sought-after superfood, their Gallic counterparts do not understand the leafy green vegetable. Even worse, the French do not seem interested.
They cannot even agree on what to call it. There are at least five terms for kale, and the technical name, chou frise non-pomme, translates unappetizingly as "curly headless cabbage."
Here, kale is a reminder of the dietary deprivation of World War II that made boiled cabbage an unpleasant fixture of the dinner table.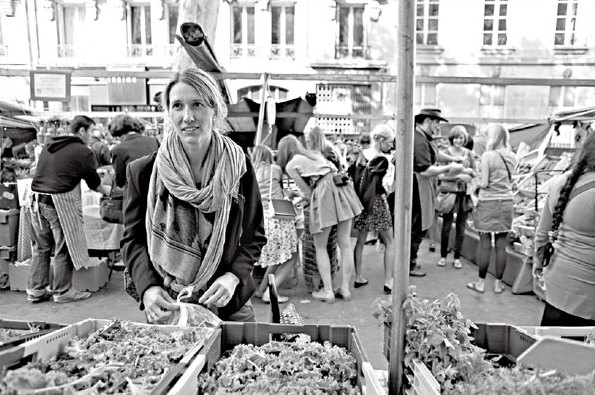 Kristen Beddard pitches the benefits of "curly headless cabbage" to chefs. Damien Lafargue for The New York Times
But suddenly, there are stirrings of a movement to make France pay attention, led by a 29-year-old American. This crusader for crucifers, Kristen Beddard, quit her job as an advertising executive in New York to follow her husband to Paris in 2011 and found herself without a food she had eaten since her childhood in Pittsburgh, Pennsylvania.
"I went to so many farmers and restaurants, showing them photos of kale," she said. "No one had any idea what I was talking about. One night I was out to dinner with my husband and I said, 'What if I try to bring kale to Paris?'"
She has created The Kale Project, complete with a Web site that dutifully reports kale sightings. Despite her minimal French, she has passionately pitched kale to chefs and vegetable farmers. "I knew deep down that if I could get farmers to grow it, I could create a kale community in France," Ms. Beddard said. "My mission is to make kale as common as lettuce."
She is under no illusion that she will earn a living from kale, and is not making any money at the moment. But if her kale project turns a profit one day, she would be delighted.
She has plenty of work ahead of her. "Why would the French ever care about this large, coarse-leaved cabbage?" asked Sanae Lemoine, a French writer in Brooklyn. "They don't need magical vegetables or superfoods. They already have a tradition of eating balanced meals."
Some of the French have bridled at this American who presumes to instruct them about a piece of their culinary heritage. One of France's largest food distributors laughed at her, she said, when she proposed that he ask his farmers to plant kale.
But she has chalked up some modest victories. They include organizing kale events at small restaurants and cafes. She supplies Loustic, an espresso and lunch bar in the Marais, with kale salads, kale chips and kale pesto that she makes.
At her suggestion, a chef at O Divin, a new bistro in eastern Paris, is using kale to garnish tete de veau and to anchor salads with fresh apple sauces and Comte cheese. Next month, Ms. Beddard will help create cocktails with kale juice at Silencio, the club in Paris designed by the filmmaker David Lynch.
Ms. Beddard met Hermione Boehrer, 60, at an organic food market, after noticing mustard greens, an oddity in France, for sale at her stand. Ms. Boehrer, 60, is gray-haired, deeply tanned and deadly serious. She lives alone, without indoor plumbing or electricity, on a farm near Coulommiers, about a 90-minute drive from Paris. Ms. Beddard provided the farmer with seeds for a curly-leaf kale.
Ms. Boehrer has started growing organic baby kale and selling it for 25 euros a kilogram every Sunday at an outdoor organic food market.

A crate of Ms. Boehrer's kale was delivered to Alain Passard at Arpege, his three-star Michelin restaurant in Paris. He had agreed to see what he could do with this strange ingredient; even though he grows his own fruits and vegetables, he had never encountered kale.
His six-course lunch included pastry stuffed with turnips, onions and kale. Kale-filled ravioli in a sweet tomato bouillon followed. The meal ended with stuffed cabbage. Kale leaves were wrapped around cubes of potato and onion and kale; a bouillon was made of green tomato, bay leaf and mate tea.
Mr. Passard spoke effusively about what he called le kahl. "It has a personality, a character, a power. It unlocks creativity. It touches on all the senses!"
Then he asked Ms. Beddard, with all the gravity of a marriage proposal, "Will you send me some seeds?"
The New York Times
(China Daily 11/17/2013 page10)