Getting dirty, getting dinner
Updated: 2013-11-17 07:12
By Julia Moskin (The New York Times)
| | | | | | | | | |
| --- | --- | --- | --- | --- | --- | --- | --- | --- |
|   | | Print | | Mail | | Large Medium  Small | 分享按钮 | 0 |
Chefs strip their art to its rawest elements
Hardeeville, South Carolina
'I am sitting in the most amazing puddle of mire," Matt Jennings, the chef at Farmstead in Providence, Rhode Island, announced into the dark from his perch atop a 3.5-meter-high hunting blind.
He had already been frog-marched deep into the forest by a local guide at dawn, had ripped open his hand sliding down a ladder and hauled his large frame up another ladder and into a rain-filled swivel chair.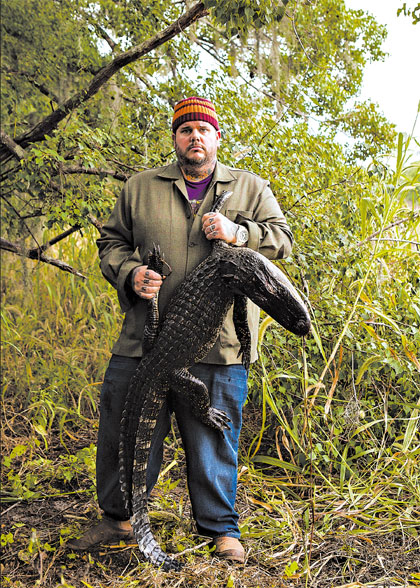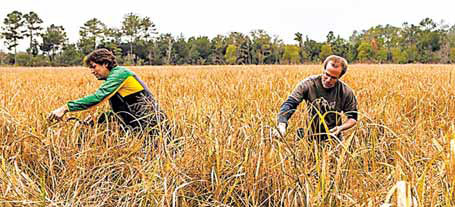 Ben Shewry, left, and Dan Barber harvesting rice during Cook It Raw in South Carolina. Top, Matt Jennings, a chef from Providence, Rhode Island, with a freshly killed alligator. Photographs by Alanna Hale for The New York Times
But what was bothering him was not his damp jeans, bleeding finger or lack of sleep. It was that, with one shotgun shell and no hunting experience, he was poised to bring down a deer or wild pig that his guide said would surely cross through this particular stand of trees.
Mr. Jennings, along with 20 other chefs from around the world, was in these woods in October because of Cook It Raw, a prestigious and peculiar annual culinary gathering that has become one of the most coveted invitations in food.
The night before, he had butchered a freshly shot alligator with a Bowie knife by the headlights of a pickup truck, sawing off the limbs while Jeremy Charles, a chef from Newfoundland, cut out the tongue. For dinner, he had trimmed and then grilled a deer's heart.
But he was having doubts. "If a beautiful, innocent deer wanders in front of me, am I really going to blow its brains out?" he said.
In the end, Mr. Jennings never saw his prey. But this is precisely the kind of question that is supposed to arise during Cook It Raw, held in a different location every year since 2009.
Cook It Raw's guiding idea is to strip cooking to its raw elements: foraging, hunting, fishing, farming, butchering and cooking over fire. A taste of the wild - hunting deer, gathering mushrooms, pulling wasabi from creek beds - is part of each program.
European luminaries like Pascal Barbot, Albert Adria and Massimo Bottura have camped out with New World comers like David Chang, Sean Brock and Alex Atala. Acclaimed chefs from Asia like Andre Chiang and Yoshihiro Narisawa have yawned at predawn wake-up calls alongside Scandinavian influencers like Magnus Nilsson and Rene Redzepi.
"I just wanted to suck the marrow out of the experience," said Mr. Jennings, who was at Cook It Raw for the first time and more than slightly cowed by all the world-famous chefs. "But I made a strict rule for myself on the plane: you do not talk to Albert Adria unless he talks to you first."
Cook It Raw began in Copenhagen, an offshoot of the acclaimed restaurant Noma and the work of its chef, Mr. Redzepi, the face of the so-called New Nordic cooking style: hyperlocal and seasonal ingredients, with high-minded culinary innovation.
In Lapland, they witnessed the slaughter of a reindeer; on the west coast of Japan, they tried to catch ducks in midair, using traditional nets strung on long poles; here, they foraged for yaopon, the only plant native to North America that contains caffeine (Native Americans and early settlers made tea from its leaves).
The final event is a grand experimental dinner, with each chef improvising a single course inspired by the local terrain - usually with names like Earth and Sea or Strange Fruit or even Frustrated Mackerel. This year, it took place at Mr. Brock's avant-garde, high-end restaurant, McCrady's, in Charleston.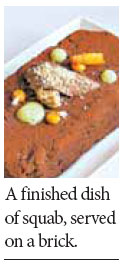 "The idea of chefs voluntarily sharing information and techniques with outsiders is still new," said Daniel Patterson, the chef at Coi, in Northern California. But chefs who are combative in their restaurants become collegial at Cook It Raw. "It was magical," he said.
This year's event was the first held in the United States and the first to accept commercial sponsors. The gathering was based in Charleston, and the area of study was the Lowcountry, the coastal marshes and fertile barrier islands that stretch from North Carolina down to Georgia.
At Turnbridge, a former rice plantation here, the channels that once irrigated many hectares of plants hold shrimp, blue crabs and alligators. The estate also holds eight hectares of Carolina Gold rice, a rich and fluffy strain that died out in the 1920s but has been revived here.
Its red-gold stalks waved around the chef Dan Barber's ears as Glenn Roberts, the owner of Anson Mills and the South's premier expert on grains, taught the group the multistep process of harvesting rice, from cutting, all the way through threshing, pounding and polishing.
"You become very connected to the ingredient when you're literally standing in it," said Mr. Barber, who owns the Blue Hill at Stone Barns farm-restaurant just north of New York City.
Mr. Jennings is the little-known chef at a small restaurant in a small city. Providence diners like their food recognizable and hearty, and he cooks accordingly: bowls of mussels, boards of local cheese and the charcuterie he makes by hand, and an exceptional grilled cheese sandwich with strawberry jam. He is thickly tattooed with the names of pig parts, and doesn't look like a member of any elite group. But his efforts to support New England farms and fisheries helped win him admission to Cook It Raw.
"At one point Albert Adria was working on my right, Ben Shewry was to my left, and Dan Barber and April Bloomfield were behind me," he said. "I thought, 'O.K., I'm just going to go throw up, and then I'll be fine.'"
The New York Times
(China Daily 11/17/2013 page9)