Weighing the risks of 'vaping'
Updated: 2013-11-17 07:12
By Matt Richtel (The New York Times)
| | | | | | | | | |
| --- | --- | --- | --- | --- | --- | --- | --- | --- |
|   | | Print | | Mail | | Large Medium  Small | 分享按钮 | 0 |
Early in the last century, smoking was an accepted alternative for men to chewing tobacco; for women, it was daring. Then, in midcentury, it became the norm. As the dangers of tobacco - and the scandalous behavior of tobacco companies in concealing those dangers - became impossible to ignore, smoking took on a new identity: societal evil.
Now the makers of electronic cigarettes are trying to win public acceptance of "vaping," as the use of their product is known. But some health professionals worry that condoning the habit could undo decades of work demonizing smoking itself.
At stake is a vaping market that has grown in a few short years to around $4 billion worldwide. That is tiny when compared to the $90 billion cigarette market in the United States alone. But one Wall Street analyst projects that e-cigarettes will outstrip regular ones in the next decade.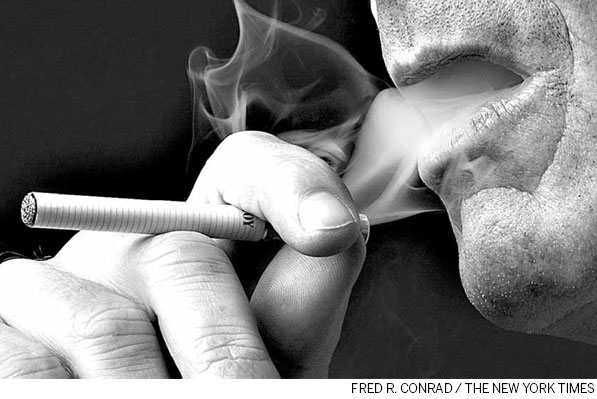 NJOY was one of the first companies to sell e-cigarettes; now there are 200 in the United States. Last year, Big Tobacco got into the game when Lorillard acquired Blu, an e-cigarette brand, and demonstrated its economic power. Within months, Blu displaced NJOY as the market leader.
Craig Weiss, the NJOY chief executive, still sees his product as having an advantage - in building e-cigarettes that look, feel and perform like the real thing. It's a different strategy than that of competing products that look like long silver tubes or sleek, blinking fountain pens.
"We're trying to do something very challenging: change a habit that is not only entrenched but one people are willing to take to their grave," said Mr. Weiss. "To accomplish that, we have to narrow as much as possible the bridge to familiarity. We have to make it easy for smokers to cross it."
To some in public health, a concern is that making smoking-like behavior O.K. again will, rather than lead to cessation, ultimately revive smoking, and abet new cases of emphysema, heart disease and lung cancer.
"The very thing that could make them effective is also their greatest danger," said Dr. Tim McAfee, director of the Office on Smoking and Health at the Centers for Disease Control and Prevention.
The NJOY King, which sells for $7.99, is disposable and tries to deliver as much nicotine as a pack of 20 cigarettes; other kinds of e-cigarettes are rechargeable, their nicotine fluid refills costing around $3 or $4.
Inside the NJOY's polycarbonate tube casing is an integrated circuit, a small computer chip. Then comes a lithium-ion battery and a wick wrapped in cotton soaked in nicotine, glycerol and propylene glycol. The battery is turned on when the user draws on the stick, heating the gadget's inside to around 180 degrees and turning the nicotine into vapor.
Blu eCigs, NJOY's biggest competition, are slender black tubes, with tips that glow blue, not ember-red.
Murray S. Kessler, the C.E.O. of Lorillard, described their look as "edgy" and "cool" and said that the looks bring a better chance to make it a "complete replacement" to the cigarette.
His shareholders, he said, "don't care whether we sell cigarettes or e-cigarettes" so long as the company maintains profits.
Lorillard said it will spend $40 million this year on marketing - a budget that amounts to 35 percent of the $114 million in Blu sales in the first half of the year.
Two other big tobacco companies are exploring the market. The MarkTen, from Altria, can be recharged; it is being sold in Indiana in a test. The Vuse, from the R. J. Reynolds Tobacco Company, is a long, silver model that is being tried in Colorado.
In the United States, the Food and Drug Administration, which has the power to regulate but not ban tobacco products, has said it plans to issue preliminary rules for public comment on e-cigarette regulations soon. Last month, the European Parliament endorsed limits on sponsorship and advertising of e-cigarettes, and on their sale to minors, but scrapped tougher regulations that would have regulated them as tightly as medical devices.
Most public health officials seem to agree that the levels of toxins are far lower than those in traditional cigarettes. But they also say that too little is known about potentially harmful aspects of particular brands of e-cigarettes, and about whether there is harm from "secondhand vapor."
One study published in September in The Lancet, a British medical journal, found that six months into smoking e-cigarettes, 7.3 percent of users had quit smoking tobacco. (The quit rates from nicotine patches were 5.8 percent).
In America, 40 state attorneys general have asked for federal regulation of "an increasingly widespread addictive product." They singled out an NJOY television ad in which the product looked just like a real cigarette.
Mr. Weiss doesn't see a problem: "We want it to look exactly like a cigarette because that's how we're going to get smokers to change behavior."
The New York Times
(China Daily 11/17/2013 page9)