Women D.J.'s edge into male realm
Updated: 2013-11-10 08:00
By Tricia Romano(The New York Times)
| | | | | | | | | |
| --- | --- | --- | --- | --- | --- | --- | --- | --- |
|   | | Print | | Mail | | Large Medium  Small | 分享按钮 | 0 |
When the D.J. duo Nervo, the Australian twins Olivia and Miriam Nervo, first began spinning three years ago, they used to shock people just by showing up.
"We would arrive at the airport, and someone would pick us up, and they would be like, 'You're Nervo?' " said Olivia, who goes by Liv.
The promoters couldn't believe that the D.J.'s weren't men but young, attractive women.
Nervo now performs regularly at major festivals and clubs, but the sisters are still the rare female breakout in electronic dance music. In a new poll in DJ Magazine of the top 100 D.J.'s, Nervo is Number 16, one of only three female-led acts on the list.
About five years after the latest wave of electronic dance music became big business, the D.J. booth is still a male realm.
Cassy Britton, better known as Cassy, a D.J. and producer from Vienna, called the scene "a boy's club, in a sense."
"No woman is in that top level," she said. "So, there is not one woman that makes a lot of money in D.J.-ing. Not one."
Reasons cited include an industry run by men, a lack of female role models and a lifestyle that is disruptive to having a family.
But the Nervo sisters and Ms. Britton are enjoying a rising profile, along with female D.J.'s like the London techno artist Nicole Moudaber, and the Russian techno D.J. Nina Kraviz.
Ms. Britton, 39, studied classical guitar for seven years. She has been spinning since the late 1990s and has put out a mix CD for a long-running series from Fabric, the London club. Her mentor was Electric Indigo, another female D.J.
Ms. Britton moved to Berlin in 2003 and became a resident at the Panorama Bar inside Berghain club. Her sound, a gritty, funk-infused hybrid of deep house and techno, plays well in big clubs as well as in more intimate venues. She is also currently a resident at Rex Club in Paris, and Trouw in Amsterdam, and has been playing at Fabric since 2005. She plays three or four gigs in different cities, sometimes in different countries, every week.
On the commercial dance music circuit, Nervo is infiltrating the all-male lineups. "They are in the Top 20 list of D.J.'s being booked," said Paul Oakenfold, 50, the influential D.J. and producer, who has been a supporter of Nervo's career.
Nervo's poppy single "Hold On" hit Number 1 on the Billboard dance/club play chart in June.
It doesn't hurt that the sisters are photogenic. But Liv Nervo said they didn't want to overemphasize their image. "We make sure we're not too scantily dressed," she said.
Playing up sex appeal can be risky for a female Ms. Kraviz, a Russian-born, Berlin-based D.J., found herself embroiled in controversy earlier this year when she gave part of a video interview for Resident Advisor, the techno website, while taking a bubble bath.
Ms. Kraviz, who was a dentist before becoming a D.J., said, "I was just being myself in the bath, so that it would be more real."
Ms. Moudaber, the Nigerian-born D.J., who gave her age as 36, promoted parties in Beirut before moving to London and becoming a D.J. Then the longtime techno artist Carl Cox listed Ms. Moudaber as the most underrated D.J. of 2009.
"To be honest, it's all down to the women," Ms. Moudaber said. "If you want to do it, you do it. Nobody's forcing them not to do it. "
A female D.J. can attract female clubgoers. "I'm seeing a lot of girls on my floor," Ms. Moudaber said. "They come probably because they can identify with me. Whereas in the past, maybe, they never used to bother to go to a techno night."
The New York Times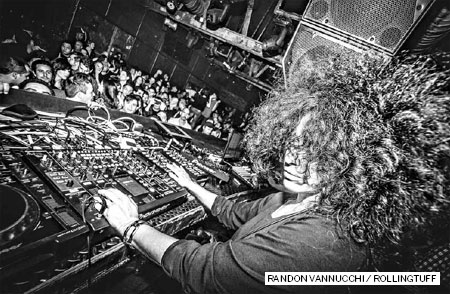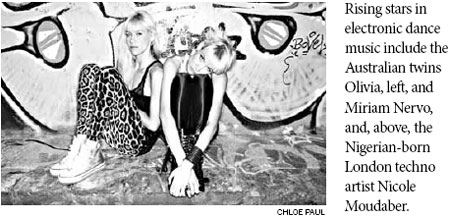 (China Daily 11/10/2013 page12)