Race poses hurdle for film abroad
Updated: 2013-11-10 08:00
By Michael Cieply(The New York Times)
| | | | | | | | | |
| --- | --- | --- | --- | --- | --- | --- | --- | --- |
|   | | Print | | Mail | | Large Medium  Small | 分享按钮 | 0 |
LOS ANGELES - A darling of the movie awards set, "12 Years a Slave" could make history as the first film by a black director to win the best picture Oscar.
But movie executives and filmmakers are watching closely to see if it can successfully meet another challenge.
The film is trying to become the rare African-American-themed feature to become a hit with the global audience. Success internationally is particularly important since foreign audiences now account for two-thirds or more of the box-office receipts for Hollywood movies.
With "12 Years a Slave," the push will be helped by the international cachet of its star, Chiwetel Ejiofor, and director, Steve McQueen, both born in Britain. And it is supported by backers who have positioned the film in a wide range of markets around the world, but, in a calculated bit of timing, are largely delaying its release until early next year. At that point, "12 Years a Slave" will presumably be in the final heat of ferocious awards races, bringing maximum attention to the film as a worldwide audience prepares for the Oscars.
Those advantages, along with the promotional power of Brad Pitt - who is a producer, appears in the film and has promised to promote it - may be enough to crack a market barrier.
Black superstars like Will Smith may accumulate dazzling foreign sales in roles that play down racial identity. And at least one black-white story set in France - "The Intouchables," from 2011 - became an international hit.
But more usual, even for awards-caliber films, is the experience of "The Help," a 2011 release that focused on the travails of black maids in the Jim Crow-era southern United States. Worldwide ticket sales were almost $216.7 million, but about 80 percent of that came from United States markets.
Like westerns and baseball films, movies about the experience of black Americans may be seen as too remote by audiences in countries that have little cultural connection to the subject matter. But black filmmakers have also complained that companies sometimes do not support them with the sort of wide international release that is being lined up for "12 Years a Slave," which tells a 19th-century tale of a free black man who is kidnapped and sold into slavery.
Stuart Ford, chief executive of IM Global, which sold the foreign distribution rights to another of the season's African-American films, "Lee Daniels' The Butler," said he had sensed a new responsiveness. "Despite the perceived wisdom that African-American films don't travel," Mr. Ford said, "a great movie is a great movie, and great movies are at a premium right now."
"12 Years a Slave" can draw some encouragement from "Lee Daniels' The Butler," a civil rights story that opened in August and has performed solidly in international markets. Mr. Ford said it could take in $50 million, adding to sales of more than $114 million in the United States. (The movie had a reported production budget of about $20 million.)
Stephanie Allain, who was a producer of "Hustle & Flow" and, more recently, joined Tyler Perry and others in producing "Peeples," said African-American films might work better outside of the United States if studios pushed them harder.
"If studios are willing to spend the money to build awareness for black movie stars and directors, black American film culture will travel," Ms. Allain said.
"More money for studios and more opportunity for us," she added. "It's that simple."
The backers of "12 Years a Slave" are counting on Mr. McQueen's appeal in his homeland.
Summit Entertainment put together a network of buyers for the film in territories as widespread as Germany and Thailand.
Mr. Pitt - who can command attention even if scenes of plantation brutality may not - could face substantial globe-trotting next year.
At the Toronto International Film Festival in early September, he said he was prepared to do whatever it takes.
"If I never get to participate in a film again," Mr. Pitt said, "this is it for me."
The New York Times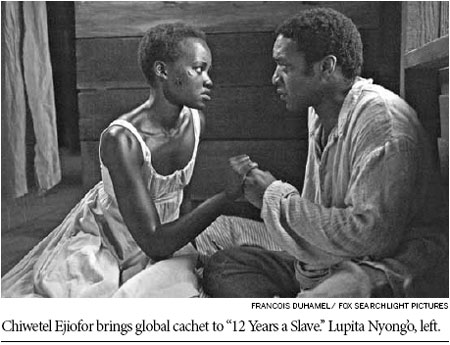 (China Daily 11/10/2013 page12)