Uncle Walt, uncensored by Disney
Updated: 2013-11-10 08:00
By Brooks Barnes(The New York Times)
| | | | | | | | | |
| --- | --- | --- | --- | --- | --- | --- | --- | --- |
|   | | Print | | Mail | | Large Medium  Small | 分享按钮 | 0 |
BURBANK, California - In the coming movie "Saving Mr. Banks," a comedic drama about the turbulent making of "Mary Poppins" in the 1960s, Walt Disney acts in a very un-Disney way. He slugs back Scotch. He uses a mild curse word. He wheezes because he smokes too much.
The real shocker? Walt Disney Studios made the film.
"Saving Mr. Banks," which stars Tom Hanks as the founder of the Walt Disney Company and Emma Thompson as the novelist P. L. Travers, is a small movie that cost less than $35 million to make. But its existence says that despite its well-earned reputation for managing its image, Disney can get out of the way and let filmmakers lead.
"Wow, this was so not the battle I anticipated," said Alison Owen, the independent producer behind "Saving Mr. Banks," which also pokes fun at Disney's sometimes-syrupy brand of entertainment. "Disney behaved impeccably."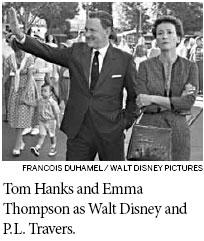 Those involved in "Saving Mr. Banks," which begins opening worldwide this month, wondered whether the company would try to turn the film into a type of corporate video.
"To their credit, they were smart enough and brave enough to realize that a human Walt was not only a better character, but was easier to love," said the director, John Lee Hancock, who chose the film as his follow-up to "The Blind Side" (2009). "Sometimes somebody else can tell you more about your father than you can."
Sean Bailey, the studio's president for production, learned of a script, written by Kelly Marcel and Sue Smith, in November 2011. "It very quickly went all the way to the top," Mr. Bailey said, referring to Robert A. Iger, Disney's chairman and chief executive. The company swiftly considered all of its options, including buying the script just so the movie's portrayal of Walt Disney never reached theaters.
"Do we buy it defensively?" Mr. Bailey said in an interview, describing the discussions at Disney headquarters here. "Do we say we're not going to buy it, but it could be difficult for you if you take it anywhere else? Or do we buy it and make it?"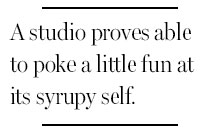 Mr. Iger, who has made balancing Disney's heritage with innovation one of his hallmarks, asked what the studio saw in the script. Boring into Disney bedrock was worth the risk, the movie team told him. On its surface, "Saving Mr. Banks" is about the lengths Walt Disney went to for "Mary Poppins." But it is also "an exploration of storytelling, why storytelling matters in the world, and how storytelling can change people's lives," Mr. Bailey said.
At times the movie lampoons the company's style. In one scene, Ms. Thompson's cranky writer arrives at her hotel for meetings with Walt Disney to find her room stuffed with balloons, caramel corn and toys. Shoving a stuffed Mickey Mouse into a corner, she snaps, "You can stay there until you learn the art of subtlety."
Last year when Ms. Thompson arrived for filming, she found that Disney had done the same thing to her hotel suite.
"Believe it or not," Mr. Bailey said, "we do have a sense of humor."
The New York Times
(China Daily 11/10/2013 page12)