3-D-printed guns worry Europeans
Updated: 2013-11-10 07:59
By Georgi Kantchev(The New York Times)
| | | | | | | | | |
| --- | --- | --- | --- | --- | --- | --- | --- | --- |
|   | | Print | | Mail | | Large Medium  Small | 分享按钮 | 0 |
PARIS - The gun fired four shots into a gelatin block. Each nine-millimeter bullet punched deep into the substance, which was meant to mimic the density of a human body. For the experts at the Austrian Interior Ministry performing the test, it was a clear sign: This was a deadly weapon.
But it was no ordinary gun. The officials had downloaded the gun's digital blueprints from the Internet and "printed" the weapon on a 3-D printer for sale online for about $1,360. It took the Austrian authorities 30 hours, and $68 worth of plastic polymer, built up layer by layer, to make the gun.
"Our interest was to see if the manufacturing of a working gun using this technology is possible," said Karl-Heinz Grundbock of the Austrian Interior Ministry. "The answer was a very clear 'Yes.' "
Law enforcement agencies across Europe are on alert over the proliferation of Internet software that can be used to make a weapon on a 3-D printer. Police worry that it is just a matter of time before such weapons are used in episodes of violence.
In May, after a law student from Texas, Cody Wilson, posted his designs for a 3-D-printed handgun online, the files were downloaded more than 100,000 times in two days before the United States State Department demanded they be removed. Spain led the ranking of downloads, followed by the United States, Brazil, Germany and Britain. A full version of the gun, called the Liberator, went on display in September in the Victoria and Albert Museum in London.
Despite the State Department's attempt to block them, the designs for Mr. Cody's Liberator have continued to spread on sites like the Pirate Bay.
There have been reports recently of people evading airport-style security scanners with 3-D-printed plastic weapons, whose only metal components are firing pins no bigger than a short common nail.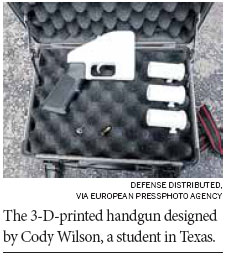 Although the technology has been around as an industrial process since the 1980s, it has only recently gained broader currency with the arrival of affordable consumer-level printers. According to Wohlers Associates, a 3-D printing research firm in Fort Collins, Colorado, a total of 35,508 personal printers were sold worldwide last year, up nearly 50 percent from 2011. Most were sold to hobbyists, do-it-yourselfers, engineering students and educational institutions, according to Terry Wohlers, the firm's president.
The gun designs are evidently getting better by the month. Although early versions of the Liberator could be fired only a few times before the barrel needed replacing, a YouTube video emerged in August that apparently shows a 3-D-printed rifle called the Grizzly 2.0 successfully firing 10 shots.
The manufacture of weapons using 3-D printers is already banned by a European Union directive to member nations. Enforcing that rule, however, may prove a challenge.
And many active users of the printing technology are skeptical about the extent of the real threat posed by 3-D firearms. A sampling of discussion forums of 3-D enthusiasts finds widespread cynicism about the capabilities of such weapons.
"Three-D printing a gun or a knife is akin to building a car out of cheese - it's just not going to work," wrote someone posting as "thejollygrimreaper" on the RepRap forum, one of the biggest 3-D-printing online communities.
A RepRap forum member identifying himself as a 21-year-old Finnish student from Tampere said he succeeded in printing a working gun and in testing it. "The gun's receiver got a crack after just one shot," he said, referring to the firing chamber. "No sane person would fire the gun again."
They may not need to.
"Even if these guns can only fire a couple of shots, they can still have a lethal effect," said Michael Brzoska, the director of the Institute for Peace Research and Security Studies at the University of Hamburg. "And you can easily build several of them."
The New York Times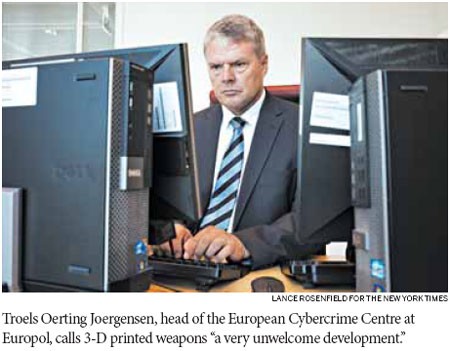 (China Daily 11/10/2013 page11)