Brand new direction
Updated: 2013-11-10 07:58
By Matthew Fulco (China Daily)
| | | | | | | | | |
| --- | --- | --- | --- | --- | --- | --- | --- | --- |
|   | | Print | | Mail | | Large Medium  Small | 分享按钮 | 0 |
CEO promoting idea of branding as Chinese companies creep up the global value chain, Matthew Fulco reports.
Qian Dejun believes in Chinese consumers. But the Anhui-born entrepreneur's faith is unorthodox among his contemporaries.
He is not focused on Chinese consumers' sheer number or rising spending power as an end in itself.
Qian is more interested in how their desire for strong domestic brands will compel Chinese companies to change the way they do business and begin allocating significant resources to branding as their foreign competitors have long done.
Qian sees a rift between consumer and producer in the world's second-largest economy, as the former, particularly in first-tier cities like Shanghai, Beijing and Guangzhou, has a greater appreciation of the importance of branding than most Chinese firms, which largely compete on price and benefit from the market's tremendous size.
Given that high growth is the norm across many sectors of the Chinese economy, Chinese companies tend to measure success in terms of their distribution channels and manufacturing output rather than their ability to create enduring brands, he said.
Yet, as Chinese consumer tastes evolve, firms producing for the domestic market will be forced to reinvent themselves to stand out.
Having a viable brand will become just as important as an attractive price tag.
Similarly, to move up the value chain and compete with Western and Japanese products in foreign markets, Chinese firms will have to devote time to brand building.
Since most lack internal brand-management systems, someone needs to step in and bring them up to speed on the art of branding, Qian said.
"Chinese companies have no choice but to follow their customers," said the chief executive and co-founder of the Shanghai-based brand strategy and design agency PLTFRM. "The change may not seem obvious now, but it is underway."
That's easier said than done, said New York Times columnist David Brooks.
"Every few years, Chinese officials say they're going to start an initiative to create compelling brands and the results are always disappointing," he said.
Brooks said that Chinese firms need to "establish relationships with consumers," "put aside the things that undermine trust and create the sorts of brands that inspire affection and fantasy."
Fortunately for producers in the world's second-largest economy, there is some evidence that consumer preferences are trending toward domestic brands.
While 65 percent of the respondents to a survey released in March by the market-research firm
Epsilon maintain that competition from foreign firms is good - virtually unchanged from 2011 findings - Chinese consumers have a growing interest in domestic brands, with 43 percent of survey respondents expressing a preference for made-in-China products, compared to just 31 percent in 2011.
At the same time, brand loyalty among China's consumers is on the rise.
More than half of the respondents to the Epsilon survey believe being loyal to their preferred brands is a good thing, up from just 41 percent the previous year.
Brands build that loyalty by catering to the lifestyles of Chinese consumers and providing consistently high quality, after-sales service and value, the survey found. Meanwhile, discounts, while capable of attracting customers in the short run fail to build brand loyalty in the long run.
All of this bodes well for PLTFRM - the name is a play on the acronyms commonly used by 4A advertising agencies - which since its inception in 2011 has burnished the brand identities of a stable of small and medium-sized Chinese firms across various sectors as well as managing the Chinese brands of several prominent international companies.
Qian co-founded the agency with French artist and designer Alexandre Ouairy whom he met at a Shanghai gallery opening.
Despite their disparate backgrounds - Qian had previously worked as a distribution channel manager and head of sales for a clothing factory - the two soon realized their complimentary attributes could serve them well in a business partnership.
"Our partnership - I serve as the CEO of the agency and Alex is creative director - has the right balance of creative thinking and business acumen," said Qian.
"As an artist, Alex can push me to think in a different way. At the same time, he has a strong dedication to clients and understands their needs."
Ouairy and Qian first worked together to refit a group of derelict factory buildings on Shanghai's Wanhangdu Road as a creative workspace, complete with offices, a luxuriant bamboo garden and a breezy terrace.
After that initial success, Qian provided Ouairy with assistance on one of his independent projects.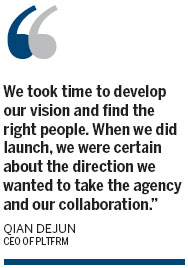 "His advice was very helpful," Ouairy said. "The idea of us opening a branding agency matured from there. We have been successful because we didn't rush things at the beginning. We took time to develop our vision and find the right people. When we did launch, we were certain about the direction we wanted to take the agency and our collaboration."
He describes that as "a boutique brand strategy and design agency, made in Shanghai, with international characteristics."
"We help Chinese companies build enduring brands that can compete with established global players in the domestic market or overseas.
"We help foreign brands adapt their strategy to China's cultural specificities.
"We strive to create a dialogue," he said.
One of PLTFRM's major success stories is Western-style bar and restaurant chain Helen's, which has outlets nationwide in first and second-tier cities.
Plagued by copycats, Helen's sought to develop a consistent brand image among all its outlets as it prepared to quintuple its number of restaurants from 40 to 200 in two years.
PLTFRM is helping Helen's rejuvenate their brand identity, creating a distinct logo for the restaurant chain and positioning it as a fashionable destination for young Chinese and expatriates alike.
"We are leveraging that message consistently, both in a revamping of some of the interior design and across a suite of complimentary marketing materials, fortifying the brand in the minds of its customers," said Ouairy.
PLTFRM also works with Copper Alliance, a New York-based network of regional copper centers that aims to maintain and grow markets for the metal. PLTFRM helped Copper Alliance define its brand image to fit the contours of Chinese culture while staying true to the core values of the brand that are consistent globally, Qian said.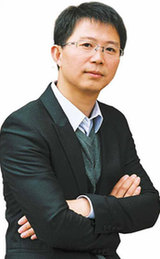 "You communicate in Shanghai differently than in New York, but a good brand can resonate with consumers everywhere.
"The key is showing consumers the relevance of the brand to their own lives."
In a new project for a restaurant chain, which is still in the research stage, PLTFRM is tapping a growing preference among Chinese consumers for sustainable living.
"The intention is to boost the overall eco-friendly experience the restaurant offers," Qian said.
To do that, PLTFRM will develop a distinct color palate of green, orange and red for the interior, which will encourage patrons to "relax and chit-chat." Sounds of the forest and chirping birds will be used instead of music to drown out traffic noise.
Specialized light bulbs will be installed in winter, creating a soothing ambience to alleviate the inevitable blues brought on by that chilly season.
Fabric napkins and porcelain cups will replace their disposable counterparts.
Looking ahead, Qian aims to broaden the scope of PLTFRM's work.
"Airlines, banks, computer brands - we would like to work with them in the future," he said.
"The most satisfying thing for me about this job is being able to help clients to make their work more efficient in a creative way that's tailored to their needs. Every client requires a different solution. My goal is to understand clients better than they understand themselves."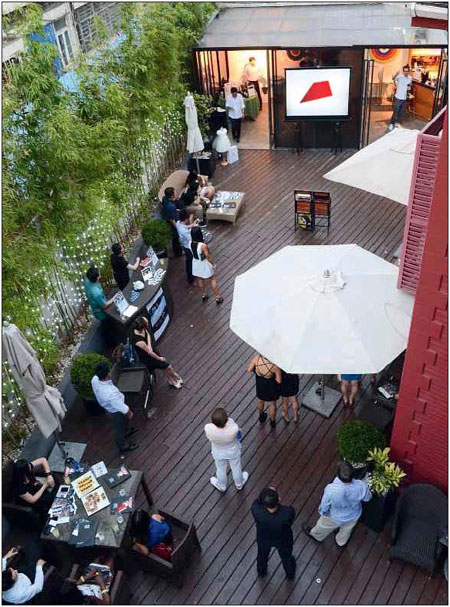 PLTFRM's creative center attracts top designers from China and abroad. Photos Provided to China Daily

(China Daily 11/10/2013 page8)