Global catwalk struts into China
Updated: 2013-11-03 08:09
By Joseph Catanzaro (China Daily)
| | | | | | | | | |
| --- | --- | --- | --- | --- | --- | --- | --- | --- |
|   | | Print | | Mail | | Large Medium  Small | 分享按钮 | 0 |
A British fashion consultant is helping connect designer fashion houses with the Chinese market. Joseph Catanzaro reports.
Peter Caplowe weaved his way through the crowds thronging Beijing's Nanluoguxiang hutong, neatly side-stepping stylish young couples browsing the ancient alleyway-turned-shopping hotspot.
The UK-born executive and consultant, who has made a name for himself in the notoriously fickle international designer clothing business over 20 years, is certain of at least one thing: In the world in which he moves, the flood of image-savvy Chinese youths flowing past him is a river of gold.
Sitting in the shaded courtyard of a hutong residence that was once the childhood home of a Qing Dynasty (1644-1911) empress, Caplowe talks of an immutable truth in international designer clothing: Styles change, trends end and fads are just that, but making money is never out of fashion.
And the money, he says, is now in China.
For many European and US fashion labels, though, finding a way to break into the Chinese market so they can access that wealth is challenging for several reasons.
Caplowe, 50, thinks a new venture he has co-founded with business partner Richard Hobbs will make the process much easier.
Caplowe's brainchild, called the Hub, is an exclusive, internationally branded fashion trade show launched last month in Hong Kong.
"The Hub is for the international market to meet Asian retailers," Caplowe says. "But when we spoke to all the brands about what excited them the most about the Hub, universally, they said China."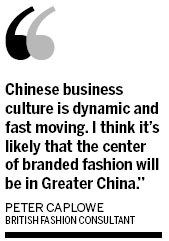 The caliber of international brands that joined the new venture speaks volumes about the industry's interest in China.
The Economist Intelligence Unit has suggested that China, the world's biggest clothing manufacturer, is now at the center of what will soon be the fashion world's biggest retail market.
Driven by demand from China's rapidly expanding middle class, the EIU said the annual value of the mainland clothing and apparel market is expected to be more than $90 billion by 2015.
Tokyo blew its chance to be the fashion hub of Asia because it remained insular and refused to "adapt to the global system", Caplowe says.
The Milan of the East has yet to be crowned, and all eyes are now on China.
"There isn't a center for fashion in Asia," Caplowe says.
"Chinese business culture is dynamic and fast moving. I think it's likely that the center of branded fashion will be in Greater China."
Caplowe made his mark in the 1990s when he turned a small, boutique Japanese jeans brand, Evisu, into a nearly global success story worth about $100 million at its peak.
After cutting ties with the company in 2007, Caplowe, now based in Hong Kong, turned to consultancy.
"During that time when I was talking to a lot of Chinese companies, it was clear to me that a lot of them were interested in tying up with international brands, but they didn't know how to do it.
"It sort of just became clear to me that there would be a trade show in Asia where international brands come to meet Chinese retailers. I thought it might as well be me who did it."
Caplowe says "most of the large" Chinese retail operators attended the inaugural Hub event last month, which featured stalls from about 100 internationally branded fashion and apparel companies, including almost all of the top names in US street fashion.
"It is not the case that most big American and European brands are here in China already," Caplowe says.
He says the strong showing was a testament to a key difference in the Chinese retail market that is hindering international brands from breaking in, and frustrating local designers from reaching the point where they can break out into the global market.
"There aren't that many multi-brand stores in China," he says.
Instead, Caplowe says, the Chinese retail market is dominated by the mono-brand franchising model, which means international brands wanting to break in must have enough finance and backing to open multiple stores across the country that exclusively stock their product.
Artfully placed articles of apparel and clothing are scattered around the courtyard in the hutong where Caplowe sits and talks.
Once the childhood home of Wan Rong, a wife of the last Qing emperor Puyi, it is now a place of business for Wuhao, a multi-brand fashion and apparel shop.
But while boutique multi-brand stores do already exist in China, they are a minority. To allow local talent to achieve its full potential, this will have to change, he says.
As the country gradually moves away from manufacturing and toward a consumer-driven economy, fostering local design talent makes sense, Caplowe says.
"The bigger the domestic-branded fashion market is, the better that is for the manufacturers here in China."
The long-term plan is to bring Chinese-branded fashion to the rest of the world, too, he says.
The challenge for those yet to break into the market is not striking a pose; it's striking a deal.
Contact the writer at josephcatazaro@chinadaily.com.cn.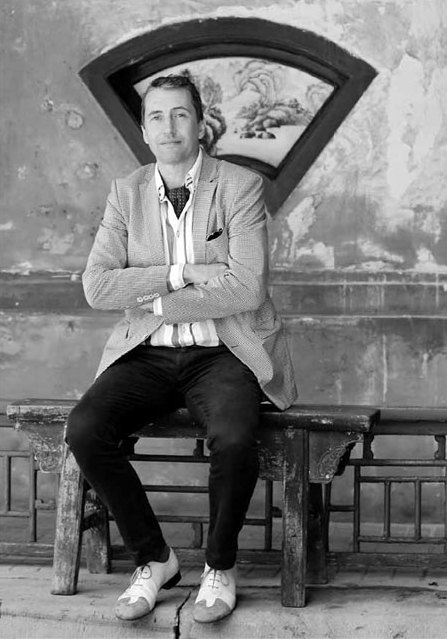 Although it is difficult to break into the Chinese market, Peter Caplowe has made it much easier by starting a fashion trade show in Hong Kong. Zou Hong / China Daily
(China Daily 11/03/2013 page5)