Robots to the aid of solar farming
Updated: 2013-10-27 07:34
By Diane Cardwell(The New York Times)
| | | | | | | | | |
| --- | --- | --- | --- | --- | --- | --- | --- | --- |
|   | | Print | | Mail | | Large Medium  Small | 分享按钮 | 0 |
RICHMOND, California - In a dusty yard under a blistering August sun, Rover was hard at work, lifting 20-kilogram solar panels off a stack and installing them, one by one, into a concrete track. A few meters away, Rover's companion, Spot, moved along a row of panels, washing away months of grit, then squeegeeing them dry. They could have kept at it all day.
That is because they are robots, surprisingly low-tech machines that a start-up company called Alion Energy is betting can automate the installation and maintenance of large-scale solar farms.
Working in near secrecy until recently, the company, based in Richmond, California, is ready to use its machines in three projects in the next few months in California, Saudi Arabia and China. If all goes well, executives expect that they can help bring the price of solar electricity into line with that of natural gas by cutting the cost of building and maintaining large solar installations.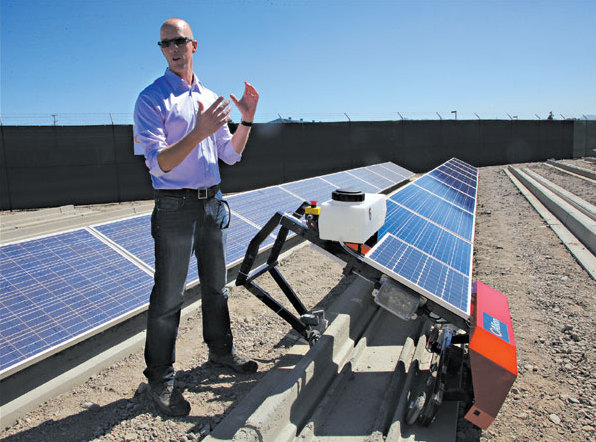 Alion Energy is using robots to install and clean solar panels, cutting labor costs. Adam French, the company's head of engineering, with a robot. Jim Wilson / The New York Times
In recent years, the solar industry has wrung enormous costs from developing farms, largely through reducing the price of solar panels more than 70 percent since 2008. But with prices about as low as manufacturers say they can go, the industry is turning its attention to finding savings in other areas. Modules dropped to 35 percent of system costs in 2013, down from 53 percent in 2010, while labor, engineering and permitting rose to 15 percent from 9 percent in the same time period, according to Greentech Media, which tracks the industry.
For all that the industry promotes its innovations, the business of mounting panels on the ground has remained largely the same for years. In an expensive, time-consuming process that can demand hundreds of hands and millions of screws, workers clear and level the ground, drive in metal posts and attach and wire the heavy, glass-encased modules.
After the panels are installed, it can be expensive to keep them free of dirt or vegetation that can reduce their output.
Several companies are developing or selling robots to aid in installation or cleaning, including the Swiss outfit Serbot.
Another start-up based in California, QBotix, has developed a robot that controls tracking operations, tilting the panels to follow the sun and maximize their output. Getting as much as 40 percent more electricity out of each panel than in a fixed-tilt system, said Wasiq Bokhari, the company's chief executive, allows developers to build smaller, cheaper systems to meet their energy targets.
"The solar market is very competitive, and people literally fight over single cents per watt, so by allowing such a dramatic decrease in overall power plant costs, we are bringing a lot of value to the market," he said. The systems are now installed in five farms in the United States and Japan, with more scheduled to go in before the end of the year.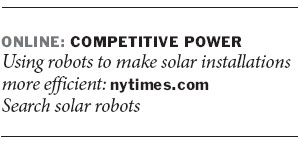 Alion's installation system is designed to work on uneven ground, executives said, cutting down on the need to level hectares of fields. First, a machine that is used to lay sidewalks and gutters spits out a long concrete track. After the track sets, Rover installs the panels and glues them in place. Human workers then wire the panels into the system. Spot can be controlled with a smartphone. It rolls along the rails beneath the panels, squirting water and passing over them with a spinning brush and a squeegee.
The promise of automation is not only to reduce the cost of labor, but also to cut construction time - to 12 weeks from six to eight months in some cases.
The company has attracted some positive attention from analysts. "What's exciting with Alion is that they've automated the entire process," said Vishal Sapru, energy and environment research manager at the business consulting firm Frost & Sullivan, which recently gave Alion an award for innovation. "You reduce the number of days. You reduce the number of laborers. You reduce the number of inefficiencies that could arise in putting up these panels, and then it results in a huge cost savings."
He cautioned that it was unclear precisely how much the technology would save - the company says it can reduce overall installation costs by 75 percent, while German companies that do similar work put their estimates closer to 50 percent, Mr. Sapru said.
Back at Alion's headquarters, a leaner, more nimble model of Rover lies in wait, while a second-generation Spot is in the works.
"The goal is not robotics," but to beat the price of natural gas, said Mark Kingsley, the chief executive at Alion, as the machines continued moving inexorably along the rows. The panels Spot cleaned were suddenly producing about 12.5 percent more electricity. "You have to be lean and pretty low cost to meet that."
The New York Times
(China Daily 10/27/2013 page11)