Ladyboys of the night
Updated: 2013-10-20 08:14
By Rebecca Lo(China Daily)
| | | | | | | | | |
| --- | --- | --- | --- | --- | --- | --- | --- | --- |
|   | | Print | | Mail | | Large Medium  Small | 分享按钮 | 0 |
Pattaya's cabaret shows have matured into Vegas-style productions with elaborate sets and outrageous costumes. Rebecca Lo discovers adult entertainment suitable for all ages.
After checking into Amari Orchid's Ocean Tower and stepping onto my room's private balcony to enjoy a view of Pattaya's famous bay, I headed downstairs to join my friends at Mantra. They were already well into the restaurant's smorgasbord of a Sunday brunch. I saw heaping plates of giant prawns, pink tuna sashimi and freshly shucked oysters rapidly disappearing, and was glad that I skipped breakfast a few hours ago.
Mantra's seven open kitchens were all in full swing, and the carving station with prime ribs and racks of lamb was just as popular as the dim sum counter.
Over brunch, we talked about how Amari Orchid's ideal location made walking to Pattaya's famous nightlife areas convenient while the hotel was far enough away to avoid its noise.
It's a family resort and offers two sprawling outdoor pools - one with a fun swim-up bar. While Europeans and North Americans prefer the historic low-rise Garden Wing, Asians usually choose the contemporary Ocean Tower.
I was curious about the city's celebrated "ladyboy" shows, which feature both transgender and transvestite performers, having heard about them from friends who have visited Thailand. Typically featuring an all-male cast dressed to the nines as showgirls, ladyboy shows are practically Pattaya's calling card.
Pichchaya Nitikarn, who goes by the nickname Sarah, was our guide to her hometown. She said we were just around the corner from Tiffany's Show. Billed as Pattaya's original "ladyboy" cabaret show and well into its third decade, the dedicated 700-seat theater offers three or four 100-minute performances every evening.
The theater's neoclassical white and gold facade set the scene for a high-caliber and hugely entertaining series of dance skits, all lip-synched while in full costume, including 10-kilogram feathered head gear sets and high heels.
Songs ranged from Tina Turner's Proud Mary to Bollywood numbers. Many included elaborate sets and props. At one point, an elephant appears onstage, ridden by a performer whose seemingly endless legs would be the envy of women everywhere.
After a show that would rival any Las Vegas production, the performers all stood outside in character to pose for photos - for a fee, naturally.
"They charge around THB 800 to 1,200 ($25-$38) per photo," Sarah explains.
"That's how they make their real money."
Looking around the audience members lining up for snapshots, I noticed there were many families who'd brought their children and wondered how parents would explain the show to their kids.
"Kids are no problem," Amari Orchid's general manager Brendan Daly says.
"They love the spectacle. But I don't know how I would explain what we witness to my father."
The next day, I treated myself to a mango and sticky rice body scrub and massage at Amari Orchid's Breeze Spa. The treatment is one of Thailand's best-known exports and is consequently a summertime promotion available at all of Amari's Breeze spas.
A thick mango butter, coconut milk and rice concoction was slathered all over my body, followed by vigorous scrubbing, a rinse and a massage. I left feeling softer, refreshed and ready to tackle dinner.
Sarah took us to Shell Tangkay Seafood, a popular al fresco restaurant with splendid views of the bay. Most of the seating was perched right next to the piers.
We were treated to an assortment of Thai-style seafood, including delicious fried rice with crabmeat and a stew of baked prawns with glass noodles. Although the fresh rock lobster and mixed seafood platter were headlining items on the menu, with the latter costing about $120, I liked the simpler rice and noodle dishes best.
We then had dessert at what Sarah calls Pattaya's best mango and sticky rice stand. Staff deftly peeled ripe mangoes as salivating customers drove up to take them home. The mango was firm yet very sweet, while the chewy rice was drenched in aromatic coconut milk.
The next day, we headed to Pattaya Floating Market. It's styled after the historic markets where people navigate Thailand's waterways in long boats to purchase fresh produce, although this one was constructed five years ago for tourists.
We were each given large straw hats with wide brims as protection against the hot sun before hopping aboard one of the boats for a 15-minute ride through the village.
There were many shops selling traditional Thai souvenirs as well as casual restaurants and snack stands. A daily live show depicts a Thai fable in which boy meets girl and boy defends the country against invaders. It's performed on an island pavilion and floating platform.
After a couple of bowls of glass noodles in tom yum goong broth, I found some scented soaps embedded with bits of jasmine and coconut that were good souvenirs. Shopping done, I then relaxed by joining some friends already getting foot massages under gently swirling ceiling fans.
Open in March, Mimosa is Pattaya's newest attraction and the brainchild of longtime Thai resident Jirachote Kaewsathean, who goes by the name Nicky. She personally showed us around the theme park while explaining her plans for its future development.
She calls it the City of Love, and styled it to resemble a colorful European village complete with streams in which white swans swim.
Each outlet is decorated differently, with one resembling a German beer hall with brews in steins while another looks like a southern Italian pizzeria.
Meanwhile, Funland offered simulation games, haunted houses and interactive experiences that got our adrenaline pumping.
As one of Mimosa's three nightly shows was starting, we packed into the open-air theater to check it out.
A ladyboy show complete with water and lights synched with the music featured gorgeous divas who playfully interacted with audience members.
I thought that while Tiffany's set and costumes were more spectacular, Mimosa's performers were more polished and professional.
Nicky explains that she came from humble beginnings in northern Thailand and made her fortune as a real estate agent before venturing into hotels. She says she invested heavily in Mimosa to give back to Pattaya. "I owe everything to Pattaya, and this is my gift to the city," she says.
We ended our visit with a stroll along Pattaya's Walking Street that evening. Although it has its seedy bits, the street is what put Pattaya on the map.
Amateur Mui Thai boxing shows, ladyboys procuring photo ops, pole dancers in upper-story windows and live music give the street a party atmosphere.
It's a live show that changes every night, with you as a member of its cast.
Contact the writer at sundayed@chinadaily.com.cn.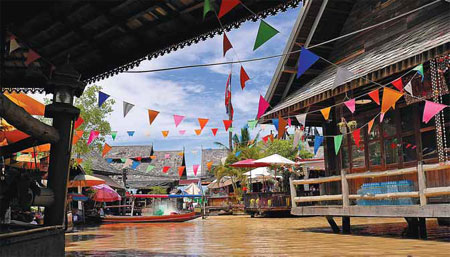 The Pattaya Floating Market is styled after the historic markets where people navigate Thailand's waterways in long boats to purchase fresh produce. Photos by Rebecca Lo / for China Daily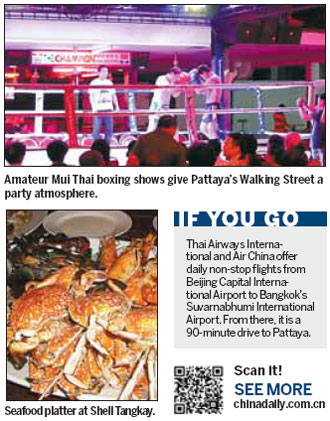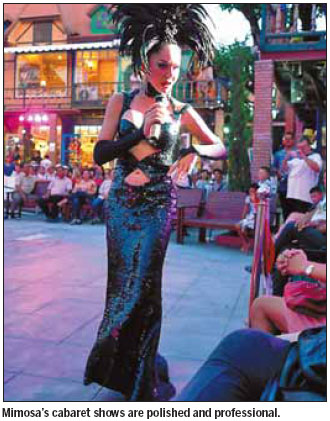 (China Daily 10/20/2013 page16)