Encore for South African cuisine
Updated: 2013-10-20 08:13
By Mike Peters(China Daily)
| | | | | | | | | |
| --- | --- | --- | --- | --- | --- | --- | --- | --- |
|   | | Print | | Mail | | Large Medium  Small | 分享按钮 | 0 |
Beijing's only South African restaurant, a standout in Shunyi district for about six years, has opened a promising second outlet in the Sanlitun area.
The new location is a pleasant, airy space, with high ceilings, white brick walls and big window frontage that lets in plenty of light.
It's a chic, semi-industrial look with rather minimalist decor - you won't get an eyeful of wooden giraffes, zebra skins and other kitsch of the continent. Instead, chef and co-owner Amber Deetlefs has been content with two main visual attractions, a painting of Table Mountain and a mixed-media tribute to Nelson Mandela by US artist Chase Bray.
Deetlefs, who launched the first Pinotage restaurant at the age of 19, wants to keep the focus on food and wine. The elegantly presented entrees are designed to be enjoyed with the restaurant's huge selection of South African wines.
While dinner at Pinotage isn't cheap, each menu item is offered in three sizes: "Share" serves three or four people, "enjoy" feeds one or two, and "taste" is a small-plate serving that allows diners to mix and match several goodies into a meal.
Daily soup and salad choices are posted on a blackboard, but we opted to open with biltong carpaccio, artfully presented slices of the traditional dried beef served with creamy avocado and parmesan. Deetlefs doesn't cure this biltong to the usual jerky-like dryness, so it retains considerable moisture and stays easy to chew. Dressed with olive oil and balsamic vinegar, the appetizer has a pleasing tang.
Goat-cheese "dumplings" are bedecked with hat-like slices of beet trimmings, easily the most colorful of the starter offerings.
Lamb shank is a house specialty, in dumpling form on the starter menu and a savory entree among the main courses, where it's served with parsnip puree, sauteed spinach and parsnip chips.
While the wine list is South African from A to Z, the restaurant is less territorial about food. Deetlefs takes advantage of readily available Australian beef ("all S grade") to offer sirloin, T-bone and fillet steaks. Our 250-gram fillet was a gem, perfectly grilled medium-rare, and a perfect match for an estate-level pinotage or cabernet sauvignon.
The most exotic offering may be the roasted bone marrow, which we tried on a second visit. Diners unfamiliar with the concept may greet the idea with a bemused "thanks but no thanks". We adopted a when-in-Rome mentality, however, and were rewarded with savory, slow-braised oxtail served on top of the gelatinous bone marrow, a mouth-watering treat served with chanterelle mushrooms, caramelized onions and a North African herbal sauce, green chermoula.
More familiar options included pork confit (served with a banana and mustard puree) and a creamy butternut squash risotto. Malay chicken with apricots is a lovely curried dish that's a tip of the hat to one of South Africa's many immigrant groups. Venison Wellington, the menu's wild-game offering, was fine in a flaky puff pastry with truffles and a red-wine jus, but for our money the simpler entrees were more appealing.
While the restaurant's contemporary cuisine is an all-around winner, it's wine that really sets Pinotage apart. That's what got Deetlefs started in business, when she and her Chinese partner seized an opportunity to promote South African wines by direct-marketing cases from a single cargo container. Her country's wines enjoy a considerable international reputation, but they are little known in China.
Changing that has been the first goal of Pinotage - named for one of South Africa's most heralded wine grapes. Besides offering a wide selection, mostly from carefully chosen boutique wineries, there are several ways customers can explore the wine list.
First, a happy-hour sampler offers eight tasting-size glasses, four red and four white, for 160 yuan ($26). Wines by the glass and bottle, meanwhile, are invitingly priced - so you can get a glass of a mid-range cabernet for little more than you'd pay for Chateau 7-Eleven at other restaurants. Bottled wine is further discounted for takeaway and for VIP club members.
FYI: The original Pinotage restaurant at Shunyi has recently moved into new digs just three blocks from its former location. The expansion at Shunyi includes a deli and sports bar.
michaelpeters@chinadaily.com.cn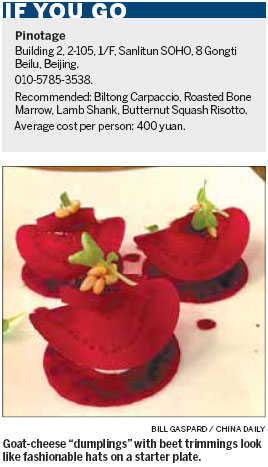 (China Daily 10/20/2013 page14)