Van Gogh proved an adept copyist
Updated: 2013-10-20 08:03
By Henry Adams(The New York Times)
| | | | | | | | | |
| --- | --- | --- | --- | --- | --- | --- | --- | --- |
|   | | Print | | Mail | | Large Medium  Small | 分享按钮 | 0 |
For a long time, it's been something of a dirty secret, violating ideas about great artistic originality: Vincent van Gogh frequently made copies of his own work. Now, in an about-face, what is seemingly the least original aspect of van Gogh's method is offering a close-up glimpse into the strange, obsessive intensity of his creative process.
His curious practice of copying himself provides the impetus for a new exhibition, "Van Gogh Repetitions," on view in Washington at the Phillips Collection until January 26 and then in Cleveland, Ohio, starting on March 2.
In the 19th century, when the academy ruled, making copies played a central role in professional art training. But during the 20th century, this practice fell into disrepute. It came to be viewed as anti-artistic.
Because of this modern distaste for copying, van Gogh's replicas of his own work, which he called repetitions, have sometimes even been dismissed as fakes.
The exhibition brings together 13 instances in which van Gogh made more than one version of a work. In the show's catalog, a team of scholars and conservators, led by William Robinson and Eliza Rathbone, assemble and analyze documents that are clues to when van Gogh made a copy of what. This team uses new technical evidence, such as X-rays and high-resolution digital imagery, to resolve questions about the sequence of these works that have confounded scholars.
A specific pair of paintings by van Gogh - one in Cleveland, the other in Washington - inspired the exhibition. In May 1889, van Gogh made two very similar versions of the same painting: "The Large Plane Trees (Road Menders at Saint-Remy)," now in the Cleveland Museum of Art, and "The Road Menders," in the Phillips Collection. The paintings are virtually identical in their outlines - so close that van Gogh may have traced one to paint the other.
Which painting came first? The curators first used X-rays to reveal that the under-layers of "The Large Plane Trees" are a dense, almost illegible flurry of brush strokes, whereas the under-layers of "The Road Menders" match the surface of the painting almost exactly.
Next, the researchers moved to the surface, learning that van Gogh executed the paintings on very different materials. The Cleveland painting is on a thin cotton fabric with commercially printed red diamonds and no priming. The Phillips painting is on a standard primed artist's canvas. Thus the Cleveland painting seems rougher, as befits an outdoor sketch; the Phillips painting a bit smoother, more deliberate.
In addition, van Gogh made a number of little improvements in the second version, at the Phillips. "You can see he moved the street lamp to the left to make it stand out," Mr. Robinson said. "He added more lines to the tree. He even added an additional figure."
Which of the two paintings is better?
If you think copying is bad, then clearly the Cleveland version is better. But van Gogh, in other instances, often declared that he considered the replica the better painting, the more significant work of art. Indeed, van Gogh was never more inventive than when copying himself.
Van Gogh's goals in making repetitions varied. In several instances he dashed off copies as gifts to family, artist friends or people who had posed for him. As the exhibition catalog documents, these second works are often smaller and more perfunctory.
Van Gogh also made three versions of his bedroom at Arles, and six paintings and three drawings of the postman Joseph Roulin.
What's surprising is how different the postman paintings appear side by side. They are not so much repetitions, then, as variations on an idea, not unlike the way Bach created variations in music.
The exhibition encourages close looking.
"You have to really concentrate," Mr. Robinson said. "But when you compare van Gogh's different versions of a design stroke by stroke, you start to relive his creative decisions. It's a strangely mystical experience. It's as if you're absorbed into the intensity of his genius."
The New York Times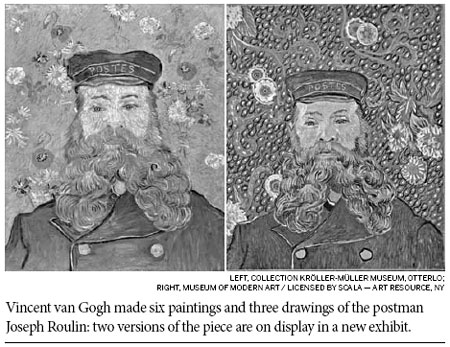 (China Daily 10/20/2013 page12)