A way of life to disappear with a fish market
Updated: 2013-10-20 08:02
By Martin Fackle(The New York Times)
| | | | | | | | | |
| --- | --- | --- | --- | --- | --- | --- | --- | --- |
|   | | Print | | Mail | | Large Medium  Small | 分享按钮 | 0 |
TOKYO - Each day before dawn, the world's largest fish market comes to life in frantic activity, a last holdout of an older, quainter Japan.
Workers in rubber boots slosh about while others dart by on motorized carts carrying every manner of creature that can be hauled from the sea. In one corner, auctioneers loudly hawk the huge frozen torsos of prize tuna laid in rows on the floor. Nearby, fishmongers in open-air stalls carve the tuna flesh into ruby-red bricks for sale to sushi bars and grocers.
Soon it will be gone. The city is planning to spend $4.5 billion to relocate the market - nicknamed Tsukiji for the neighborhood that surrounds it - to a modern, climate-controlled distribution center on a manufactured island in three years. The move is part of a broader face-lift Tokyo is planning before the 2020 Olympics.
For many, the relocation will bring not only the loss of a 78-year-old marketplace, but also another blow to a vanishing way of life. Tsukiji has been a place where merchants haggled face to face, and where even the lowliest fishmonger displayed the obsession with freshness that helped Japan bring sushi to the world. Its passing is part of a broader transformation, away from the mom-and-pop shops to big-box supermarkets and fast-food chains.
Officials say they want to redevelop the market's 20 hectares of land into high-rise apartment buildings and a tunnel to connect Tokyo to the islands that will house new Olympic sites. They, and many who work at the market, also say the move is necessary to keep up with changing times, as the same fast-food chains and supermarkets that have changed Tokyo's urban landscape have increasingly shunned Tsukiji as too expensive and slow.
Opponents say the relocation is yet another example of the skewed priorities of Japan's development-happy bureaucrats, who they say want to tear down what has become one of the city's most popular tourist destinations to enrich big construction companies and real estate developers.
"Tsukiji was the beating heart of the sushi culture that spread across the world," said Kazuki Kosaka, a former local assembly member who opposed the relocation. "And now it will be redeveloped into condominiums."
When moving Tsukiji was first proposed 14 years ago, it even led to street protests. In 2001, the plan appeared doomed after contaminants were found at the new site, which had housed a refinery for converting coal into natural gas.
But city officials kept pushing and undertook a cleanup. Last year a union representing middle wholesalers - the traditional middlemen who buy from big wholesalers and sell to restaurants and other retailers - came out in favor of the move.
Critics fret that the cleanup will not convince skeptics that seafood whose value lies partly in its pristineness is safe.
"Tsukiji is a globally known brand name and a cultural treasure," said Makoto Nozue, 76, who has bought and sold tuna at the market for six decades. "Why throw this away?"
City officials say one of the market's biggest shortcomings is that it was built in 1935 to handle trains.
Without a new market built to handle more trucks, they say, there will be no way to reverse the decline in the amount of seafood going through Tsukiji.
The vice president of the middle wholesalers union, Tadao Ban, said it was that decline that convinced the union it needed the new market to survive.
"Without the new market, we won't have businesses left," said Mr. Ban, 68, who inherited his tuna wholesale company from his father, and hopes to hand it down to his son.
"I grew up in this market, and have spent my life here," he said, "but I also want to have a future dream to pass down to my children."
The New York Times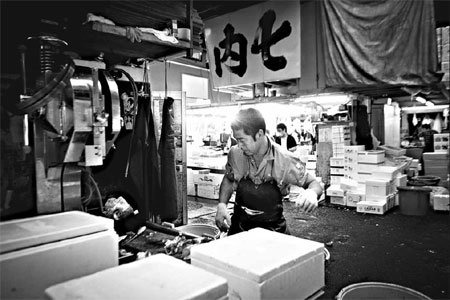 Tokyo is spending $4.5 billion to relocate Tsukiji, the world's largest fish market, in part to handle more truck traffic. Ko Sasaki for The New York Times
(China Daily 10/20/2013 page10)