New race for space means thinking small
Updated: 2013-10-20 08:02
(The New York Times)
| | | | | | | | | |
| --- | --- | --- | --- | --- | --- | --- | --- | --- |
|   | | Print | | Mail | | Large Medium  Small | 分享按钮 | 0 |
The conversation about the resources consumed on this ever-more-populated, ever-more-developed planet skews heavily toward energy these days: how to feed the growing appetite for power in ways that do not ruin our air, our water, our climate. But a more elemental human need, for a resource that is finite, carries its own demand for invention. It is, simply, the need for a place to be.
The challenges in meeting that need are varied, driven by factors like geography, opportunity and economics. The solutions, too, are diverse.
Singapore is home to 5.4 million people, a figure that is expected to grow to nearly 7 million by 2030, and it is running out of room. With limited alternatives, it is considering building down.
"Singapore is small, and whether we have 6.9 million or not, there is always a need to find new land space," Zhao Zhiye of Nanyang Technological University told The Times.
There are already highways and transit lines underground, work is starting on an oil bunker, and a science research center is being planned.
"In the beginning there might be a psychological issue, but as long as we have proper lighting and proper ventilation, gradually people can overcome the idea of working and living underground," Dr. Zhao said.
Researchers at Nanyang and the National University of Singapore envision subterranean sports facilities, swimming pools and theaters.

Ng Chi-hung would settle for a place to stand up. He is one of 22 men living in a 42-square-meter apartment in Hong Kong, stacked on top of one another in cubicles big enough for a mattress, a TV and some shelves, The Times reported.
"If you live in such environment, you have to adapt to everything," said Mr. Ng, who is 55 and unemployed. In one of the world's most expensive cities, he pays about $180 a month for his bunk.
Researchers found that at least 170,000 people live similarly in Hong Kong, in spaces partitioned with plasterboard and wire mesh. It is room enough to sleep, and little else. Cheng Tin-sang, 59, who has the bunk above Mr. Ng's, cannot work because of a heart ailment, so he wanders the streets all day.
"I sit in places like McDonald's," he said. "Anywhere with air-conditioners."
The plight of the young and ambitious seems inconsequential by comparison, but those who dream the dreams of billionaires are feeling their own squeeze. In San Francisco, where the technology world has been gravitating, office space is hard to come by.
One solution: renting a table. Or part of one. That is the option provided to tech start-ups by RocketSpace, which charges $700 to $800 a month for space at a long table that serves as a desk. And that table is sometimes shared with other renters.
"Headphones are the new cubicle," Duncan Logan, RocketSpace's founder, told The Times.
But there are trade-offs, like the energy that rubs off when working next to tenants that have included the likes of Zappos and Spotify.
"When I was working alone, I thought I had a billion-dollar idea," said one renter, Michael Perry. "Here, everybody thinks they have a billion-dollar idea, and they're hammering away. That's inspiring."
Also, there is free candy and beer. Almost as satisfying as an air-conditioned McDonald's in Hong Kong.
ALAN MATTINGLY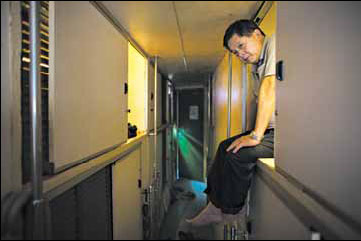 Many tenants of subdivided units in Hong Kong live stacked in cubicles large enough only for a mattress, a TV and some shelves. Lam Yik Fei for The New York Times
(China Daily 10/20/2013 page9)